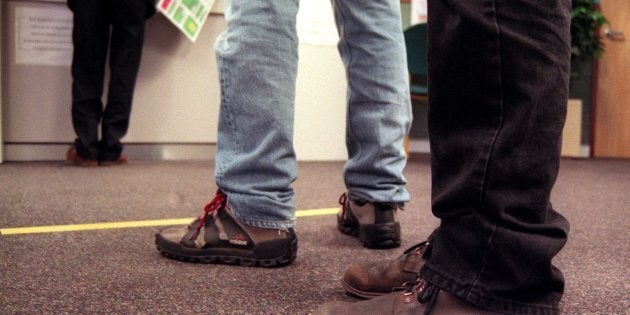 As everyone scours the budget looking for winners and losers, spare a thought for the 5,000 new welfare recipients and their families. They are clearly going to be the victim of a government measure that is trying to solve a complex social problem with an absurdly simple and harsh response.
On the face of it, drug testing may seem reasonable for people receiving welfare payments. After all, it is taxpayer funds they are receiving. However, everyone, and in particular every member of Parliament, should stop and consider many issues before blindly supporting this measure.
If these welfare recipients, and most of them are young people, are to lose their cash payment and move onto a cashless welfare card, they will lose the equity of access to the social safety net that the rest of society enjoys. How this helps people actually get back into the workforce defies logic.
Until drug use is truly seen as a health issue and not one to be addressed via punitive measures, the stigma, discrimination, isolation and helplessness will remain.
There are also the number of unintended and perverse outcomes such a testing regime will be sure to deliver. Different drugs stay in your system for different periods of time. Cannabis can be detectable many days after use whereas methamphetamines, cocaine and heroin tend to flush out of the body much quicker. So there will be an incentive to not use cannabis and instead use a range of other less detectable but more harmful drugs.
The other incentive will be to use drugs which are not tested for, such as a range of new and ever more dangerous synthetic drugs developed by enterprising chemists to make money. Again the potential impact of this on welfare recipients and their families will be far from helpful.
Questions also have to be asked about the exorbitant cost of these drug tests and the system that surrounds such a scheme (security, transport, laboratories etc.). Clearly the money would be better spent on funding prevention, family support services, treatment and harm reduction programs, rather than trying to save a welfare payment from some of the most vulnerable people and families in our community.
Governments need to understand the evidence for coerced treatment is one of high cost and poor outcomes. It will be galling for some services that have fantastic programs to help people wanting to become job-ready and those that prepare and organise employment for those transitioning out of treatment, to continue to do so without any funding from a government that can now find millions for a drug testing program.
The reasons for drug use are complex and varied but this blunt instrument of a program will treat people who use drugs and receive welfare as pariahs needing to be punished. The truly sad aspect of this is that some people who use drugs, and their families, already feel that way and rather than help them up this will just drive them further away from help.
Until drug use is truly seen as a health issue and not one to be addressed via punitive measures, the stigma, discrimination, isolation and helplessness will remain.
This program will not result in helping people but rather increase their likelihood of moving into a life of crime and homelessness.
While services like Family Drug Support will prepare for the increased number of distressed family members seeking their support, it would be good to know that parliamentarians understand that there are much better solutions to getting people into jobs than punishing anyone who uses a drug.
Family Support Line: 1300 368 186 (available 24 hours, 7 days a week).
ALSO ON HUFFPOST AUSTRALIA