 Illegal drugs are no longer just slung on seedy street corners or in shady carpark deals -- they're now just a mouse click away on some of the most popular sites on the internet.
Crystal methamphetamine, marijuana, cocaine, ecstasy and more are hiding in plain sight, spruiked in coded ads on Craigslist and other classifieds sites in Sydney, Melbourne, Brisbane and beyond.
Using code names, sellers boast of their "high grade quality" product which buyers can "try before you buy". Some charge a $10 delivery fee, and some dealers will deliver for free.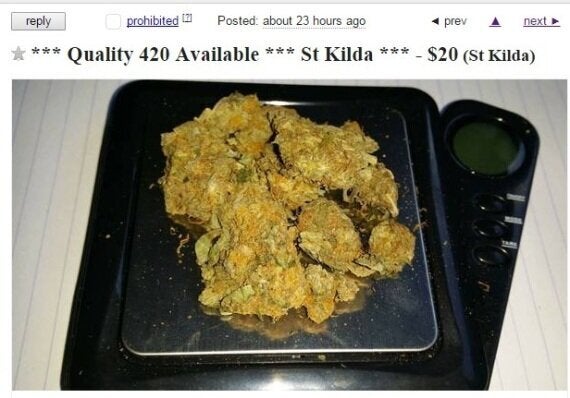 An ad for marijuana on a classified website
NSW Police announced Wednesday that it had made 21 arrests after a two-month operation targeting "the supply of illicit drugs via classified advertising websites, social media platforms and the 'dark web'."
In August alone, at least 200 posts offering marijuana and 110 offering ice have appeared in Melbourne-based Craigslist ads; 95 ads for marijuana and 74 for ice appeared in Sydney listings; and there were 130 instances of marijuana and 90 of ice offered in Brisbane. Huffington Post Australia found many more ads listed on similar less-prominent classified websites.
"Available 24/7 in St Kilda," boasts one Victorian poster claiming to deal marijuana. He charges $20 for one gram, or $90 for seven.
Another seller from Narre Warren in Victoria offers ice for $60 a point (100mg), or $550 a gram. The ad uses a slang term for ice, describing his product as "nice rocks, big clouds".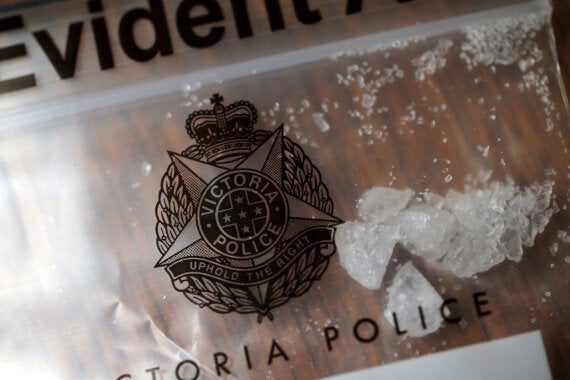 Methamphetamine crystals (ice) seized by Victoria Police in a raid at Warrnambool (Fairfax Media/Rob Gunstone).
In one Footscray ad, a "good-as-new xbox 360 with all cables controllers and games" is offered in a trade for a "bag" of marijuana.
Many sellers ask customers to contact them on Wickr, an encrypted messaging service where texts self-destruct to wipe any trace of the conversation.
NSW Police claims people from all over Sydney have been arrested in recent weeks over possessing and supplying ice, cannabis, LSD, cocaine, ecstasy and GHB. Police seized $32,000 worth of drugs during the operation.
Redfern Region Enforcement Squad Commander, Detective Chief Inspector Stuart Bell, said police had developed strategies to combat crime that was moving online.
"This operation sends a clear message to people who believe they can avoid police detection, that we will continue to target the supply of illegal drugs using various methods, whether that is online or within the community," Bell wrote in a statement after the arrests.
"It is an emerging trend and a unique challenge for law enforcement. Technology has allowed drug suppliers to shift their dealings out of public view," he later told HuffPost Australia.
One Melbourne ad offering marijuana says the product is "available for cancer cure, chronic pain, depression, anxiety", calling it "very medicinal healthy."
"Cheap and reliable. Next day delivery. We provide first-rate door to door delivery service," the ad reads.

360 for 420? Another ad on a classified website
In some disturbing cases drugs are offered for sex. Many ads reference "puff and play" or "PNP", a reference to ice in exchange for sex.
"I want to swap some [marijuana] in exchange for some sexual play with a woman… Just a lonely guy who like to have fun," said one ad, posted from Queensland.
Another from Sydney claims "a fit 28 yo English guy" is "looking for a beautiful transsexual" – he says he "can pay for the puff and let's go from there".
Bell said the police operation that nabbed the 21 people so far would continue into the foreseeable future, with online crime squarely in its sights.
"We know this is going on, and we will continue to target these people," he said.