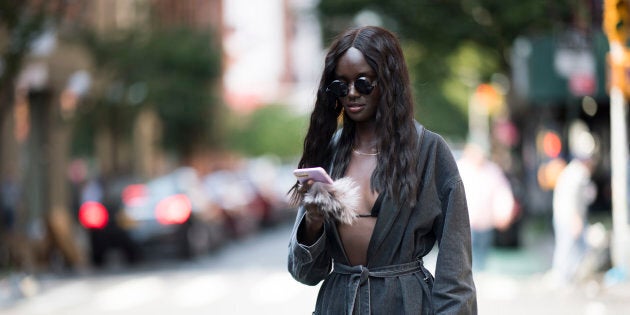 In just under a year, model Duckie Thot has already managed to make her presence known in the fashion industry, dominating the Yeezy Season 4 catwalk show, closing the Naeem Khan Spring 2017 catwalk at New York Fashion Week and appearing in the Fenty x Puma show in Paris.
But it was only when the 21-year-old Australian-Sudanese model decided to make the move to New York that her career truly took off, recently describing the experience of being an out-of-work black model in Australia as a "mindf**k".
"I think it was a very confusing part of my life for me. I was just this little [black] girl in Australia just being like, 'Oh yeah, I want to do modelling', but [while also] being in a country that doesn't promote black models. It was kind of like a mindf**k all in itself anyways, so I didn't really get how far I was going to go with it.
"I just thought -- why am I here? So I was just like, 'Let me make the executive decision to move to New York'. I'm not getting my coins in Australia."
Sharri Markson -- who was then editor of the now defunct Cleo magazine -- told the ABC at the time that ethnic models were often told that they would not be able to get work, with agencies reluctant to use them.
"The owner of one of the major modelling agencies, Pricilla's, said it was very sad but they often have to turn away a beautiful black model or beautiful Asian model," she said.
"They have to tell her the beautiful truth that she just won't find full-time work in Australia and it's not worth her while. Black, Asian or ethnic models don't sell here."
Thot -- whose passport is now "booked out with stamps on every single page" -- recently told HipHollywood that living in the Big Apple had been one of the best decisions she's made.
"I think no matter where you go in the world there's always going to be some sort of something, but you need to just find your place -- New York is my place -- so I found my place," she said.
"It's been going really great for me -- in every city you go to you're going to find racist people and I think being in the public eye you need to be OK with that.
"I'm not saying racism is OK but you don't need to be mad at every single country or every single city you go to because it's a thing but shake it off and stun."
Popular in the Community