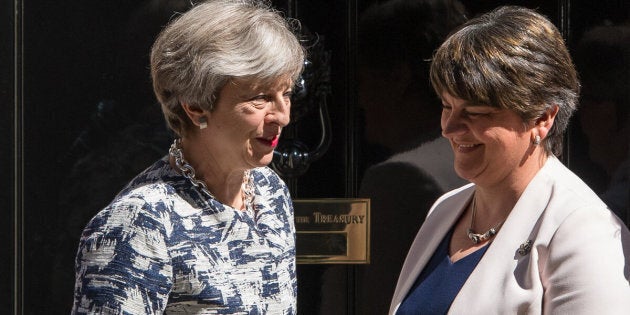 Theresa May has secured a deal with Democratic Unionist Party (DUP) that will see the Northern Ireland party prop up her minority Conservative government.
As part of the deal, the prime minister has agreed to spend an extra £1bn on Northern Ireland over the next two years for infrastructure including health and education.
There will also be "new flexibilities" for £500m of previously committed funding.
May met with DUP leader Arlene Foster this morning in Downing Street to finalise the details.
Speaking outside No.10, Foster confirmed May had also agreed to drop plans to means-test winter fuel payments for older people and abandon proposals to ditch the state pension triple lock guarantee.
The scrapping of the Tory manifesto pledges will also add billions more to the bill.
"Our aim in these negations is to deliver for all of the people of Northern Ireland," Foster said. "This agreement will operate to deliver a stable government in the United Kingdom's national interest at this vital time."
May's disastrous general election campaign lost the Conservative Party its overall Commons majority.
The votes of the 10 DUP MPs gives May a guaranteed majority on crucial votes including the Queen's Speech and the Budget.
The DUP said the deal will also see it promise to back the government on Brexit legislation and national security issues.
However May's authority remains precarious amid talk of a leadership challenge as it would take only seven Tory rebels to vote against her in parliament to defeat government legislation.
DUP-Tory deal in full:
Financial details of the deal: