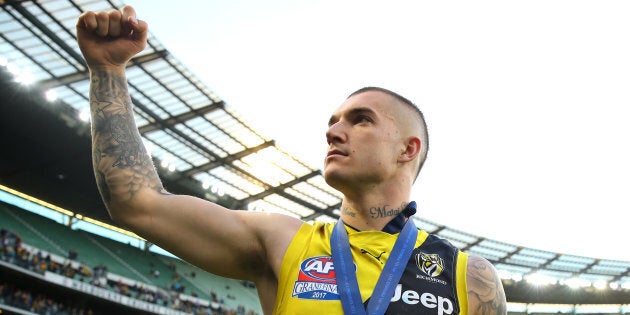 It goes on. The post grand final madness continues in Melbourne, as Richmond fans soak up the very unfamiliar emotion of sheer jubilation after the Tigers won their first flag in 37 years.
This being 2017, and tattoos being almost as ubiquitous as coffee, many are celebrating with a trip to the local house of needles and ink. Dustin Martin-style haircuts are also reportedly quite popular.
Even Dustin Martin's nana is getting in on the action. That's right, 70-year-old Lois Knight has pledged to get a tattoo in honour of her grandson -- who won a premiership, the Brownlow Medal, the Norm Smith Medal (best on ground in the grand final) and several other prestigious mantelpiece adornments this year.
"I said if Richmond ever win a premiership I'll get a tatt," Knight told the KIIS 101.1 Matt & Meshel radio show in Melbourne. "So that'll be my first one at 70."
When asked whether she'd get a Tiger, or perhaps an image of her grandson, "Nana Dusty", as the hosts called her, was non-committal.
"Not sure, I'll see." she said. She did, however, make it 100 percent clear that she would not be getting a tatt of Dusty on her buttocks, as one Richmond fan did after losing a bet.
You might say this poor fella woke up feeling a little dusty the morning after the grand final.