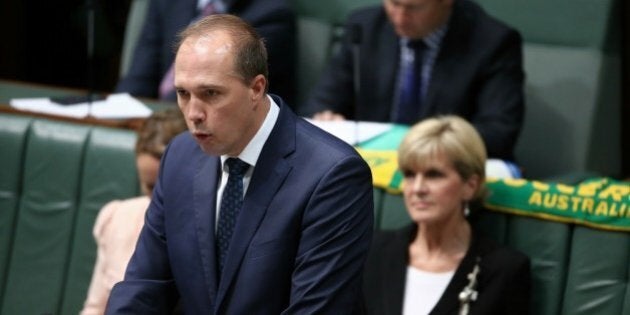 CANBERRA -- Immigration Minister Peter Dutton has revealed more young Australians are being caught suspiciously trying to travel to the Middle East, but he can't say how many were definitely attempting to join the fight with Islamic State jihadists.
Dutton announced Friday that Counter Terrorism Unit (CTU) officers had conducted 199 airport interventions between July and the end of October due to concern about travel destinations or other "suspicious behaviour".
That three-month figure compares with 336 counter terrorism interventions during the 2014-15 financial year.
"There has been a dramatic increase in the number of people who have been offloaded," Dutton told reporters in Brisbane.
"I want to assure the travelling public, and assure the Australian people today, that we have a world-class agency in Australian Border Force that is staring down the threat at our airports every day."
The minister did not give too much detail on the suspicious behaviour which may trigger removal from an aircraft.
He said most were stopped at Sydney and Melbourne international airports.
"One of the main reasons would be as to why somebody would be off-loaded is that there is suspicious behaviour that they're exhibiting that would lead us to think that they are heading off to fight in Syria, for example," he said.
While Dutton has described the intercepted young people as a threat, he has conceded there is no definitive way to say they were prospective jihadists.
"I just can't give that answer," he said, pointing to security concerns.
"Some" intercepted passengers were later able to continue their journey, according to the Minister.
"Some of the people have been referred to the Australian Federal Police, to ASIO, to other agencies and there would be some prosecutions that are initiated," Dutton said.
"There would be some surveillance undertaken, investigations otherwise."
The Immigration Minister has pointed to ASIO's recent statement that it is currently dealing with more than 400 high priority investigations.