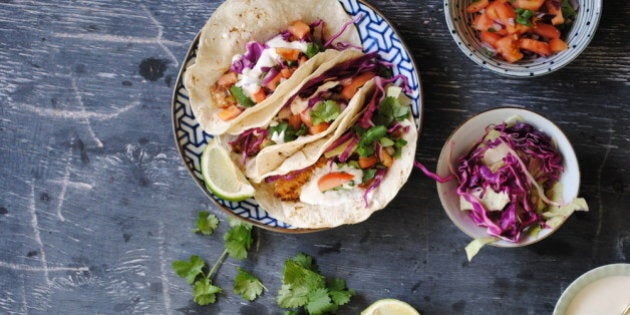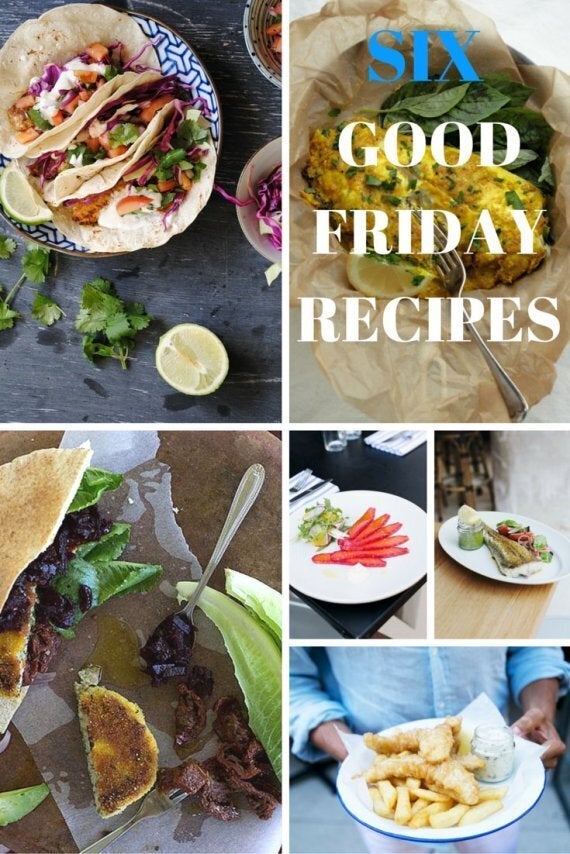 Easter time is upon us once again (hurrah!). It's officially time to gorge ourselves on chocolate eggs in every variety and size and eat enough food to send us into hibernation.
Although it has religious roots, eating seafood on Good Friday has virtually become cultural practice here in Australia, and it's no wonder -- we are lucky to have access to fresh, delicious local seafood.
To kick off the glorious upcoming long weekend (fingers crossed for cloudless skies), we've selected six seafood recipes that are bound to impress the whole family.
Spice it up for Good Friday with these Mexican fish tacos, complete with tomato salsa and a chilli lime crema. It's fresh, full of spices and perfect for getting the whole family involved -- just lay out the prepped components on the table and everyone can assemble their own tacos.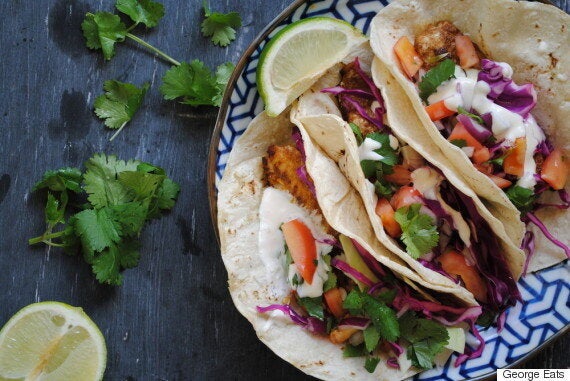 If simple is more your thing, this steamed fish recipe is a great accompaniment to your Good Friday spread. This dish is beautifully fragrant thanks to its amazing spices, herbs and ginger, and makes for a nourishing meal when served with steamed rice and your favourite veggies.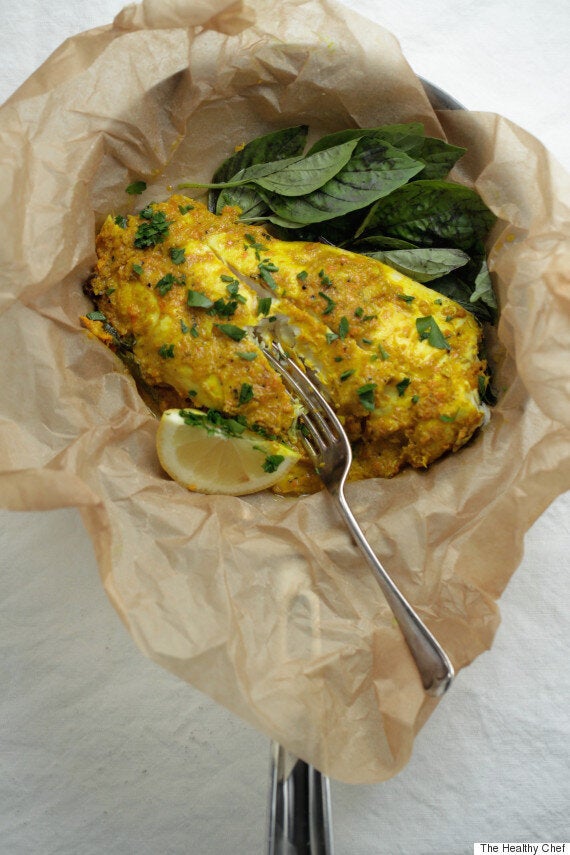 If you're after a lighter Good Friday dish, serve these fish patties with a salad and roast veggies. Love burgers? Get your fix by sandwiching these flavour-packed fish patties in a fluffy burger bun, fresh salad and your favourite condiments. If you're planning the feast in advance, freeze a batch of patties so when Good Friday comes, you're all ready to go.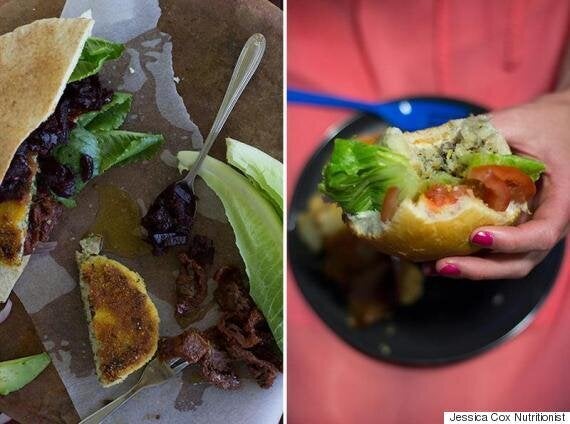 Kick it old school with classic fish and chips. The recipe is quick, easy and will be loved by young and old alike. The tartare sauce with fresh herbs really amps up the flavour, taking this simple dish to another level.
4 portions of fish fillet (flathead, gurnard or dory), weighing approx. 150g each
220g plain flour
375ml good quality ale (such as Coopers)
4 portions of frozen chips
Vegetable oil for frying
120g mayonnaise
1 tbsp chopped gherkin
1 tbsp chopped capers from brine
1 tsp chopped eschalot
2 tbsp chopped parsley
Juice of ½ lemon
Combine the above ingredients to make the tartare sauce and place in a jar.
Pre-heat fryer to 180 degrees Celsius. Place the beer in a bowl and whisk in the flour to make a batter.
Fry chips until golden. Drain, season and place on four plates.
Dip fish in batter, drain off excess, lay gently in fryer and cook until golden brown -- approximately three minutes. Remove, season and place on top of chips. Garnish with tartare and lemon to serve.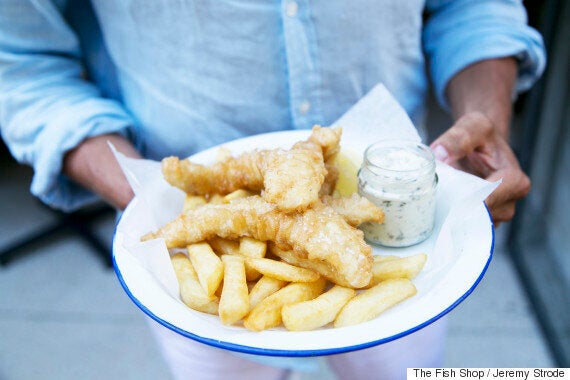 Whole flathead with mint and parsley sauce and salad
Keeping it traditional, this easy-to-make dish lets the fish speak for itself, with the mint and parsley sauce making a lovely accompaniment. If you can't get your hands on flathead, feel free to replace it with baby snapper, john dory, blue mackerel or leatherjacket.
4 whole flathead (approx. 500g each, head off, gutted and scaled)
3 tbsp high quality extra virgin olive oil
Sea salt
Freshly ground pepper
2 very ripe salad tomatoes, cored and roughly chopped
½ cup parsley, leaves picked and washed
1 bunch rocket, washed and drained
1 lemon, quartered
1 Tbsp red wine vinegar
1 hard-boiled egg
30g white bread
20ml red wine vinegar
2 cloves peeled garlic
50ml extra virgin olive oil
20g capers
20g anchovy fillets
50ml extra virgin olive oil
30g flat leaf parsley, picked and washed
40g mint, leaves picked and washed
Pre-heat oven to 200 degrees Celsius. Place a non-stick tray on a high heat and add some oil. Season fish and place in tray and cook for two minutes on each side, or until golden brown.
Place in the oven for 6-8 minutes until just cooked.
Meanwhile, make a salad with the salad ingredients. Season and toss.
Make the mint and parsley sauce by blending the boiled egg, bread, vinegar, garlic, olive oil, capers and anchovies until smooth. Add the remaining sauce ingredients and divide between four small jars.
Divide the cooked fish between four large plates, garnish with salad, lemon and sauce. Drizzle with olive and sprinkle with more sea salt if desired and serve.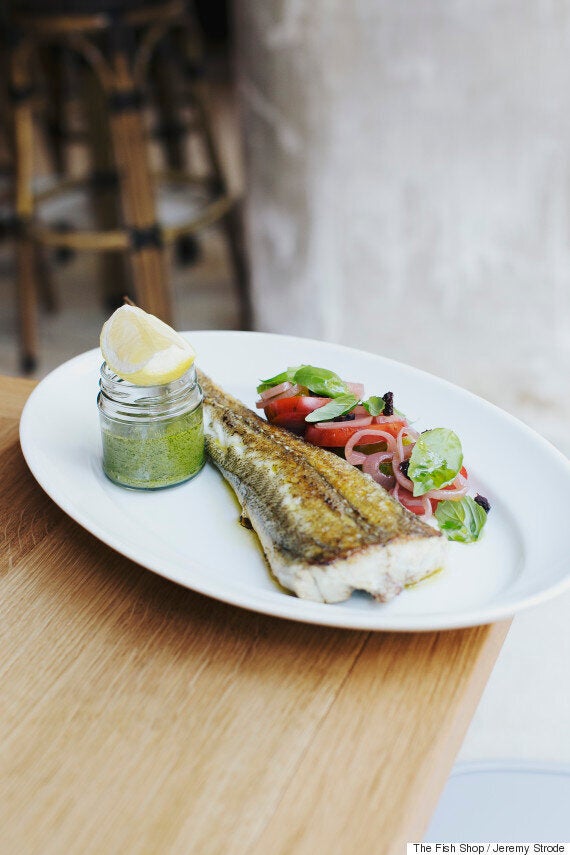 Salmon marinated in beetroot and vodka with a witlof, radish and orange salad
Feeling fancy? This recipe is sure to get the inner Masterchef in you going. This recipes involves curing fresh salmon with vodka and sugar overnight and serving with a crisp, refreshing orange salad. It goes without saying, this dish is sure to impress everyone.
½ fillet salmon, preferably the head end
3 medium beetroot, peeled and roughly chopped
30ml vodka
Salt
Caster sugar
60g sour cream
1 Tbsp horseradish relish
Salt and pepper
Mix the above in a bowl
1 head white witlof, trimmed and cut into 2cm strips
1 orange, segmented and cut into ½ cm dice, juice reserved
1 cup rocket
2 radishes, trimmed, washed and very thinly sliced
4 tbsp extra virgin olive oil
Sea salt
Freshly ground pepper
Weigh beetroot and add equal weight of salt and half its weight of sugar to a food processor. Blend beetroot mix in a food processor with the vodka. Place salmon in a tray, pour over the mix, cover and leave to cure for 16 hours. Remove salmon, scrape off mix and wipe with a towel -- do not wash the salmon.
Make horseradish cream by mixing ingredients in a bowl.
Whisk together orange juice and olive oil, and season to make a dressing. Place remaining salad ingredients in a bowl and dress.
Cut the salmon into slices approximately ½ cm thick and place five slices on four starter plates. Divide equal amounts of salad to the side of salmon, garnish with half a tablespoon of horseradish cream, drizzle with olive oil and more pepper and serve.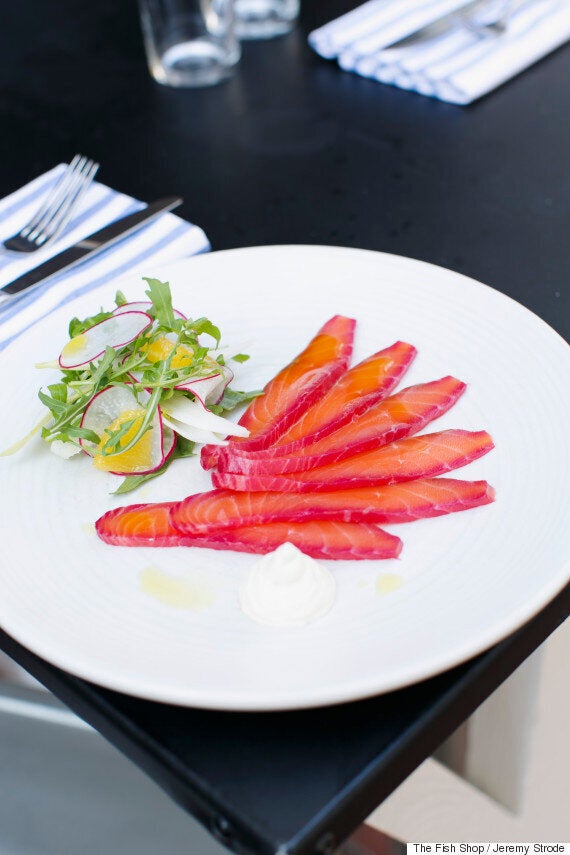 Popular in the Community