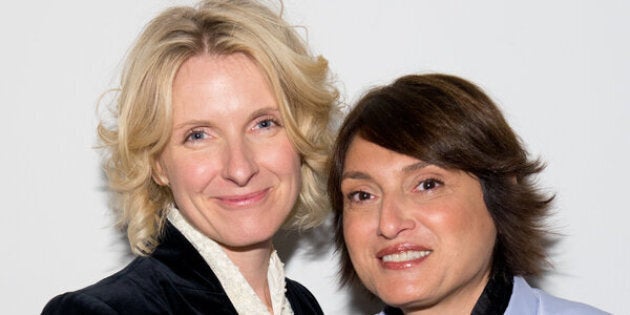 Eat, Pray, Love author Elizabeth Gilbert revealed in a Facebook post Wednesday that she is in love with, and committed to, her best female friend, Rayya Elias.
The lengthy Facebook post details Elias' battle with cancer and the depth of her friendship with Gilbert ― with the author also sharing that the intensity of her relationship with Elias contributed to the end of her marriage last spring. She then goes on to say that the two are in love and partnered.
Death — or the prospect of death — has a way of clearing away everything that is not real, and in that space of stark and utter realness, I was faced with this truth: I do not merely love Rayya; I am in love with Rayya. And I have no more time for denying that truth. The thought of someday sitting in a hospital room with her, holding her hand and watching her slide away, without ever having let her (or myself!) know the extent of my true feelings for her…well, that thought was unthinkable.
Gilbert then states that she decided to share the nature of her relationship with Elias because she needs "to live my life in truth and transparency, even more than I need privacy, or good publicity, or prudence, or other people's approval or understanding, or just about anything else."
We think Gilbert being open about her relationship is absolutely amazing, and we wouldn't expect anything less from the author of an inspirational memoir which stressed the importance of sharing one's truth and living authentically.