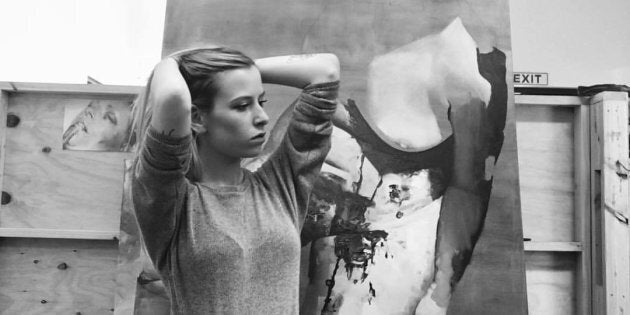 One in ten women have endometriosis, and Australian artist Ellie Kammer is one of them.
"The disease sucks," Kammer told HuffPost Australia. "One in 10 women have it, it causes infertility in around 50 percent of cases, it's chronic, incurable and the average time women have to suffer before getting a diagnosis in Australia is about 10 years.
"That's a hell of a long time to be told nothing's wrong with you by doctor after doctor, or that it's simply period pain or all in your head.
"It's exhausting, isolating and maddening and it's a direct result of the general ignorance surrounding the disease."
This ignorance is just one of the reasons Kammer has decided to make endometriosis the focus of her (breath-taking) artworks, and also why she recently painted a portrait of 'Girls' creator and fellow endometriosis awareness advocate Lena Dunham. In other words, to get the word out.
"It's important to me to raise awareness for endometriosis," Kammer said. "I hope that my images also make people feel powerful.
"There's nothing more liberating than accepting yourself and becoming comfortable with who you are and I hope that the rawness of my paintings can provide some comfort in anyone who feels different or misunderstood."
Kammer's portrait of Dunham as portrayed on the actor's Instagram account.
Of her collaboration with Dunham, Kammer said she reached out the actor once she discovered Dunham was also a passionate advocate for endometriosis awareness.
"For a while I watched her career and fame evolve and I noticed that she has no qualms about stating what it is that she believes in and fighting for it. She owns her body and she never ever apologises for being who she is which is a quality I think a lot of people strive for, but it is really hard to achieve," Kammer said.
"I asked Lena if she would allow me to create a portrait of her and she very politely responded and told me she'd be honoured. We agreed on an image and style and what the portrait would represent and when the portrait was finished, to my delight, she shared it on her Instagram account with a very sweet message. I wanted to portray her as I see her.. completely unapologetic, raw and open."
'Raw' is a word often used to describe Kammer's work, which Kammer has admitted to being deliberately uncomfortable to look at.
"They're so confronting that you have to contemplate what it is about the paintings that makes you feel disarmed," she told Metro UK. "It makes you raise questions with yourself like 'why am I uncomfortable with this? Why do I love it? Why do I hate it?' That internal dialogue is really special even if the painting is disliked."
Her most recent body of work 'Nescience 2016-2017' focuses on women and health, and the art of bringing often invisible symptoms to the fore.
"My last body of work was made up of mostly large scale oil paintings featuring women in ordinary poses proudly and comfortably wearing their internal damage externally," Kammer told HuffPost Australia.
"I'm inspired by my own struggles with endometriosis and adenomyosis, but I think the paintings tell a bigger story about self acceptance in the face of physical changes that can't be helped. I tend to mess up the flesh a bit.. sometimes I paint with a dirty brush. I think it helps bring the figures to life, after all we humans aren't these perfect glittery superficial shells.. we're messy and layered and individual."
In terms of her own health journey, Kammer says it has been a long and exhausting one to get to the point where she is today.
"I was diagnosed [with endometriosis] in December 2015 via laparoscopy," she said. "I struggled hard to accept the reality I was faced with... at age 24 I wasn't ready to hear I had an incurable disease with such invasive and exhausting treatment options.
"I hated that there was such limited information about the disease available too. I like the power of education but I was really struggling to find reliable or consistent information about what the disease is and especially how to best manage it. I became rather depressed.
'"After I found Endometriosis Australia and started educating myself and being able to communicate to my loved ones better about what was going on with me, things became a little easier.
"This year however has been quite rough. I was hospitalised in a life threatening condition with Sepsis (blood poisoning) because I was so used to the daily pain that comes with endometriosis and adenomyosis that I was completely unaware that I had developed a kidney infection, which then manifested and I became septic.
"A few weeks after that something was still not feeling right, so I had a consult with my surgeon and she was adamant I have surgery urgently, so three days later I did. As well as having my endometriosis (which was everywhere) cut out, I had dilation and curettage, my urethra was inflated to prevent future infections, a mirena was inserted to suppress symptoms and I was diagnosed with adenomyosis.
"After a few months on the mirena I started noticing, though sex is always a little painful for me, the pain had really escalated and I was constantly getting infections. It was then discovered that I had pretty severe atrophy as a result of being on contraception (to manage symptoms) for such a long time, so I then had to endure some pretty painful laser treatments. Thankfully sex is a pleasure again and I have just one infection which seems to be dying down."
In terms of what's next for the 26-year-old, she plans to auction off the Lena Dunham portrait in November and donate 100 percent of the profits to Endometriosis Australia, with details coming soon on her website.
She has also launched a Pozible campaign to seek funds so she may work full-time as an artist for the next 12 months, this time focusing on a body of work surrounding chronic illness and relationships.