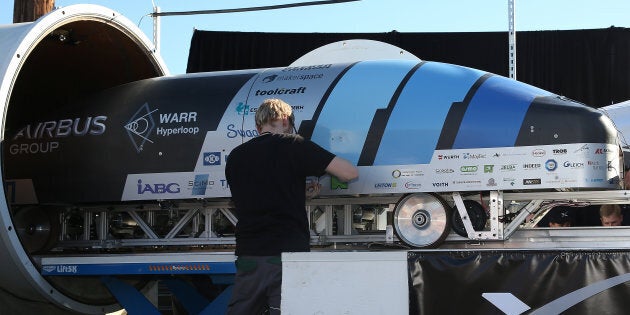 Elon Musk is changing everything the world knows about travelling at fast speeds -- and now he's got footage to prove it.
The billionaire tech entrepreneur shared an Instagram video of a test hyperloop pod on Monday travelling a distance of just over a kilometre at a speed of 324km/h. And when we say it's fast -- it's really, really fast.
Check it out for yourself below.
The idea of a hyperloop as the future of high-speed transportation was first floated by Musk back in 2013 and could see future pod vehicles travelling through vacuum-sealed tubes at speeds of more than 1000km/h.
Since then, the Tesla and Space-X founder has invited the world's innovators to build whatever they can that might be able to travel that quickly. And while current designs aren't quite there just yet, they're still quick enough to leave you a little dizzy.
The video above was taken at Musk's SpaceX Hyperloop Pod Competition in California over the weekend from the winning vehicle, designed by a team of 30 students from Germany's Technical University in Munich.
While the WARR Hyperloop pod was just one of many different designs, it managed to travel the fastest at the competition. It's powered by a 50 kW motor and sits inside a carbon fiber-reinforced body and is, what Musk believes, a step towards travelling faster than the speed of sound.
But if travelling as quick as the video shows gets you a little queasy, there's no need to worry.
Musk took to social media after the competition to clarify that future hyperloop passenger vehicles wouldn't be subject to the intense strobe lighting that test pods are and said that the "uncomfortable acceleration" and braking times is only due to the short distance of the SpaceX test tube.
Instead, the idea would be for hyperloop transport services to be able to travel at such speeds over very large distances so that passengers could come along for the ride without feeling the dramatic process of speeding up and stopping.
And if that's the case for the future of travel, it seems your daily commute could be about to get a lot more interesting.