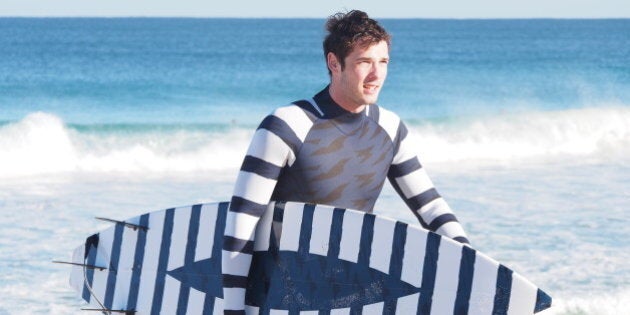 Sharks have definite ideas about fashion and stripes are out this summer.
These finned fashionistas hate stripes so much that they aren't really keen on biting anything stripey.
Congratulations Hamburglar, you're safe to go in the water.
As for the rest of us, a global shark summit at Taronga Zoo on Tuesday is assessing new technologies that could be used to deter shark attacks.
Australia's current shark nets are very effective in mitigating fatal attacks -- there's only been one shark death on a netted beach since their introduction in the 1930s.
But they also trap and kill marine life like dolphins and turtles, so Premier Mike Baird has assembled 70 of the world's most brilliant shark scientists to discuss new ways to keep our beaches safe.
For those who don't have a biology degree, here's a breakdown of some of the personal deterrents on the agenda.
Take the idea of a really annoying pattern, and add science.
That's the guiding principle of shark vision disrupting. Sharks only see in black and white and there's an emerging field of science looking at the patterns that deter them, as well as good old fashioned camouflage.
Perth-based company Shark Attack Mitigation Systems has designed a wetsuit and surfboards with patterns incorporating these ideas.
Check out their video here:
Just like spraying insect repellent to quell the mozzies, there are chemical shark repellents on the market.
One product, aptly named Repel Sharks, is being looked at by the summit.
We wonder if delegates will watch this video which includes the choice line: "holy crap, it's working!".
The repellent is based on a biological instinct for sharks to flee when they smell a dead shark.
The repellent contains a natural chemical found in putrefied shark tissue that sends some sharks packing.
Remember friendship bands? A company called Sharkbanz makes the opposite of that for sharks.
Using magnets and metals that are classed as 'electropositive', they create bands that mess with shasrks' electromagnetic receptors.
Australian invention Shark Shield is also being assessed by the shark summit experts.
The electronic shark deterrent is strapped on to the ankle and has a low, dragging antennae that emits an electrical pulse that bothers sharks but not other marine animals.
For surfers, there's also a battery-operated pack that can be attached to surfboards called Surf Safe.
Here's a test on a great white shark: