It's easy to judge girls like Emily Skye.
Okay, judge might be a strong word -- perhaps pigeon hole. We put them in the 'genetically blessed, driven by appearance and ego' category.
But Emily Skye is not like those girls. On first glance at her Instagram (at 1 million followers) and Facebook (at 5.9 million followers), you might make the assumption that she's just another fitness model -- with her piercing eyes, perfect abs and a booty to make you instantly want to squat.
The girl from Glenning Valley on the NSW Central Coast certainly appears like she has a blessed life, but appearances can be deceiving -- and she's earned everything she's got.
Boasting an online subscription-based fitness empire with over 200,000 members, Skye's success story grew from need. On antidepressants for a large part of her teens, Skye struggled with bullying, self esteem and abusive romantic relationships. Her father left when she was young and as a result, she sought validation from boyfriends.
Finding fitness became her saving grace, when she began exercising and noticed a considerable difference in her depression. From there she became professionally qualified and also educated herself on good nutrition. Her program is the fruit of her learnings -- offering guided workout programs people can do at home or in a gym, along with meal plans compiled by qualified dieticians and nutritionists.
Skye explained that she needs to post images in bikinis or crop tops on social media to draw in young women, for #fitspo imagery is largely what they're looking for. But far beyond the photos is her message -- you just need to read a few of her posts to see she's very much about fitness for strength -- both physically and mentally.
Spending the day with Skye taught me many things. Sure, I learned a thing or two about my push-up technique (her workouts in conjunction with The Huffington Post Australia coming soon), but interviewing her and chatting extensively off air, I was humbled by her true salt of the earth nature and genuine desire to help Australian women with self esteem, anxiety and depression.
When it was just her and I at the end of the shoot she said to me, "I don't even care about the making money part. That's their [her manager's] problem. I want to reach young women who really need to be told they are worth something."
Emily Skye is now in my 'role model' category.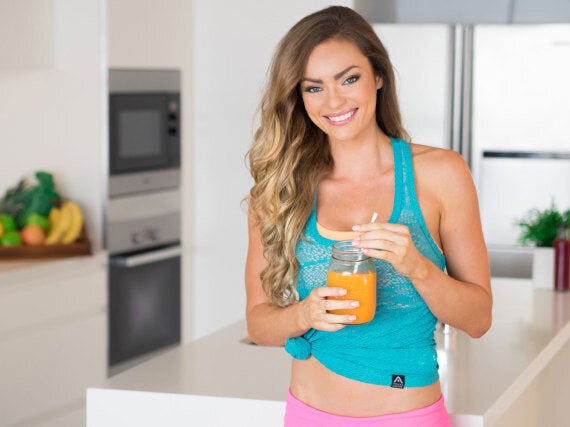 If you need help in a crisis, call Lifeline on 13 11 14. For further information about depression contact beyondBlue on 1300224636 or talk to your GP, local health professional or someone you trust.