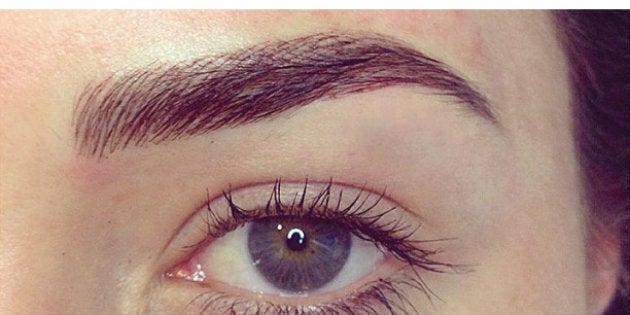 Before you freak out rest assured, eyebrow tattooing has come a long way from the thick, obvious block-shaped permanent eyebrow tattoos you might be visualising.
In fact, the new wave of brow tattooing, mostly referred to as feather touch tattooing, is so popular that leading technicians are booked out months in advance -- and you can see why when you weigh up the benefits.
Save time getting ready with no brow pencil, wax or powder needed (which means no more pigment running down your face at the beach or gym), and although you still need your brows maintained (plucked or waxed), the overall effect is fuller, more youthful brows and a more polished look.
Before anything permanent is done the technician will consult you as to the end result you're going for.
"There are many factors to consider when we design a suitable shape. Most importantly we steer clear of trends such as the "power brow" that is way too overdone for people's features. Cosmetic tattooing should go undetected and be as subtle as possible. We take into account thickness, arch, length and the colour/pigment that will be used," Amy Jean Linnehan from Amy Jean Eye Couture told The Huffington Post Australia.
"We spend a good half an hour (sometimes more!) measuring the brows and drawing on the shape so they are perfectly symmetrical. We have a method to determine how far apart they are in the centre as well as the length of the brow, and the all-important arch. Each face shape is different therefore every brow is measured specifically to suit that particular face," Kristin Fisher told HuffPost Australia.
Surprising, a tattoo gun isn't used. Many expect to endure a noisy machine similar to that used in traditional tattooing, but that's not the case.
"We use a hand tool called a microblade, which has tiny little needles on the end of it. The blade is dipped in pigment, which is deposited into the skin as we are micro-stroking, creating crisp strokes identical to that of a hair," Fisher said.
Your own hair isn't removed -- the feather strokes are made through your existing hair to visually bulk up patchy parts and create a full shape. The whole procedure takes around two hours when you take into account the time it takes for the numbing cream to kick in first.
"You are in the chair for roughly 60-80 minutes. There is also 20 minutes anesthetic time prior. This is a topical gel to reduce any pain during the procedure. Most people liken it to a 'scratchy' sensation. It's not painful as we continue to apply anesthetic during the entire procedure," Linnehan said.
Costs vary from salon to salon, but you are looking at roughly $1000 for semi-permanent perfect brows -- results last for 12-24 months.
"Within two years the pigment in the strokes will have blurred into a soft and extremely subtle 'wash of colour'. Oily skins break down the pigments and blur the 'crisp' lines at a faster rate than a dry skin type would. For that reason drier skin types get longer lasting results out of micro-feathering brow tattoo," Linnehan said.
"Results vary, lasting anywhere from 12-24 months. If you have an oily complexion you will most likely need a top up around the 12 month mark. Top ups are priced from $250 depending on how much work needs to be done. however if your skin is normal to dry, you will retain the colour and shape for longer," adds Fisher.
Feather touch tattooing is also a viable option for those going through chemotherapy or people with alopecia.
Ask to see examples of a technician's work before committing to feather touch tattooing and ask around -- word of mouth is the best way to find a reputable technician.