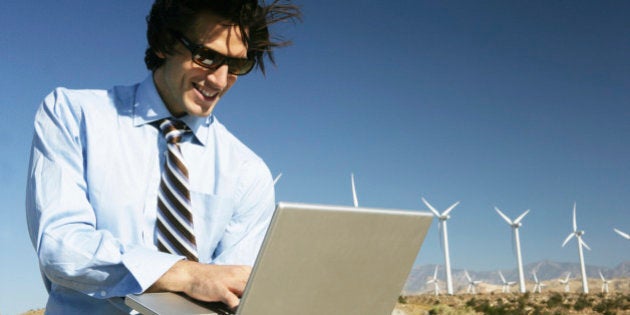 Young? Successful? Live in one of Australia's major cities? You should be moving to Orange, Dubbo, or Wagga Wagga.
That's the word coming from regional centres off the back of a new study by Australian demographer Bernard Salt into the jobs of the future.
The study, Super Connected Jobs, commissioned by NBN Co, outlines what the jobs of the future will look like, who'll be doing them, and where they're situated.
It says young people looking for alternative employment, a secure lifestyle, and agile business opportunities will look outside the major cities for work.
Chloe Yarwood, 22, moved to Orange five months ago to pursue work as a speech pathologist after growing up in Sydney.
She told the Huffington Post Australia the regional city in NSW's central west had much to offer young people.
"There's a bit of culture shock - we had a work do and people were joking about who's going to bring the ram to kill," she said.
"But I'm absolutely loving Orange. It's quite hip. It's like a big suburb in Sydney," she said.
Yarwood said it was difficult to get a job in Sydney.
"There's definitely a lot more work opportunities," Yarwood said.
"I finished uni and it took me six months to get a job, at first looking in Sydney, but then broadening my search out."
Among jobs on the rise, the study reports care-givers, technology workers, and specialist professionals rank highly.
Yarwood said the laid-back lifestyle and community pride people took in places like Orange made it a great place to live.
"I have a uni friend in Bathurst and another in Dubbo. We meet up, we go to the pub," she said. "To be fair it's probably all the same things I do in Sydney. Drink a lot of coffee. Go out for breakfast.
"I haven't felt there's any service or anything that I couldn't access in Sydney - except maybe the beach."
The report says the move to regional centres will be driven from new technologies and inter-connectedness between major cities and regional areas.
"Start-ups will drive the growth of 'Silicon Cities and Silicon Beaches' outside of the bigger metropolitan areas because such businesses can be operated and run from wherever an entrepreneur chooses," the report said.
"These high-tech businesses will move from the city to regional and perhaps lifestyle Australia creating hotbeds of innovation and perhaps reviving or stimulating local economies."
And who'll be driving this tree change?
The study puts forward young people as a potential group with little to lose and much to gain from moving to a regional area.
"Uncommitted to marriage, mortgage or children in their 20s, knowledge worker Generation Ys will be looking for ways to disrupt, to improve and to create value," the report said.
Mayor of Dubbo, Councillor Mathew Dickerson, said many people would benefit from such a move.
"According to our research 66 per cent of Sydneysiders would consider moving outside Sydney to take advantage of a better quality of life, affordable real estate and a welcoming community in which to raise a family," he said in a statement.
Cr Dickerson is a spokesman for Evocities, a coalition of NSW's largest regional cities looking to attract more people to what they call an 'evocity' - centres of "energy, vision and opportunity."
Seven regional cities are part of this campaign - Albury, Armidale, Bathurst, Dubbo, Orange, Tamworth and Wagga Wagga.