Over 10 days in April thousands of climate activists brought parts of London to a standstill, blocking bridges, railways and roads, staging "die-ins" and defacing buildings.

Armed with banners, street performances, and even a pink boat, their message was to tell the world the "truth" about climate change and reduce greenhouse gas emissions to zero by 2025.
Now the same activist group is threatening to wreak havoc in Australia's biggest cities with the bold aim of doing nothing less than saving the entire human race from a climate catastrophe.
Extinction Rebellion (XR), which was founded in 2018 by a group of British activists, says the disruptions in Australia will "demonstrate the grief and fear people are experiencing as we face mass extinction."
Scheduled to align with International Rebellion Week on October 7, action is planned in Sydney, Melbourne, Adelaide, Perth, Hobart and Cairns.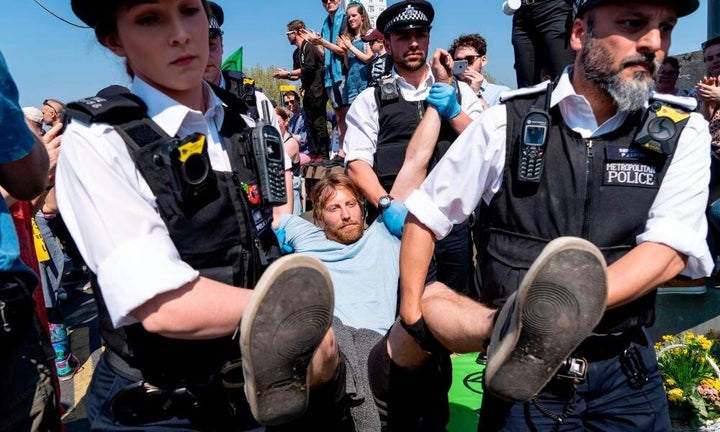 Local XR groups have hinted that traffic could be impacted Down Under more severely than London because Australians lean on vehicle travel far more than Londoners do.
"Sydney is much more reliant on cars, our anticipation that policing around the flow of traffic will be much more intense than it would be in London," said Elly Baxter from Extinction Rebellion Sydney.
XR member Sophie Thompson, who shut down peak-hour traffic in Brisbane's CBD on Monday by blocking Victoria Bridge with a 10-metre tripod, said there will be "a big showcase of civil disobedience and escalatory actions."
The 22-year-old midwife was arrested after she suspended herself in a hanging umbrella which displayed the message "Climate denial is child abuse." Thompson confirmed she faced Brisbane's Magistrates Court and was fined $1,050.
Blasting Prime Minister Scott Morrison's inaction on climate change as "abhorrent", Thompson says her core values as a midwife aligned with those of Extinction Rebellion, leading her to join the group this year. "The role of a midwife is to ensure the safe passage of life into this world and that includes having a safe liveable climate."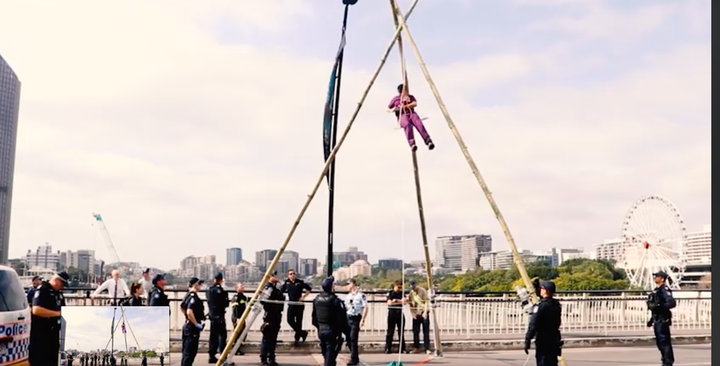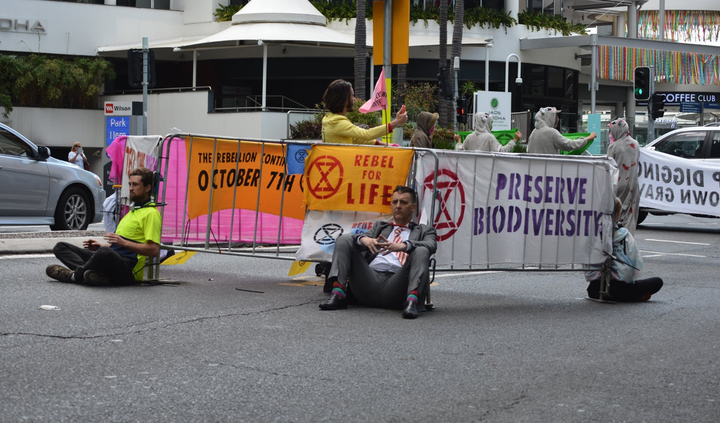 In fact figures published on Wednesday suggested that protests in London in 2019 had been a bigger drain on frontline police resources than the London Bridge terror attack and Grenfell Tower fire tragedy in 2017.
Activist Dr Steve Melia, who faced Westminster Magistrates Court in August, told the court: "I never even had a parking ticket before I stopped driving 10 years ago. I have always paid my taxes, obeyed the law, so it was a big step to do this. There really was no hope left."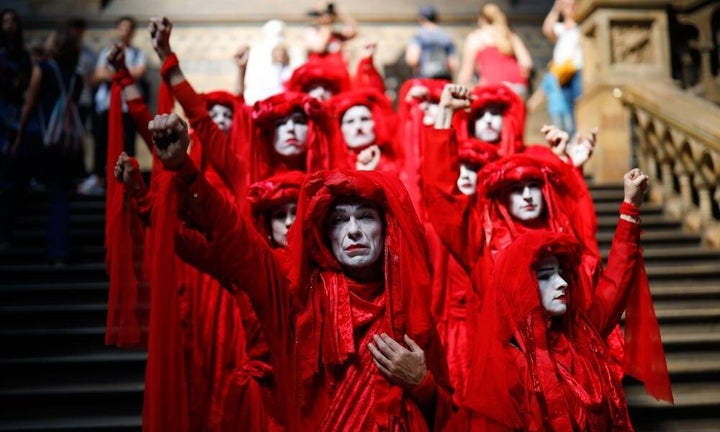 The blockades will cover the area "from Trafalgar Square to Lambeth Bridge to Victoria Street", activists said, with protesters in place "to make sure no traffic can get through to the central area of the government and the executive".
"This rebellion is going to the government and we will centre it there. If we don't get to those sites, then there are other options," an activist named Ronan told journalists.
The group said around 9,500 people had signed up for the Westminster shutdown, with almost 4,500 prepared to be arrested. More than 1,700 people have offered to go on hunger strike, they added.
But activist Robin Boardman said he expected the protest to be even bigger, with "at least between 20,000 and 30,000 people out on the streets".
"Really what we're going to see on the streets is a much larger number than that [9,500], because people bring their friends, they bring their family," Boardman said. "This is not a political issue, it's a social issue…"
Activists in Australia won't just be taking-to-the-streets. Some XR protests will include immersive theatre, such as a costumed picnic on Fig Tree Lawn in the Sydney Botanical Gardens.
"We're dressing in blue or as sea creatures to highlight the human impact of sea level rise and hoping to create a visual feature of everyone holding hands around the end of the harbour to highlight the fact this area will be underwater in our lifetime," XR's Baxter told HuffPost Australia.
Another disruption takes the form of a "Bee-Mergency", organised by a New South Wales beekeeper to draw attention to how vital bees are to the ecosystem.
"Without bees we cannot make food, if there's no bees, there are no humans," Baxter said. "We'll have hundreds of people dressed as bees and acting in a die-in in (Sydney's) Hyde Park before swarming the city."
Former senator Scott Ludlam and Indigenous Australian activist Aunty Shirl Lomas are set to speak at a rally at Sydney's Town Hall on Tuesday but actions have already started across the country.
Additional reporting from Jasmin Gray, HuffPost UK.