More arrests are expected across Australia today as protesters from the Extinction Rebellion movement continue with disruptive demonstrations calling for more government action on climate change.
Thirty protesters from Extinction Rebellion (XR) were arrested in Sydney on Monday when activists carrying banners and signs blocked George Street from traffic, causing chaos in the Broadway area.
Police officers led away elderly protesters. One said a "revolution" was required and that the protest was worth getting arrested for.
The disruptions are part of a planned fortnight of global protests, and your commute to work may be affected.
Video uploaded to Twitter shows protests in Sydney and Brisbane, with some members of XR using bike locks around their necks to bolt themselves to barricades.
XR, which was founded in 2018 by a group of British activists, says the disruptions in Australia will "demonstrate the grief and fear people are experiencing as we face mass extinction."
Local XR groups have hinted that traffic could be impacted Down Under more severely than London, where similar protests have occurred, because Australians lean on vehicle travel far more than those in the British capital do.
"Sydney is much more reliant on cars, our anticipation that policing around the flow of traffic will be much more intense than it would be in London," said Elly Baxter from Extinction Rebellion Sydney.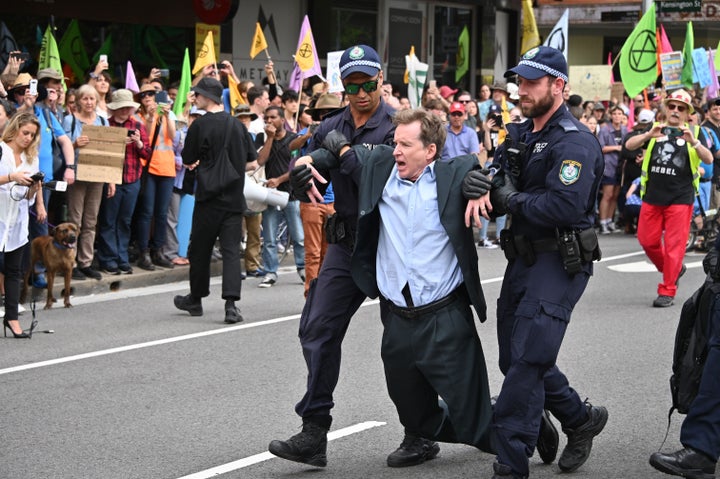 XR member Sophie Thompson, who shut down peak-hour traffic in Brisbane's CBD last week by blocking Victoria Bridge with a 10-metre tripod, said there will be "a big showcase of civil disobedience and escalatory actions."
The 60 planned acts of civil disobedience are the latest stage in a global campaign for tougher and swifter steps against climate change. XR is demanding immediate action to cut carbon emissions and avert an ecological disaster.
Dutch police stepped in to arrest more than 100 climate activists blocking a street in front of the country's national museum and there were similar protests in Austria, France, Spain and New Zealand.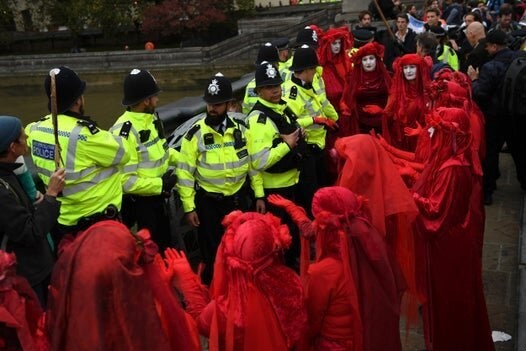 Tuesday will see Australian XR activists include immersive theatre to their protests, with a costumed picnic on Fig Tree Lawn in the Sydney Botanical Gardens.
"We're dressing in blue or as sea creatures to highlight the human impact of sea level rise and hoping to create a visual feature of everyone holding hands around the end of the harbour to highlight the fact this area will be underwater in our lifetime," XR's Baxter told HuffPost Australia.
Another disruption takes the form of a "Bee-Mergency", organised by a New South Wales beekeeper to draw attention to how vital bees are to the ecosystem.
"Without bees we cannot make food, if there's no bees, there are no humans," Baxter said. "We'll have hundreds of people dressed as bees and acting in a die-in in (Sydney's) Hyde Park before swarming the city."
Reuters contributed to this report.