A Parisian man has described the terrifying moment he learned of the attacks in Paris after hearing a series of explosions during a football match at the Stade de France.
More than 100 people are dead after a series of attacks in Paris on Saturday, prompting the country to close its borders and declare a state of emergency. HuffPost France reports that at least one gunman opened fire at the Petit Cambodge restaurant and the adjacent Carillon bar, both in the 10th district.
In another attack, The Associated Press reports that attackers took as many as 100 hostages in the city's Bataclan theatre nearby, and people had been killed there as well. At least two explosions were also heard near Paris' Stade de France during a soccer match between France and Germany.
Franck Benarroch, a 26-year-old sales rep who lives close to Le Bataclan, told The Huffington Post Australia that he was with his girlfriend and friends when they heard the first explosion and were later told to evacuate.
"I am safe now. Coralie (my girlfriend) is here but she is in shock," Benarroch told the HuffPost Australia from Paris.
"I think it was 20 minutes after the beginning of the match, we heard the first explosion. But we are used to hearing fireworks or loud noises in stadiums so we just assumed it was that."
"Then the noise was heavier than usual and about 10 minutes after that we heard another loud noise. And 15 minutes after that another one. After the second one we started to worry," Benarroch added.
Benarroch said he knew the situation was serious when French President Francois Hollande was evacuated from the match.
"We got a news alert on our smart phone that said the President was taken by police out of the stadium," he told HuffPost Australia.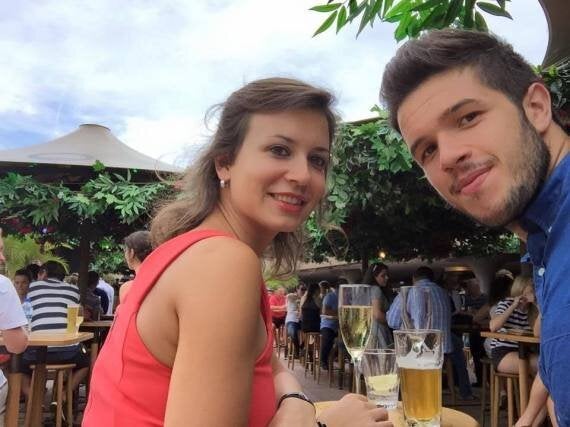 Benarroch and his girlfriend Coralie were at the Stade de France during the explosions. (Supplied)
"We were checking our phones and all our news apps were saying something was happening and friends were contacting me to ask if I was OK.
"When the game finished... It went until the end and nothing happened. The guy on the loud speaker said an incident had happened outside.
"As soon as we got out of the stadium hundreds of people started to run and we were f***ing scared so I grabbed Coralie and we ran together."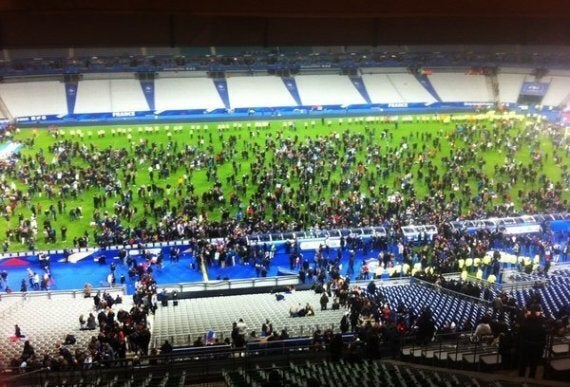 Thousands of people react to the news inside the Stade de France. (Picture: Getty Images)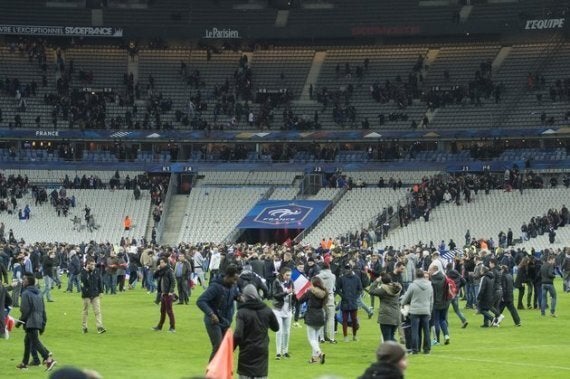 "Hundreds of people started to run." (Picture: Getty Images)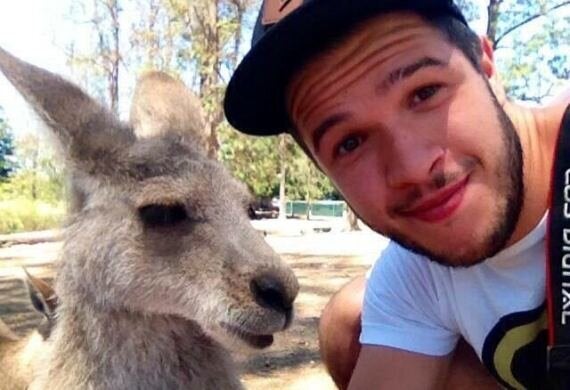 Benarroch: "We were f***ing scared... we ran." (Pictured: Supplied)
"There were helicopters and police telling us to leave the stadium now. People were still in the stadium on the field and some of my friends were still on the field," Benarroch added.
Benarroch has been unable to return home because he lives just 800 metres from the Petit Cambodge restaurant, where one of the shootings took place.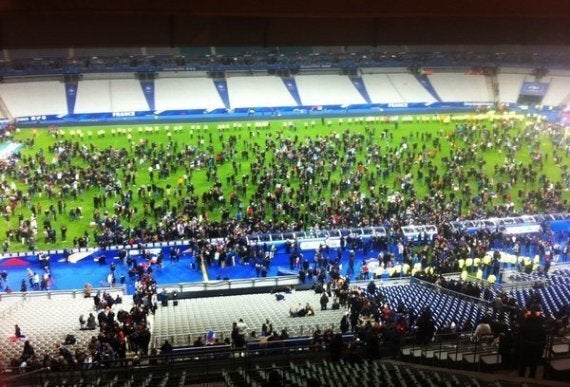 Hundreds flee the stadium. (Picture: Getty Images)
"I am at a friend's house now. We walked here and all my friends are here now too," he added.
"We are all just watching the news and seeing what happened.
"It's awful. Just a few months after Charlie Hebdo too."
In January, two brothers stormed the offices of Charlie Hebdo, a French satirical newspaper, killing 11 people and later shooting dead a police officer.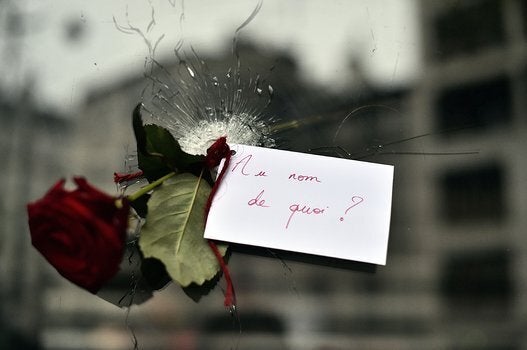 GRAPHIC WARNING: Paris shootings