AMBER alerts were launched Australia-wide on Thursday in a combined effort between Facebook, the Australian Federal Police and State Police in every jurisdiction to combat child abduction.
The AMBER Alert system on Facebook directly distributes information about a missing child to the public on mobile phones, desktops and tablets via the Facebook app. This gives families and the wider community access to technology that could potentially save the life of a missing child. To understand what Facebook AMBER Alerts mean for Australia there are a few things you need to know.
AMBER is an acronym that stands for 'America's Missing Broadcast Emergency Response.' The AMBER Alert system was born in America in 1996, when nine-year-old Amber Hagerman went missing in Arlington, Texas. While her neighbours witnessed her abduction, they had no way of quickly sharing information about the person who took her, or what Amber herself looked like with the wider community. Establishing the AMBER Alert system was the response to this problem, so children who go missing have the chance of being found and quickly reunited with their families.
AMBER Alerts however, are only issued for missing children who meet very specific criteria. These include the child being 17 years old or younger, police belief that the child has been abducted and is at imminent risk of death or serious bodily injury and finally, the police need to already have information that will help them, and the public, locate the child. Often, this information is a photo of the missing child, the number plate of a getaway car, or even a photo of the abductor.
Emily Vacher is a Director of Trust and Safety at Facebook and is in Australia to launch AMBER Alerts. Previous to her role at Facebook, she was a Special Agent at the FBI specialising in crimes against children. Vacher explains the reason for such a strict alert criteria.
"One of the biggest things you can do to harm the AMBER Alert system is to send too many of these, because people will be fatigued and won't pay attention. So, the AMBER Alert system is really for a small percentage of the most high risk cases with the best chance of it [the case] being solved quickly," Vacher told HuffPost Australia.
I think this is going to make a huge difference for one big reason and that is community. When a child goes missing, it is somebody in their community that has seen something.
How will Facebook AMBER Alerts work in Australia?
AMBER Alerts will be sent to Facebook users via the app or desktop window. When an alert is issued, it will go to each person with Facebook within a 160km radius of where the child was reported missing.
"So, if a child was living in Sydney, people in Perth would not be notified," Vacher explained. "That wouldn't be meaningful... and people would become fatigued."
The alert will appear in the centre of your smartphone screen, or in the second position on your Facebook feed. The alert will have a photo of the missing child if it is available, or information about the number plate of a vehicle involved or details about the abductor, which could include clothing or appearance descriptions. There will be a 'Learn More' button underneath the initial information, which when clicked, will take users off the Facebook platform and directly to the missing child's poster created by police. A phone number will also be included within the alert so people with information can contact police quickly and easily.
As these alerts are extremely rare, Vacher emphasises the importance of taking them seriously.
"So what we want people to know, one of the biggest messages today, is that if you see one of these alerts... it means that you are actually in a position to be able to help and all we ask people to do is keep their eyes and ears open."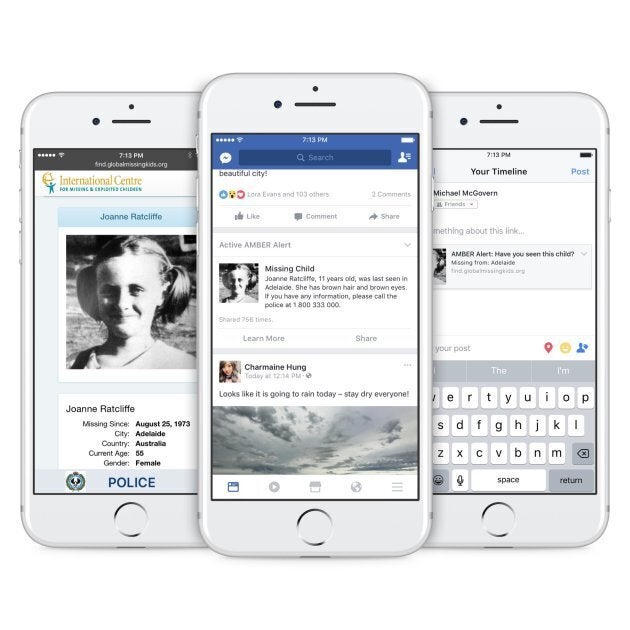 How does Facebook know who is within the 160km radius?
Facebook uses multiple tools to determine the correct people to send the alerts to. These include location services, assessing the location of your near-by friends and also reading user activity via check-ins or tags.
"For example, I live in New York City, but I am here in Sydney visiting and this weekend I went to the Opera House," Vacher explained. "I checked-in [at the Opera House] and even though I live in the United States, I am going to get that alert because I am in the search area of the missing child. It brings the right information to the right people at the right time."
What do you do if you receive an AMBER Alert?
If you receive a Facebook AMBER Alert, police ask the public to be aware of their surroundings. If you have information about the missing child, you can call the number that is included as part of the Facebook alert and speak directly with law enforcement.
Have AMBER Alerts on Facebook helped find missing children before?
Australia is the 13th country where Facebook has launched AMBER Alerts. America became the first country to have live Facebook alerts in January 2015, and since then, countries all over the world including South Korea, Greece, Malaysia, Mexico and Jamaica have agreed to use the technology. There are already reported cases of Facebook AMBER Alerts directly helping to save missing children.
"There have been two confirmed successes in the U.S. and one confirmed success in Malaysia just a couple of months ago," Vacher said.
Why are AMBER Alerts so important?
With a lifetime of work in child matters behind her, Vacher explains that ensuring the safety of children is one of the most integral elements of society.
"I think this is going to make a huge difference for one big reason and that is community. When a child goes missing, it is somebody in their community that has seen something, if that's a car, a person, that child. These are more about bringing the community together, sharing the information at the appropriate time... it is people from the community bringing those tips to the police that makes it so successful," Vacher said.
ALSO ON HUFFPOST AUSTRALIA