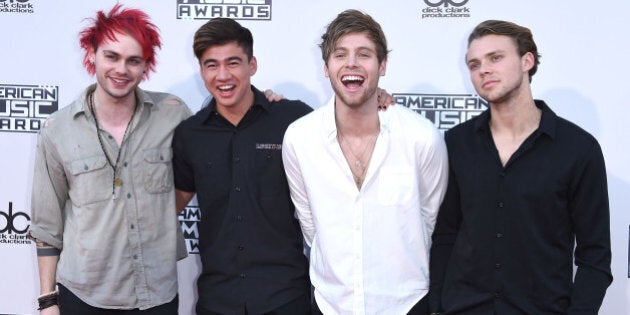 Thousands of followers, an abundance of "likes" and instant "fame" is a common narrative for teenagers in today's filter drenched, double-tapping world -- but it's not just kids ruling the Internet.
It turns out the mothers of some of Australia's biggest celebrities are becoming social media stars in their own right.
While a friend request from your mum and dad was once an excruciating act of privacy invasion (which resulted in many a dinner time conversation starting with "I saw on Facebook you were here…") now, having your 'rents on social media is the norm.
Just ask Liz Hemmings, the mother of 5 Seconds of Summer lead vocalist, Luke Hemmings.
With over 530, 000 followers, the maths teacher joined Twitter back in 2010 to share resources with other educators.
However, as her son's band, 5SOS which started out doing covers on Youtube rose to international fame after touring with Brit pop sensation One Direction, her following count rapidly grew.
And so the modern day Beatlemania played out -- with fans wanting to get as close as they possibly could to the band. One sure way of doing so? Adding the lead vocalist's mum, of course.
"I don't follow any of the 5SOS fans, I'm a teacher and I don't think it's a good idea professionally to do that," Hemmings told The Huffington Post Australia.
Nor does she reply to everything due to the pure volume of messages she receives. However, she said it's important for her to use it to promote positive use of social media.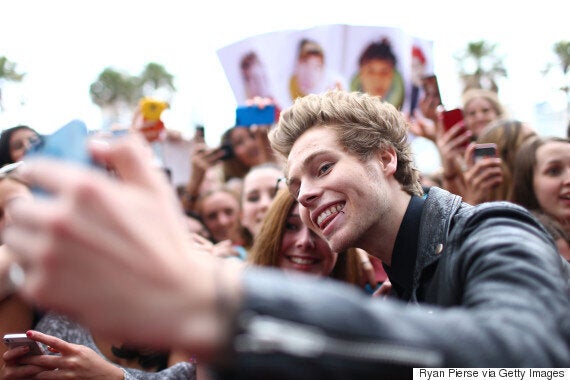 5SOS lead vocalist, Luke Hemmings with fans at the 2014 ARIA Awards.
Laurelle Mellet, the mother of Youtube star, Troye Sivan takes a similar approach.
"I don't respond to anything personal. I think it's important to draw that line sometimes," Mellet told HuffPost Australia.
As a parent, Hemmings said joining the different social media platforms was important to her as she wanted to understand how it all worked.
"When I was with the band when they were younger, I witnessed them having to deal with negative things that were said about them on social media and they needed perspective on it," Hemmings said.
"If I see something that is particularly touching -- I'll comment on it -- however sometimes I know there are fans saying certain things to get a reaction out of me," Hemmings said.
Many of those fans have also been known to send her particularly racy images of the band that are floating around the Internet.
"I don't need to look at those things but it's certainly quite humorous -- as if they are dobbing on the boys," Hemming said.
But perhaps the best use of social media is the ability to know her son is safe wherever he might be in the world, thanks to the hundreds of thousands of fans almost "stalking" their every move.
"If they're flying, I'll do a search for "5SOS airport" and I'll see they've landed and I'll know they are safe," Hemmings said.
"I would do that when I was looking after them too on tour, if they'd gone out on a particular night and I wanted to know if they'd come home to the hotel -- it would be on Twitter -- it's kind of like they've got lots of little mums out there checking up on them," Hemmings said.
For Deb Mastin, the mother of pop singer, Reece Mastin who got his start on X-Factor Australia, sifting through direct messages from fans about Reece is not unusual.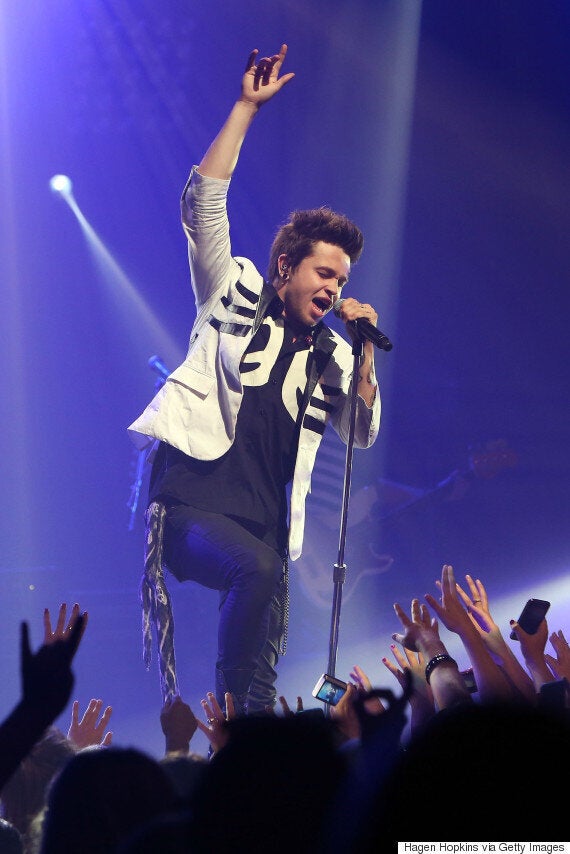 Reece Mastin performing in Wellington, New Zealand.
"There are certain things I don't respond to, that's for Reece to do," Mastin told HuffPost Australia.
"It's about finding a balance and being respectful of him and who he is and what we do as parents," Mastin said.
In general, the mother-of-four said her experience with social media is mainly a positive one.
She will use it to retweet things Reece is involved with for instance, his work with White Ribbon as well as messages of support.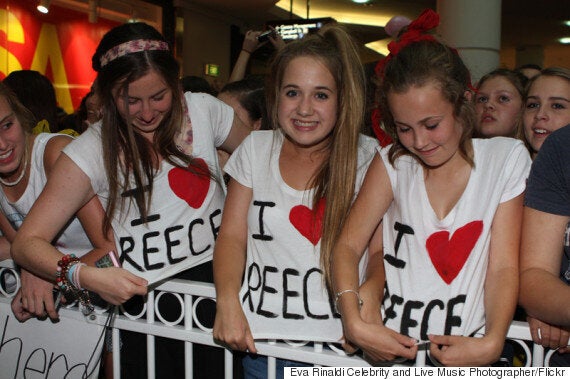 Reece Mastin fans at Parramatta Westfield prior to his performance.
Still, it seems a following count upwards of 17,000 doesn't make her immune from getting starstruck by a certain red-haired chef from Britain.
"Reece recently met Jamie Oliver who I'm a big fan of and he'd obviously told Jamie -- soon enough a message came through saying 'give my love to your mum'," Mastin said.
"Reece gets it, he doesn't mind -- he laughs it off most of the time," Mastin said.