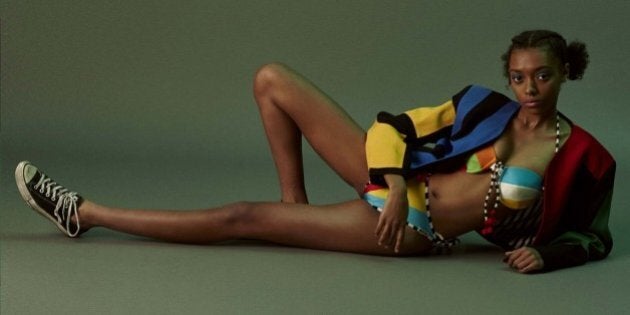 When Clare Ferra lost her job last year, she found herself at a crossroads.
She had to decide between looking for another job or put everything into making her hobby -- buying and selling vintage fashion -- a full-time business.
She chose the latter, not only because she wanted to be her own boss, but because she had the courage to back herself and her vision.
Ferra already had the makings of a viable business in the form of an ebay store, called Irreversible which she'd set up as a hobby in 2013.
It was never a fully-fledged business though, or a massive source of income -- everything she made, the Sydneysider put back into buying more stock.
"I studied fine arts, then I was a video editor for a few years, and did that while running Irreversible on the side," Ferra told The Huffington Post Australia.
"Six months ago I lost my job, and that was a turning point for me -- I had to decide that if I wanted another job it would probably have to take priority over the business. And I didn't want that, so I decided to give it ago and take my business full time."
She said she started the business as an ebay store on a shoestring budget.
"We didn't need much capital when I started it -- it started with 30 things and then the profits from those went into buying more stock," she said.
"At the time, it worked really well because I didn't have that pressure of making money as I still had the full-time job.
"It was just a hobby really, I didn't start it with the idea to make a full-time income from it."
With her decision to run Irreversible fulltime, Ferra and her business partner decided they needed a dedicated website in addition to her popular ebay store -- but setting it up wasn't without challenges.
"When I started, having just ebay was a good option because I didn't have to do the advertising myself as it gets its own traffic," she said.
"When it started taking off, I thought, 'I'm paying 10 percent for each sale to ebay, so I might as well have my own site as well."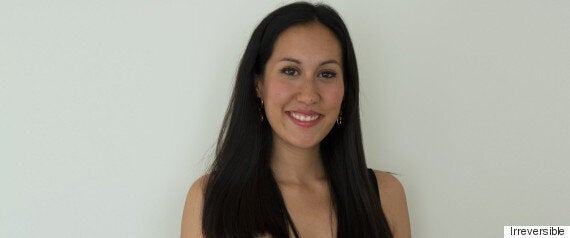 Clare Ferra is the owner of Sydney-based online vintage fashion business Irreversible.
Ferra launched the website in August and since then has noticed business is split 50-50 between that and the ebay store.
"There have been issues, like having them both operating at same time has been quite difficult for SEO reasons because apparently if you have same content on both, that hurts your Google search rankings.
"So we're working through that one. We'll keep the ebay store for now -- it's making dollars so there's no real point in closing it down."
Ferra said most of her clients now came from New York, Los Angeles and London, but Aussie sales were on the rise with more businesses coming from the publicity generated by loaning pieces from her collection for fashion shoots including a recent one for Vogue.
Irreversible stocks shirts, skirts, dresses, jackets, swimsuits, pants and accessories such as bags with the most popular items coming from designers including Gianni Versace, Chanel, Jean Paul Gaultier and Franco Moschino.
"The things that go really fast are the craziest pieces most of the time -- I got this Chanel bikini around a year ago that was the same style famously worn by Stella Tennant in the '90s, and it was so small!
"The cups were actually the size of bottle caps, it was a really tiny bra. I knew I had to have it, but my friends were saying 'who is ever going to wear that? It's so impractical!'.
"But it sold before we even put it online. So, definitely the more out there, the quicker it goes."
Her personal favourite for fashion is the 1980s-'90s era, with Italian designer Franco Moschino high on her list.
"I love the designers from that era -- '90s era Chanel, and Versace -- it's all about the logos and lots of bright colours and prints," she said.
"We love that '90s supermodel aesthetic. With Moschino -- and we sell the most of that brand -- I like that he injects a sense of humour and fun into fashion.
"I like buying pieces that have a sense of novelty or fun about them."
Dealing in vintage fashion means that Ferra occasionally stumbles on rare pieces.
"We do have a rare Thierry Mugler rainbow leather jacket (for sale for $11,500) -- it's amazing," Ferra said.
"It's something I'd been looking for for several years -- I was so stoked to find it. I've also got a little Chanel suit waiting to go online.
"It's a bra and shorts set from 1994, and that suit was really iconic to that year, so I'm really happy to have that and quite reluctant to put it online!"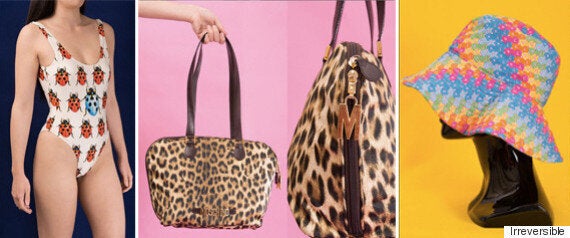 The online store also stocks a range of accessories including bags and hats as well as colourful swimwear.
Ferra is so dedicated to finding unusual and rare pieces that she employs a buyer in France to scout for pieces up for sale throughout Europe.
She said most clients bought the items to wear, but Irreversible also rented out some pieces for an agreed fee.
"We don't have that many pieces like the Mugler jacket -- there's not many that we could imagine selling to a museum or something though.
"But they are really good investments; if you take care of them the value doesn't go down.
"These pieces aren't getting made any more. That's the great thing about my business -- if I was selling new pieces, with time, I'd have to have sales to move that stock, whereas I can hold onto my inventory and some pieces will become even more valuable."
Ferra said the biggest challenge she'd faced in running her business full time was simply not having enough time.
"Everything takes exponentially longer that you expect -- even just building my website, when lost my job, I thought I'd take a week to do it, but that was such a ridiculous expectation.
"I've had to learn everything myself -- like PR and social media, all of it. It's been quite challenging but I wouldn't change it."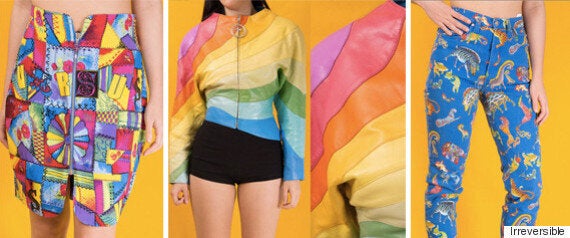 Irreversible stocks only the quirkiest of fashions, including this high-waisted skirt and patterned jeans from Versace, as well as this rare $11,500 Thierry Mugler rainbow leather jacket.
This year, Ferra said she wants to expand the business even further.
"We've decided we want more ultra high end products like the Mugler jacket, so we want to focus on that, while still having the $200 bags that everyone can buy," she said.
"We do make those really expensive sales, but they're once in a blue moon -- they're not going to sell the moment you list them online.
"I also want to focus more on PR and getting the name out there. That's something I regret -- before when I had the business, I wasn't really telling anyone I had it, so I want to change that now and make it a definite focus."
Popular in the Community