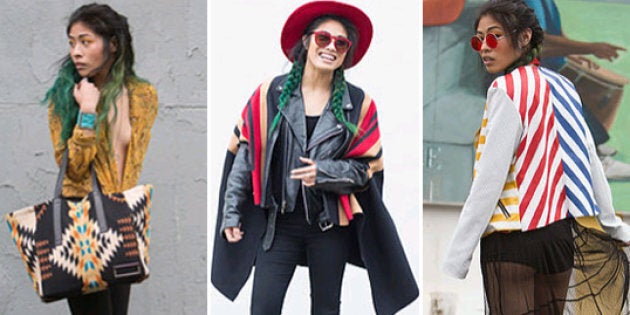 From the moment we first began wearing clothing -- very roughly between 100,000 and 500,000 years ago -- certain garments became endowed with special meaning. Whether they represented status, provided identification or served as pure ornamentation, fashion has been able to tell a story.
And so it is with the style of Canada's Aboriginal peoples. But being one of the oldest civilisations on the planet, the wealth of tribal stories and tradition interwoven in native costume has been utilised in high street and high end fashion in ways that has often been deemed inappropriate by Canada's Aboriginal communities.
As a response to this cultural appropriation, a few months ago the first ever Indigenous Fashion Week was held in Vancouver -- an effort by the country's First Peoples to kickstart a reclamation of their heritage.
What Is The History Of Indigenous Culture And Style In Canada?
The history of Aboriginal peoples in Canada stretches back some 14,000 years -- long before the arrival of the first Europeans. And the rich tapestry of unique histories, languages, cultural practices and beliefs from the country's First Peoples is still vibrant. Nowhere is this more apparent than in their striking fashions.
Aboriginal style has been part and parcel of mainstream fashion globally for many years -- native patterns and headdresses have been a staple in pop culture and the pages of fashion magazines for close to a century. But what many non-Indigenous people may not realise is that, while the fashion world has an appetite for native designs, by and large it hasn't been expressed tastefully or respectfully.
High street brands across the globe have utilised traditional dress in their collections, though such dress often has a sacred meaning behind it. And this issue is becoming increasingly controversial.
"Cultural Appropriation is a touchy subject," designer and founder of label EMME and exhibitor at VIFW, Korina Emmerich said. "While I don't feel it comes from racism, I do feel it comes from a place of ignorance. So I urge people to do their research.
"We need to keep the conversation going about why it's not ok to wear a headdress, why it's not ok to call something a 'navajo' print. The more actual Indigenous designers that are represented in fashion, film and media, the more it will be respected."
"My tribe has -- for thousands of years -- survived in the harsh temperatures, this meant of course making our clothes with the highest quality," she said. "Being raised around people who sew and hunters I gained an appreciation and love for the craftsmanship of our textiles, so I'm just carrying on our tradition."
It's this authenticity that contemporary Indigenous fashion highlights. The antithesis of mass-produced, fast-fashion, more and more people are discovering and engaging with these handcrafted native designs.
What Is Vancouver Indigenous Fashion Week?
Held in July 2017 in Vancouver, the inaugural Vancouver Indigenous Fashion Week (VIFW) was created as a response to cultural appropriation and as a way to show consumers who appreciate native style that they can wear it respectfully, by buying from First Nations designers.
Affiliated with the Puyallup tribe, which is based in Washington state, Emmerich was included In Vancouver's Indigenous Fashion Week to represent the inclusion of all coastal Salish tribes, noting that their ancestral land was without borders.
"I think Vancouver Indigenous Fashion Week is incredibly important to highlight Indigenous designers," Emmerich said. "Many designers today are inspired by Indigenous regalia, but often miss the mark on representing it in an appropriate and respectful way.
"Opportunities like VIFW provide a very much needed spotlight on our culture. I feel very honoured to carry on our traditions and culture in a contemporary way. To continue to sew, quill, bead and honour those traditional ways is a way of life for me," Esquiro said.
"I feel that the more our community engages with mainstream media, the more positive effect it will have by creating awareness about culture appropriation, as well as supporting native fashion. Buying from the source is becoming more accessible -- it's an exciting time to be a Indigenous designer and artist!"
Plans are already shaping up to make VIFW an annual event.
Which Designers Should You Look Out For?
Combining the use of natural materials and traditional handicraft methods with a contemporary aesthetic, many of the collections showed at the inaugural VIFW paid tribute to the designers' heritage and ancestral homeland.
Some of the emerging and established labels that to keep an eye on include Emmerich's, EMME line. Hailing from the Pacific Northwest, Emmerich is one of the more established artists to have designs featured on the Indigenous Fashion Week catwalk. The New York based designer has competed in the U.S 'Project Runway' and shown at Mercedez Benz Fashion Week In New York.
"My personal work is heavily influenced by modern powwow regalia and the bright colours used," Emmerich said. "Plus, how Indigenous craft has inspired modern art today."
Esquiro creates contemporary designs using traditional techniques with recycled textiles and ethically sourced wool, fur and leather. She's also one of the few Canadian Aboriginal fashion designers getting attention internationally, recently becoming the first native designer to take part in the first ever fashion show on the Eiffel Tower in Paris.
"Opportunities like this are things that a girl from a small community, like myself, could never dream of," Esquiro said.
Shannon Kilroy's Earthline Fashions is inspired by the traditions and legends of her tribe, the Nlaka'pamux Nation people from southern British Columbia. Born into a family of artists and seamstresses, the colour palette of her designs reflect the landscape of her birthplace and the embellishment of feathers, fringing and embroidery is also a nod to her heritage.
Meanwhile, in menswear, Curtis Oland is a label to look out for. Named 'top emerging talent' at last year's Toronto Men's Fashion Week, Oland draws inspiration from his Lil'wat First Nation heritage.
Where Can You Buy It?
While many of the designers at VIFW are not yet available in mainstream stores, that doesn't mean you can't support them. Find out more below about where you can buy their designs and how to learn more about these inspiring independent brands.
Visit Emmerich's EMME website or the brand's Instagram page to purchase designs and find out more about her brand.
Spend time in the home of Vancouver Indigenous Fashion Week with Venture Far's 'Where To Begin In Vancouver?' package at The Rosedale on Robson Suite Hotel. Spend three nights in Vancouver's downtown, just a short walk from some of the city's best sights, including Queen Elizabeth Theatre, the Granville Entertainment District, Chinatown, Granville Island and Robson Street. After you've enjoyed the city sights, head into the heart of British Columbia and visit Adventure World's Spirit Bear Lodge. Spirit Bear Lodge is nestled in Klemtu, a small community located in the heart of The Great Bear Rainforest and the traditional home of the Kitasooand Xai'xais peoples. The Great Bear Rainforest is the only place you can see the unique white coloured black bear -- the Kermode (Spirit) Bear. The lodge is positioned to offer unparalleled access to some of the best grizzly and Kermode (Spirit) Bear viewing in the region.
');}catch(e){}