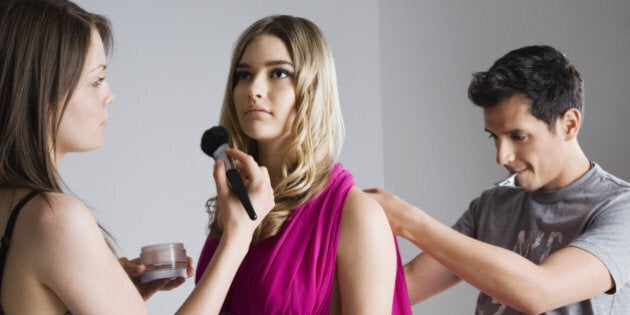 There are two kinds of people in the world -- people who see a problem and complain about it, and those who see a problem and try to find a solution.
Taryn Williams is definitely the latter.
The Sydney-based former model was just 21 when she realised that industry bias, poor conditions and not being paid for months at a time shouldn't be the norm for those wanting to make it in the modelling industry. So she did something about it by founding Wink Models in 2007.
"I'd worked both talent side, as a model since I was about 15 and the client side as an event producer and a photographic agent representing an advertising photographer, and I could see there were so many inefficiencies and inequalities," Williams said.
"The biggest pain point for most models is the time it takes to get paid. In our industry it's usually a three to six-month wait to get paid for a job -- a model will do a job, then the agency will send the invoice in.
"That invoice then goes to an ad agency or production company and they usually have 30-60-day payment terms and can't pay the modelling agency until they're paid by their client, who might also have a 60-90 day payment term.
"It doesn't happen in other industries, so it just didn't make any sense.
"So many agencies ruled with a dictatorial fear over their models, that if you asked about your pay or questioned when it might be coming -- it was greeted with such animosity, so they were too scared to challenge it.
"It was really awful -- we saw so many amazing talents dropping out of the industry because it just wasn't financially viable for them.
"That, coupled with all the other things models had to deal with in our industry in terms of going to lots of passings, and lots of knockbacks that agencies weren't giving them the support and encouragement they needed."
Her solution? Start her own agency where those issues simply didn't exist.
"I was 21 -- so with the blissful naivety of youth, I was going to single-handedly change the industry for the better. I thought I had all the skills required to take this industry on," she said.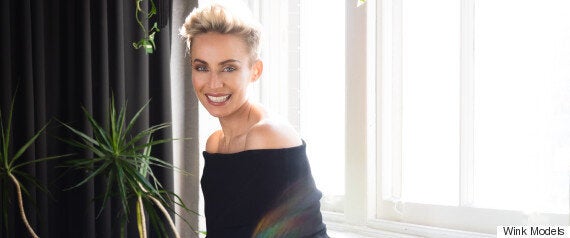 Wink Models and theright.fit founder Taryn Williams.
"If I had known how difficult it was to run a company and all the things that go with it, I never would have got started. There was that bliss in thinking 'I can absolutely do this'."
And do it she did -- nine years down the track and Wink Models is one of the country's leading modelling agencies, with offices in Sydney, Melbourne and Brisbane, 650 models on their books and an annual turnover of more than $4 million.
Taking 'disruption' to new heights
Rather than sit back and enjoy her successful business, Williams is shaking up the industry again, launching a startup business that provides models, hairstylists, makeup artists, bloggers and photographers with a level playing -- and paying -- field.
Theright.fit is a digital platform that enables fashion creatives to create an online profile, and then matches them with jobs. It gives them the flexibility to book work with brands and clients they want to work with -- without having to be signed to a modelling agency.
They can also use the platform to promote themselves and build up their own portfolios, as well as leaving feedback and ratings of clients for other users.
Williams said theright.fit was sparked by a desire to efficiently cater to the needs of the models on Wink's books.
"We got to the point we had 650 models and they are all employees -- they may only work for you one day a year but we issue them with group certificates and manage their PAYG and their super so I was like 'how are we going to be able to scale, what can we do to make this process easier -- to keep in touch with them?'" Williams said.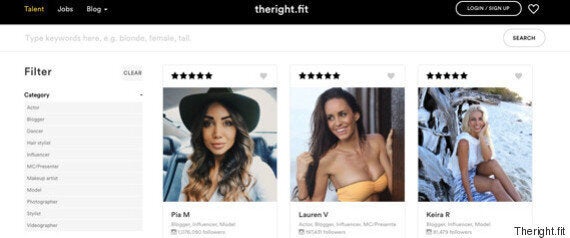 Theright.fit allows clients to connect directly with talent through their online profiles.
"Back then, if a casting came in, we'd text them the casting information, manually check off that they'd read it and they'd replied to it and it just wasn't feasible to do that for 650 people, and with the volume of jobs we had coming in.
"So I thought we could build an app that could solve it. I wanted an app that manages payroll, our CRM, all of our bookings, that sends auto reminders -- I really wanted the dream scenario for every booking and every interaction with our talent."
"We got it built and it transformed our business -- the onboarding process, our weekly payroll, all of it, and then we could focus on what we do really well," she said.
Lofty goals are back in fashion
Williams had dreams bigger than simply streamlining her business though.
"Being able to dream big, and seeing the impact that it had on our company, I really wanted to see what was next," she said.
"I kept thinking, 'what if it's bigger than Wink -- what if we took out the middle man altogether?' So that's what we did with theright.fit -- it's really for those who want to manage their own career and promote themselves, and so many of them are already building a really solid brand through social media.
"And for brands, the industry is changing so much, and now with this platform, clients who just need a model for a one-hour piece of snackable digital content for social media, can go ahead and book in the model, a hairstylist, photographer and makeup artists and negotiate with them all directly."
She said the platform is a UX design, developed by theright.fit co-founder Aurelien Labonne, who worked with The Iconic. Labonne has now relocated to New York to assist in theright.fit rollout.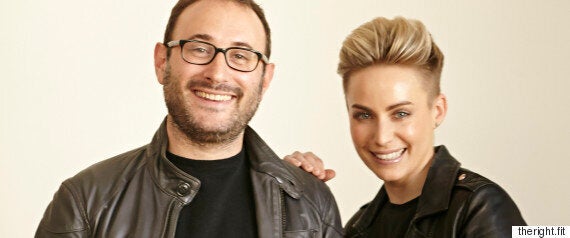 Williams and theright.fit co-founder Aurelien Labonne.
Williams said all creatives went through an approval process before they were listed, so it was safe for all users. She said the platform was free to create a basic profile which had limits on the number of photos that could be uploaded and the number of paid jobs per month, or $10.95 per month for unlimited access.
Users were then charged a commission on jobs -- models are charged 10 percent of their fee, and clients are charged five percent.
"We manage all of the payment process, pre-authorise the card being used, we screen everyone on the site, and make sure it's all OK," she said.
"There's no risk the models won't get paid."
The golden rule of startups: Innovate or die
It might seem like a seriously bad business idea to create a startup that disrupts the industry that your successful business is based on, but Williams reckons there's room for both modelling agencies and theright.fit.
"You can be the ones who fight against it and refuse to try and integrate into a new workflow, or you can say 'this is a better way of doing things' and put the control back into the hands it belongs in," she said.
"This was all about making a better system for everyone. We've got just over 450 talent on the site already, and we're about (a week away) from the full launch.
"The feedback from the talent community has been so positive, they can see we're doing it for the greater good of the industry."
Williams said she had already received international interest in the platform, and will launch in New York, and later Los Angeles, London, Paris, Berlin and Asia.
On a personal level, how does Williams find running two businesses at the same time?
"I have to be incredibly clear with how I spend my time, and I do have to be ruthless -- that comes at a lot of personal expense," she said.
"I get up incredibly early and I am up incredibly late and it has meant that for 12 months there's no holidays or anything like that.
"It definitely comes at a cost but I made a conscious decision to do it. I had to say to myself 'don't get grumpy if you're at the office at 11pm for the 10th night in a row, remember that you chose this and this is your decision and own it, and love the experience'.
"It is exciting to be back in the startup space though -- to go from running a business that has all of the processes and procedures in plan, to now, being 'all hands on deck' again is really exciting.
"I have such an amazing team at Wink and I've really had to trust them with my 'first born'. Learning to delegate has been a real battle for me -- it was really scary, but they've been so amazing, even though I'm sure I did their heads in early on."