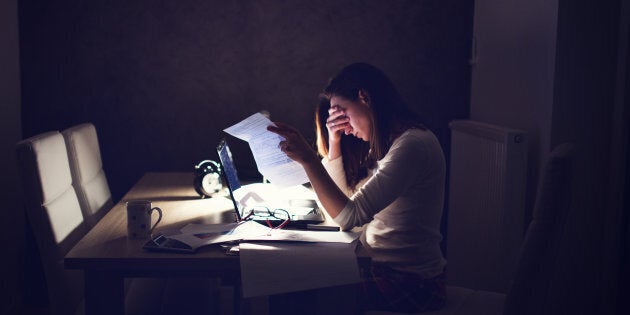 "My husband used to put the bills in my name... you're not questioning at the time, you are just doing what you're told."
This is what financial abuse looks like. It's the hidden factor in Australia's domestic violence crisis --which claimed the lives of at least 71 women last year alone.
With financial abuse playing such as key role in violent and controlling relationships, we will never solve the domestic violence problem in our country, unless we are able to not just recognise financial abuse, but also help survivors to be financially resilient.
Such abuse appears in many forms -- from controlling spending and denying access to money or earned income, to running up debts on joint credit cards.
At the heart of it, financial abuse is a method of control. It's one of the most powerful ways of keeping a survivor trapped in an abusive relationship, through making them financially dependent and undermining their ability to safely leave.
Some survivors have compared financial abuse to a natural disaster -- they are forced to flee their home and may lose everything, just like those fleeing bushfires and floods.
But financial abuse is more difficult to detect than many realise. A key reason for this, highlighted by RMIT researchers this year, is the survivor's own awareness -- many don't know that what they are experiencing is financial abuse.
Researchers suggested that social, health and financial services could all play a role in screening for warning signs. What does this mean for banks and other financial service providers?
First, it means educating staff in how to recognise the warning signs of financial abuse. It might include seeing a customer taking instructions from another party, or remaining silent while someone else does all the talking. It might be as obvious as appearing fearful, unfocused or withdrawn. Or not understanding the recent transactions on their account.
But screening for economic abuse is just the first step. We can't hope to break the cycle of domestic violence unless we also help survivors to be financially resilient.
Banks can have a positive role to play here, both in breaking the cycle and supporting survivors once they escape. They need to understand that people experiencing financial abuse might not have access to their financial records and other important documents, and ensure they aren't burdened with onerous requests for information.
Financial service providers could also provide information to assist customers to protect their accounts and financial profile, such as how to set up an account in their own name, or changing authorities on joint accounts to 'both to sign'.
After the abusive relationship ends, banks can support survivors by not disclosing personal information with the other account holder, such as new addresses and contact details, and foregoing any requirement for the customer to have to make direct contact with their abuser.
Banks can also assist with changing passwords or referring customers to specialist support services. Some financial services are even taking the extra step of specially training bank staff in supporting victims of domestic and family violence to manage these customers' accounts.
While these are all great examples, there's no silver bullet for building financial resilience in survivors -- especially those who have been experiencing financial abuse for a long period of time. Support services, income, financial literacy and appropriate financial products and services are all equally important. The challenge is that these are often developed and supplied by different stakeholders, often working in silos with no perceived need to work together.
If we want to design the best solutions for survivors, we need to break the silos and encourage collaboration between not-for-profits, government, financial services and advisors.
Working together, we can design innovative and scalable solutions that help survivors overcome the initial financial shock, and build foundations for long-term financial resilience. Such as no interest loans, microfinance for business ventures, and matched savings accounts, where every dollar a woman saves is matched by government or services.
Through working together, we can create a new breed of products, services and policies that support survivors to be financially resilient. In turn, we will not only weaken the grip of domestic violence on Australia, we will build a more financially prosperous and resilient community.