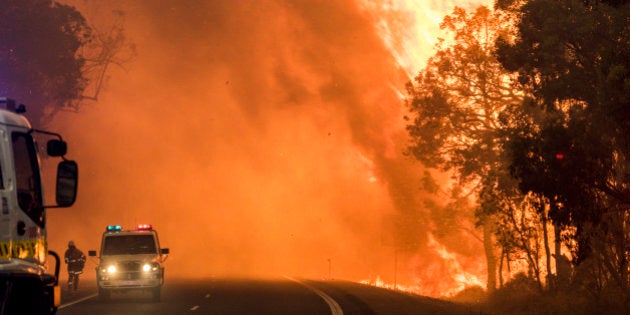 The Fire Brigade Employees' Union has called for a radical overhaul of Australian firefighting, including merging rural and metropolitan services and doubling the total number of firefighters, as they fear climate change is making bushfires more dangerous and more frequent.
Only halfway through the summer, Australia has already experienced a horror fire season with several catastrophic blazes, most notably in Western Australia and South Australia. The Australian Climate and Firefighters Alliance claimed that, since October, bushfires have burnt more than 500,000 hectares of land, destroyed 222 homes and 345 other structures, and killed tens of thousands of livestock.
A November report claimed fire seasons had increased in length by 20 per cent between 1978 and 2013, giving less opportunities for firefighters to conduct hazard reduction exercises as well as placing strain on powerful firefighting equipment -- such as firefighting aircraft -- which are shared between countries. Northern and southern hemisphere fire seasons are also beginning to overlap, placing strain on firefighting equipment shared between countries.
Darin Sullivan, president of the FBEU, said fires were becoming more frequent, more dangerous and less predictable due to erratic weather conditions spurred by climate change and called for an urgent overhaul of how Australia fights fire.
"The first thing is restructuring the fire services. We've got duplication of services across country, with rural and urban fire services, and we all basically do the same thing. It's dual funded, it's a waste of money," Sullivan told The Huffington Post Australia.
"We need to look at single fire services, we've been calling for it for 20 years in NSW and now we're calling for it nationally. We've essentially got competing fire services now competing for the dollar and they need to be restructured. We believe they could be run more efficiently."
"We'll need a doubling of firefighters by the year 2030. I'm calling on governments to have a proper look at funding of fire services, not just voluntary but professional and trained personnel," he said.
"My union and the majority of firefighters are calling for Australia to take some action on climate change, as our workplace is becoming more dangerous."
Lesley Hughes of The Climate Council said climate change was making fighting fires far more difficult and dangerous. She said hotter days saw vegetation dry out and become potent fire fuel, while unpredictable wind changes could whip a fire out of control quickly.
"What we're seeing is longer bushfire seasons declared earlier in the year than usual. It's all pointing the same direction, an ongoing trend of fire danger occurring more often and when it occurs, that it is more catastrophic," Hughes told HuffPost Australia.
"This is not just a one-off. Every year, the probability increases of earlier, longer, more catastrophic fires."
Sullivan, too, said firefighters on the ground had noticed the effects of changing weather patterns.
"Fires are becoming harder to fight. The weather is becoming more erratic. The anecdotal view is they are becoming harder to fight and more intense. We're also seeing some response from government and fire services, and it's coming from our experiences on the ground," he said.
"Fires are becoming more frequent and less predictable."
He cited the Yarloop, WA, fire as an example of how quickly fires can blaze out of control.
"I wasn't there but I was looking at some of the reporting of that fire, and it appears to me if a community can only get half an hour notice for evacuation, it's more proof of how unpredictable these fires are," Sullivan said.
"You've got professional firefighters and services monitoring the fires with state of the art facilities. This evidences how bad things are getting."