At just eight-years-old, Harvey underwent an 11-hour transplant operation in 2015 consisting of a team of 40 medical staff members at the Children's Hospital of Philadelphia. For most of his life, he had lived without hands and feet due to an infection he contracted when he was two-years-old that caused him to develop gangrene and need amputations.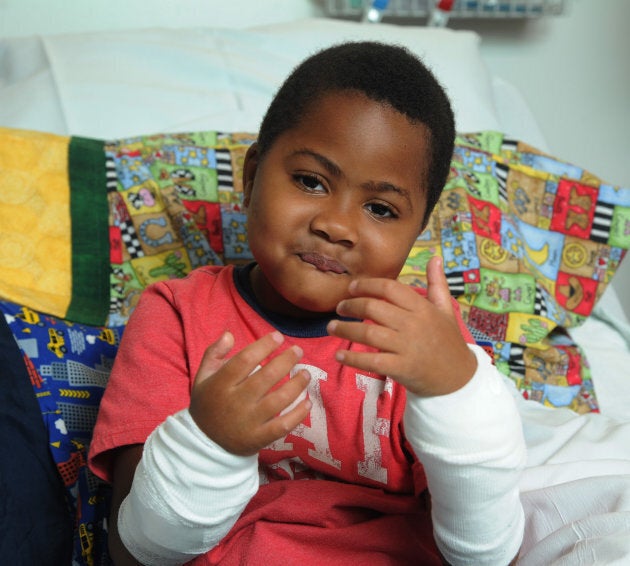 Now, after 18 months of coordination skill training, rehabilitation and nerve growth, doctors have confirmed 10-year-old Harvey's recovery process has been tracking along pretty well.
"At 18 months [after the transplant], the child had exceeded his previous adaptive abilities," a progress report published from the medical team at the Children's Hospital of Philadelphia in the Lancet Child and Adolescent Health said.
"As of 18 months after transplantation surgery he is able to write and feed, toilet and dress himself more independently and efficiently than he could do before transplantation."
"I see my son in the light I haven't seen him in five years... It was like having a newborn. It was a very joyous moment for me. I was happy for him," she said.
And while things haven't always ran smoothly for Harvey and his new hands -- he's had eight bouts of his body rejecting the transplants -- he also made headlines in 2016, a year on from his operation, for his incredible journey of recovery and his inspirational outlook on life with his new hands.
"When I got my hands it's like, here's the piece of my life that was missing," he said in a Facebook video created by NBC News.
"Now it's here. Now my life is complete."
As a marker of his progress, Sandra Amaral, medical director of the hand transplant program at the Children's Hospital of Philadelphia told CNN: "He was able to grip a baseball bat, which was something he wanted to do, by about a year, but now he can do it more powerfully with more coordinated motion between the right and the left hand,"
The youngster also warmed hearts by crediting his progress to his mother, who he said had helped him through the process.
"I owe everything to my mum, because she helped me when I was going through the toughest times in my life," he said.
"Without you I wouldn't remember to do everything," he told her. "That's why I have you. Without my mom I would not be right here right now."
ALSO ON HUFFPOST AUSTRALIA