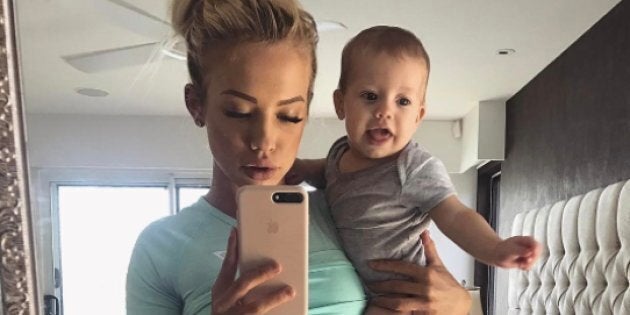 A fitness guru and Instagram sensation has shared a "proud" photo of her stomach showing loose skin.
Australia-based Tammy Hembrow, who has an impressive 5.6 million followers, took a selfie holding her son six months after he was born.
Although her selfies on social media usually bare her six pack, she wanted to show other mums her "mama bod".
"Proud of my mama bod and my loose skin," she wrote on Instagram alongside the hashtag #6monthspostpartum.
Hembrow was holding her son on her hip, with his foot pushing some of the skin on her belly. Her fans praised her for sharing what a "real mum" looks like.
"Here for this," one person wrote. "Real mum, real mum body."
Another wrote: "Showing love for ourselves and others even with imperfections is great. I mean, I wish my loose skin looked at lush at yours, but still."
Hembrow also touched a mum who was feeling down about her post-baby body, who wrote: "I get really sad about my loose skin I hate it.
"So thank you, because this really does make me feel better."