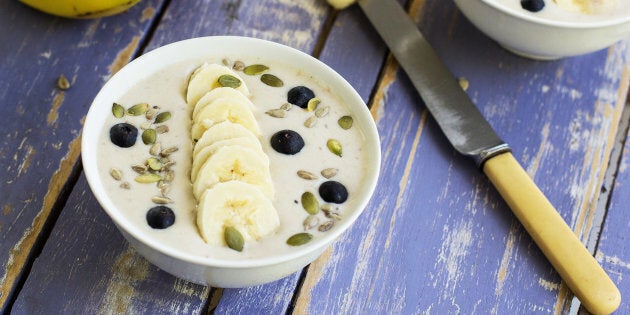 Hands down, bananas are the best. Aside from being the perfect sweet snack, they're low GI (meaning they keep you full for longer) and are bursting with essential nutrients like potassium, magnesium, vitamin B6, folate and fibre.
But when you've got 10 ripe bananas sitting in your fruit bowl (and you're sick of having them plain), it can be a bit daunting to know what to do with them.
Instead of throwing them out or making yet another banana bread, you seriously need to try making these easy banana recipes.
From two-ingredient banana ice cream and no bake banoffee pie, to a banana smoothie bowl and grilled banana, these recipes are the answer to your languishing bananas.
Bana-ppetit (sorrynotsorry).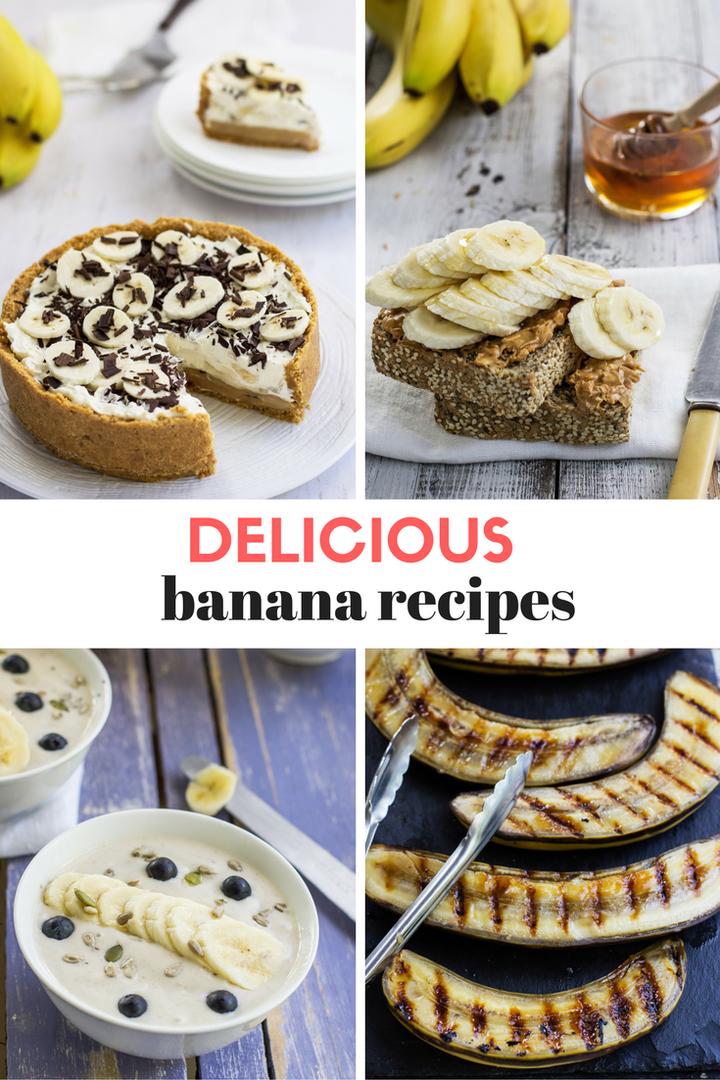 1. Banana blueberry smoothie bowl
This super easy, nutritious banana and blueberry smoothie bowl is like having dessert for breakfast, and only requires you to freeze some ripe bananas overnight. Top tip: keep a tupperware container in the freezer filled with frozen bananas so you can whip up this healthy recipe at any time.
4 frozen bananas
1 cup plain unsweetened yoghurt or coconut yoghurt
2 tablespoons protein powder (or milk powder)
1 tablespoon honey (or to taste)
½ cup almond milk or cow's milk
1 cup blueberries
1 cup mixed seeds and nuts
Other fruit or nuts of your choice
1. Choose small deep bowls and chill them before you start.
2. Place all of the ingredients into a blender and mix until you have a nice smooth, thick puree.
3. Pour the banana smoothie into the bowls and add fruit and nuts before eating with a spoon.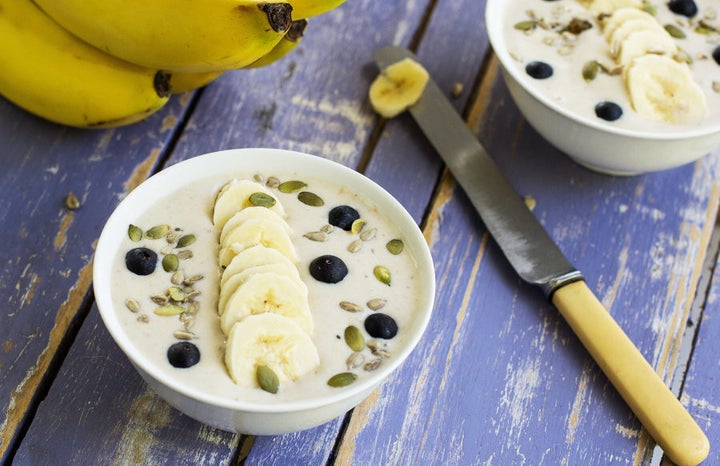 2. Banoffee pie
Banoffee pie is a household favourite and this no bake recipe makes it a quick and easy treat. If you're making it ahead of time, toss the bananas in a small amount of lemon juice.
23cm diameter spring form cake tin
1 x 250g packet of Granita or Marie biscuits
125g butter, melted
1 x 495g tin sweetened condensed milk
50g or 2½ tablespoons of butter, cubed
3 tablespoons or 60g golden syrup
4-5 bananas
400ml cream, whipped
50g dark chocolate, grated
1. Crush the biscuits in a food processor until you have fine crumbs, then add the melted butter. Process again to combine. The crumbs should stick together when squeezed.
2. Press into the spring form cake tin halfway up the sides. Refrigerate while you make the filling.
3. Place the cubed butter and the golden syrup into a saucepan and heat, stirring until melted.
4. Add the tin of condensed milk and stir on medium heat for approximately 5-8 minutes until the mixture bubbles, thickens and starts to change colour.
5. Remove from the heat and cool for a couple of minutes before pouring into the chilled crumb crust.
6. Refrigerate until cold and firm. The pie can be made up to this point and finished when you are ready.
7. Slice three bananas and mix them with the whipped cream.
8. Pour into the tart shell on top of the chilled caramel and smooth down to a nice flat surface.
9. Sprinkle chocolate shavings onto the top of the tart and then decorate with the final sliced banana.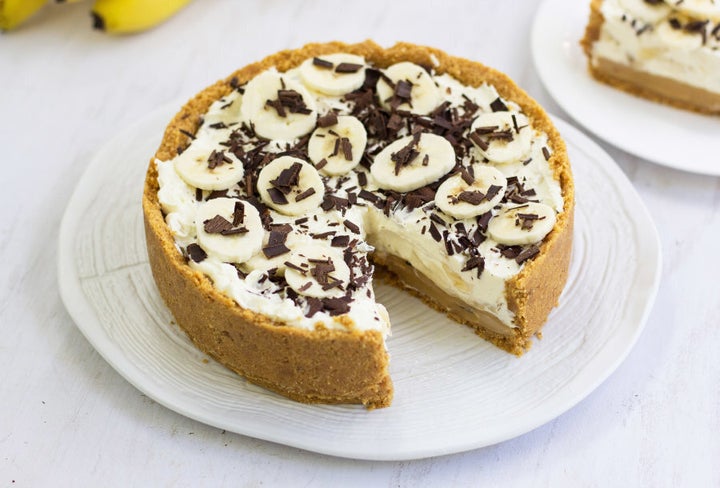 3. Banana and peanut butter on toast
If you haven't tried this scrumptious combo yet, you need to get on it. The creamy, sweet banana pairs amazingly with the rich peanut butter, and will keep you full for hours.
2 bananas, sliced
2 slices of your favourite bread, toasted
2 teaspoons butter/margarine
2 tablespoons peanut butter
1 tablespoon honey or golden syrup
Alternative options: crushed peanuts or cream cheese
1. Spread the toast with butter, peanut butter and the sliced bananas.
2. Serve drizzled with honey or golden syrup.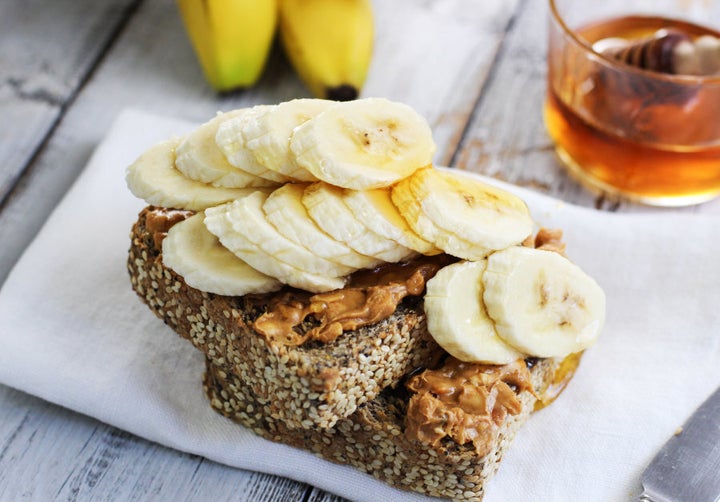 4. Barbecued bananas
Next time you're at a barbecue, surprise your friends with this no fuss-dessert. By popping it onto the barbecue, the natural sugars in the bananas begin to caramelise, transforming a plain banana into a toffee-like dessert.
4 bananas, left in the skins and cut lengthways down one side
4 tablespoons brown sugar
½ lemon
½ teaspoon of butter per banana
¼ cup peanuts, crushed
Vanilla ice cream, to serve
1. Mix the brown sugar and lemon juice in a small bowl and then divide amongst the bananas, stuffing into the centre of each.
2. Place ½ a teaspoon of butter on to the top of each banana and put each onto a piece of foil before adding to the grill plate.
3. Leave to cook for around 20 minutes. The skins will start to go black.
4. Transfer to a serving plate.
5. Serve with vanilla ice cream and crushed peanuts.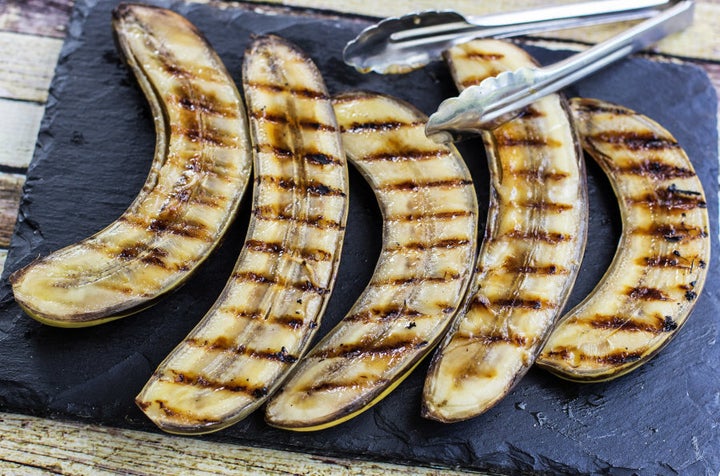 5. Banana nice cream
This instant dairy free ice cream requires only two simple ingredients that, when blended, taste beautifully sweet and creamy. Banana nice cream is high in fibre, potassium and folate, making this a healthy and delicious dessert.
6 bananas, sliced
2-3 tablespoons honey
1. Slice the bananas and freeze overnight or until firm.
2. Place the bananas into a food processor and blend, scraping down several times until the bananas have turned into a creamy puree.
3. Add two tablespoons of honey and mix until combined.
4. Serve straight away for a creamy, delicious ice cream or refreeze for later.
Tip: the ice cream will be a little icy if eaten later.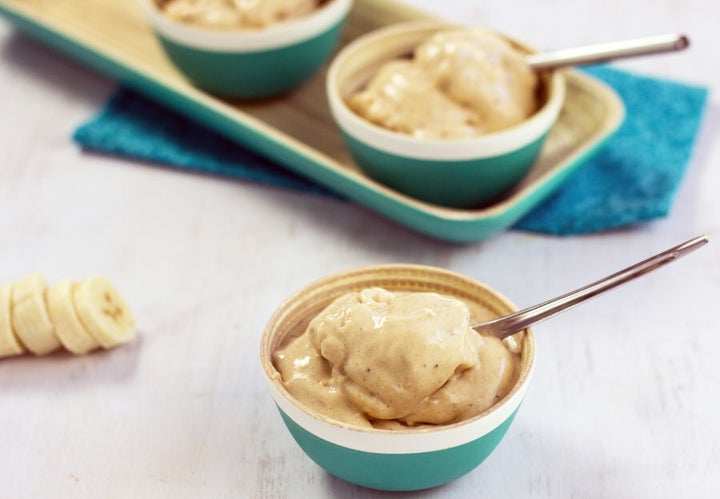 Recipes and images courtesy of Australian Bananas.