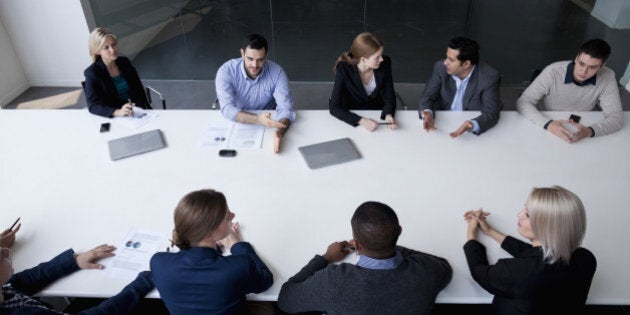 Take a look around your office. According to a recent study, 7 out of 10 of the employees you see would gladly take another job if it offered more flexible hours.
Commissioned by Citrix, the report states two in three workers thought working from home would make a significant difference to their quality of life, and, while only 56 percent of workers were able to work from home, 72 percent wanted the opportunity.
"Some of the statistics shown here suggest workplaces don't necessarily have the right solutions in place, and that's making it hard for [flexible working] to happen," Lindsay Brown, Regional Director APAC for Citrix Mobility Apps, told The Huffington Post Australia.
"Gen Y, in particular, is stuck in the middle. They're saying, 'I want to work from home, but I don't have access to my email'. Did you know 45 percent of workers don't have access to email from home? I think Australian businesses need to think about the next generation of workers."
The reasoning behind this, the study argues, is that work has evolved "into an activity rather than a finite place" and "employees aren't doing enough to equip their digitally socialised Gen Y workers with the right tools for work."
"I mean, these guys grow up with iPads -- being a digital native is relevant here," Brown said. "They are used to being always 'on' and having a collaborative lifestyle and moving from place to place."
However, the study also states Gen Y workers feel working away from the office is looked down upon by their more senior colleagues.
"I think the key message is Gen Y feels the need to be seen," Brown said. "It's that idea -- 'if I'm seen in the office, I'm doing a good job. I don't' really want to work from home when I'm young.
"But it can put the wrong pressure on people as well -- to have that negative perception."
While Brown certainly acknowledges the benefits of learning on the job, he also says there are benefits to working flexibly that the traditional work culture has yet to fully embrace.
"We have found the average commute time alone can waste up to nine days a year," Brown told HuffPost Australia. "It's worthwhile asking the question, 'what are we missing out on in terms of not being as flexible?' I have three kids, my wife runs a small business and I have my job. Nine to five is simply too rigid for me. I think it's the same for a lot of folks out there."
Brown says it's time for businesses to realise the scope of new technologies can enable workers to work efficiently out of the office, whilst still protecting their information.
"If you are doing it right and giving people what, they want they will be happier, which in turn will make them more productive," Brown said. "There are ways in which you can provide people with the right access -- it's about learning and listening."
Brown also said the perception that people cannot be trusted to work productively from home needed to be readdressed -- though workers should "earn" their right to work flexibly by displaying excellent work ethic in the office.
"It's a leadership issue. Employers need to understand and address that issue and treat things on a case-by-case basis," Brown said.
"There is a real barrier between generational cultures and attitudes -- it can only get better from here."
Would you like more flexible working hours?