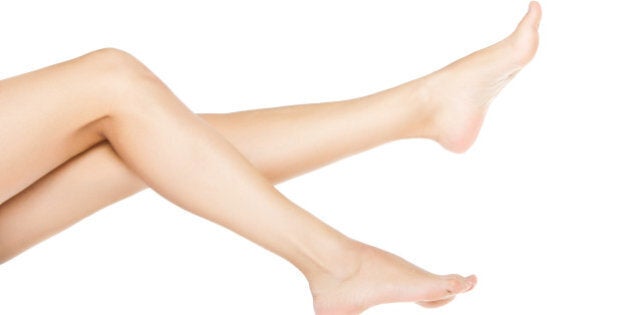 In a perfect world we'd all give our feet the tender loving care they so rightly deserve. But unfortunately, between a busy working day and getting our 10,000 steps in, looking after our feet (properly) can fall into the too-hard basket.
"Often for women, it's ballet flats or high heels causing the foot and toes to be cramped -- while for men it's the narrow toe box area in hard leather business shoes," Do Canto said.
Continued wear of shoes that don't have sufficient room can lead to corns, calluses, ingrown toenails and arch pain, but a big part of the problem is that people are in denial.
"If you wore thongs or sandals the pain would completely go away," Do Canto said.
Unfortunately, for most of us this isn't an option -- but it's not all bad news.
"When it comes to work shoes, you should be looking for natural leather with little or no seams or stitching across the toes and top of the foot. Instead, choose a shoe with a single panel that will stretch around the toes," Do Canto said.
As for women, make sure your toes have enough room to wriggle around and aren't jamming against the top of your ballets flats or heels.
Do Canto said when it comes to runners and sportswear shoes, we need to retire the idea of having to "break shoes in" for them to be comfortable.
"They should be 100 percent comfortable out of the box without needing to wear them in," Do Canto said.
"When it comes to work shoes that are made using different types of leather you may find they get more comfortable as you wear them because leathers will stretch," Do Canto said.
However, as a general rule they should be comfortable from first wear.
An obvious but important rule podiatrists won't negotiate on is choosing runners over shoes like ballet flats or work shoes when you are walking a distance.
"With a amount of walking to or from work, you should wear a trainer rather than ballet flat or work shoe -- you can switch at work," Do Canto said.
And when it comes to general hygiene, making an effort to wash in between your toes and the sole of the foot is important, rather than just assuming they'll get clean from the water alone.
"Don't forget to dry them either. If you're not drying them and putting socks on while your feet are still wet you're putting yourself at risk of developing tinea," Do Canto said.
De Canto also said we should be wary of getting pedicures at nail salons due to the risk of cross-contamination.
"Many patients often develop fungal infections -- where there is discolouration and thickening of the nail -- as a result of going to some salons where unfortunately the hygiene is not up to scratch," Do Canto said.
De Canto said for his patients who simply can't part with their monthly pedi, he recommends them taking their own tools and asking the technician to use them instead.