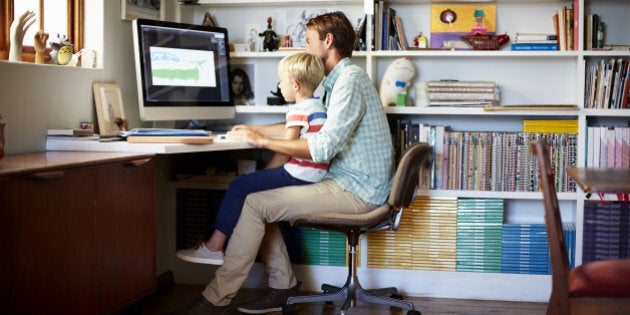 Good news for parents feeling the techno-shame of exceeding the hideously outdated screen time guidelines touted by the American Academy of Paediatrics (AAP) since 2001 -- well before digital life, as we know it, began to swipe, tap, beep, and buzz around us.
Rather than attempting to squeeze screen time into just two hours per day for youngsters over five years, a feat that researchers from the University of South Australia deemed 'virtually impossible,' the AAP has ditched the time-based recommendations and replaced them with 12 principles to guide parenting in the 21st century.
These guidelines take a leap towards recognising the virtual reality of many families, where there is an increasing emphasis on learning with technology, yet there's scarce direct teaching of the soft skills required to avoid the curses of excessive and compulsive use.
While commentators regularly bemoan the fact that young people prefer their screens to conversations with their grandmas, likening devices to illicit drugs and calling for a war on smartphones -- they fail to recognise the positive aspects of digital cultures and the opportunities to harness technology to improve outcomes in education, mental health and wellbeing.
The fact is, grandmas are the fastest growing group of gamers in Australia and, as our lives reach peak Wi-Fi saturation, the stereotypes surrounding technology use are changing as rapidly as Edward Snowden is gathering Twitter followers.
Fostering Digital Citizenship skills is more important than the need for primary schoolers to learn coding as a second language. While a range of high quality, effective resources address preventing cyber-bullying and cyber-safety, few are designed to thwart the temptations of the dopamine-fuelled digital world.
I have argued here and here that a simple time-based metric ignores the richness of the social, emotional and cognitive fabric that developmentally appropriate, well-designed online activities afford young minds. The impact of screen-based media use (SBMU) requires more nuanced investigation, primarily into the content and context of the activities that are so immersively engaged in by parents and children alike.
With over 1.6 millions apps and games in the iTunes store alone, and up to 10 percent of these subjectively labelled 'educational' by developers, parents are wading through a supermarket in which no nutritional information on the inherent 'nutrients' of the activities is available, beyond unsubstantiated reviews and popularity data.
Apps hit the virtual shelves before there is time for any credentialing of the product or classification review. An array of organisations have popped up to take on the role of appraising apps and providing information for overwhelmed and tech rookie parents. Locally, The Australian Council on Children and Media have the Know Before You Load resource, which is in good company alongside the well-known Common Sense Media and newly rebranded Know What's Inside.
Just like with the promotion of food nutrition and healthy eating in recent decades, principles of Digital Nutrition -- designing a relationship with technology that is nourishing and supportive to our overall wellbeing, and thinking about our online consumption of media like we do food -- offers a new perspective on tackling the ubiquitous question of humans and our lust for technology.
The reputation that computer games have for being 'addictive' and provoking aggressive behaviours is being countered with a new wave of paradoxically named 'serious games' -- those whose narratives are more focused on deriving empathy and new perspectives on human experiences that don't involve stealing cars and killing sex workers to gain points. Try a new digital cuisine and snack on one of the games Funomena has designed for positive impact or explore the 120 appetisers that Games for Change has on offer.
The challenge is for families to develop positive habits in which technology use is a collective and collaborative experience from which connection and communication is fostered. If you'd kick a real soccer ball in the yard with a child, why not share a game of FIFA 16 with her too? In fact, do both. Regularly.
This is the same kind of highly rewarding, sometimes compelling experience young people get from their social networks, where they shape their identities, seek support, make emotional disclosures and share culturally salient images and information.
This is their world, and they have known no other. We can choose to continue to place blame on the very devices we provide to young people in our effort to 'keep up with the iPhoneses', or proactively design the kind of digital world that supports our happiness and wellbeing. This is not a game.