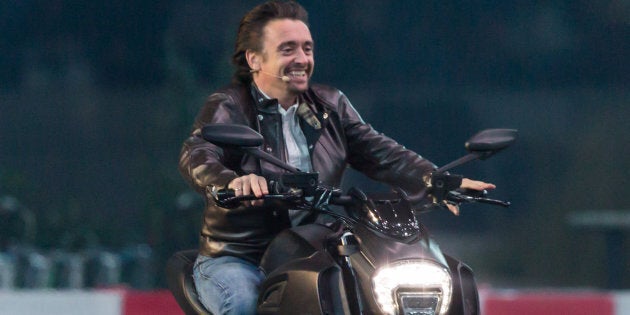 British TV presenter Richard Hammond has been involved in a motorbike accident in a remote part of Africa where he flew off the vehicle and was knocked out while filming an upcoming episode for The Grand Tour.
The former Top Gear co-host hit his head in the crash and lay unconscious on a road in remote Mozambique without easy access to a hospital, according to The Sun. It's his second high-speed incident after he almost died in 2006 while piloting a jet-powered car travelling at 463km/h.
Following the accident, a source from the show said: "Richard was travelling quite fast when he came off. It caused instant horror on set.
"There was a lot of concern. If his injuries had been serious it wouldn't have been easy to get medical attention. It's very remote there and facilities are basic."
It remains unclear whether he was wearing a helmet or not while riding the motorbike.
The crew working on The Grand Tour TV series as well as the show's medic and Hammond's fellow co-stars Jeremy Clarkson and James May rushed to assist Hammond, mindful of his crash in 2006 and the effects it had on him afterwards.
Father-of-two Hammond was flown to Leeds hospital following that incident and was in a coma for two weeks suffering brain injuries that later left him also battling depression, paranoia and memory loss.
"The lads are known for having a laugh on set but Richard's previous accident is fresh in their minds. They were all shaken by the latest incident," the show's source said.
"But now they know Richard is fine they are back to jokes and banter."
Clarkson also commented on the accident, saying "he really did hurt himself quite badly," but when asked if Hammond was on his way to a hospital to seek medical attention, he told The Sun the trio "don't do hospitals".
The incident is still expected to feature in the second series of the Amazon Prime motoring show.
ALSO ON HUFFPOST AUSTRALIA