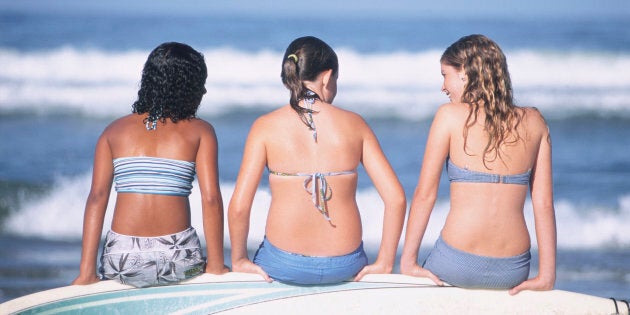 In fact, only 1 in 5 Aussie women have high body self esteem, and of the 13 counties surveyed, Australia ranked number 11 of nations reporting the lowest self esteem.
Deep diving into the statistics, the problem gets worse. Of those four in five women who report low body esteem, almost all (89 percent) of them opt out of important activities, such as engaging with friends and family and participating in activities outside of the house, when they don't feel good about the way they look. Seventy-seven percent of Australian women believe the media and advertising set an unrealistic standard of beauty most women can't ever achieve.
Yes, we are talking about the brand that makes money from selling beauty products.
"Dove is a successful beauty brand and so we get asked all the time, is this not hypocritical? In fact, I was asked at one of the workshops by an 11 year old boy. Yes, we are a beauty brand, but we are working hard to redefine beauty. We are part of the solution and we live by that," Mariebelle Malo, Customer Marketing Manager at Unilever (the parent company to Dove), said at the 2016 research findings discussion in Sydney on Tuesday.
"The program has been running for 12 years now. Back in 2004, and many people will remember, Dove conducted some research to understand the impact of advertising on women. From there we released a campaign using a normal women without Photoshop or retouching, then we retouched her and she looked completely different to what she looked like before. It was to prove the point that 'no wonder our perception of beauty was distorted'. That was the moment that Dove realised they weren't just there to raise awareness about the issue, but they needed to be part of the solution. All of our advertising features real women, and there is no Photoshop or airbrushing. We feature all shapes, nationalities and ages. And the project is about actually reaching young people," Malo said.
And reach young people it has. In partnership with The Butterfly Foundation, the Dove Self Esteem Project has interacted with 500,000 young Australians about positive body image and self esteem. This is done though in-school workshops as well as downloadable manuals for both parents and teachers. By 2020 Dove hopes to double its social impact through the project by reaching 40 million young lives globally. That's an extra 1 million young Australians.
Body image isn't what you look like, it's how you feel about what you look like.
"The Butterfly foundation has been involved with the Dove Self Esteem project since 2006 and we see it as being absolutely fundamental," Christine Morgan, CEO of The Butterfly Foundation said at the event.
"We have gone into schools with a double fold approach. By training teachers on how they can have positive body image conversations in the classroom, and we have developed education programs and woven them into school to teach young people about body image. Through this we have also realised how important it is to involve parents."
"Body image isn't what you look like, it's how you feel about what you look like. What were particularly concerned about is what that negative body image causes people to do," Morgan said.
"The program helps young people to identify why they fall into the trap of negative body image. It also helps them to better understand what's happening in the media and what's happening in their environment that may cause them to feel so bad about themselves. We have seen a dramatic increase in negative body image and that is because at one level we are saying to our young people that it's not about what we look like, it's about who we are. Though if you stop and think about it, everything in our lives is portrayed through images these days. Our actual currency of conversation is about what we look like. There is a real divide between what we say and what our young people are exposed to, and they pick up on that."
Research shows that social comparison is the best way to damage your self esteem. The more you stare and compare, the worst you'll feel about yourself.
Dr Justin Coulson is one of Australia's leading parenting experts, international speaker and author. He stresses how important it is to have conversations around body image with our nation's young people.
"I'm a father of six girls so I have witnessed first hand young women take 30 photos to find one they like best. We have heard this line a lot -- we see a highlight reel when we look at someone's Facebook or Instagram, so we're not seeing the other 29 images that didn't make the cut, that were almost identical, but there may have been a little crease or wrinkle, or a hair out of place. Our children, and our mums and our aunts, and even the blokes, we use social media to compare. Research shows that social comparison is the best way to damage your self esteem. The more you stare and compare, the worst you'll feel about yourself," Dr Coulson said.
"Social media aside, the words and attitudes we use around our young people, whether they are aged four or 14, male or female, form the way these young people view self esteem and body image. We don't even notice that we do it, but it has a long lasting effect on them. It teaches them to assess their value as humans on how they look."
Dr Coulson highlighted three ways we can start to tackle low self esteem and body image in young Australians:
"We have got to have strong and healthy relationships with people around us, with people who value us for who we are and make us feel good about who we are. Very young people don't have much of an identity, at that age they are part of a family, but as they come into adolescence they are establishing their identity. They are much more likely to develop a healthy identity when they are surrounded by people who love them and support them unconditionally and who don't make flippant comments about their looks, weight or diet. Research has shown that 70 percent of kids who hear those sort of comments remember them. And there is a direct relationship between those sorts of comments and ongoing body esteem issues through adolescence, culminating in overweight people and obesity in late adolescence and early adulthood."
"I need to stress the importance of people having a conversation with kids regarding to what's real and what's not on social media. We look at an image and we know it's Photoshopped but we still aspire to it. We still feel inferior. It only takes a few seconds of looking at these images feel bad about ourselves. We need to teach them that it's not real, but that they will still look at these images knowing that they're not real and still feel bad. Its how we're wired. It's about teaching them how to step away from those feelings and learn that their value is not based on their appearances, let alone false appearances."
"If we want to really encourage a healthy sense of self and body esteem we need to help our young people to develop competence so they can be confident. Competence leads to confidence. Whether it's music, arts, sport or their academic pursuits, we have got to develop that. Passion for something gives us purpose and so we worry less about what we look like because we're doing what we love. Young people need to learn that lesson, and adults need a reminder as well."