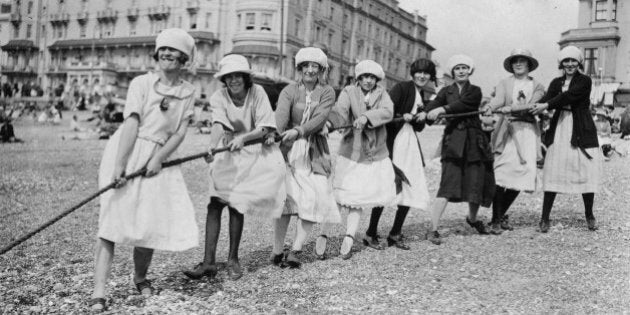 While it's fantastic to lie on a beach with a great book, it can be a bit anti-social in group situations. Plus there will nearly always be that person who wants to organise some kind of group game.
So before you end up with rope burns from a spur-of-the-moment game of tug-of-war, here are some awesome games to get the the gang going.
Don't forget to slip, slop, slap!
OK, so this is a pretty obvious one. But we're saying it's an oldie but a goodie.
Pros: there's lots of standing around if you don't want to get too physically active. Also can be played with beers.
Cons: you stand a risk of copping a whack in the nether regions with pretty much no protection. Boxes and boardies don't mix.
Again, an oldie but a goodie.
Pros: Simple and involving no balls, frisbee is a safe, cheap and easy game. Plus the windy conditions of the beach are perfect for your frisbee to reach maximum range. Also, if it's a dog-friendly beach, why not get your pooch involved?
Cons: It can really only be played with two people. Unless you all throw it around in a circle. Which is weird. And because it's more fun frisbee-wise to be far away from each other, you can't chat.
This obviously requires a certain set up, but there are heaps of beaches -- such as Sydney's Manly Beach -- which can provide. Alternatively you can purchase your own beach volleyball set.
Pros: Great work out and good for competitive sports types.
Cons: It's a work out, you can't really drink while you're doing it and you need the set.
This is an excellent game and this reporter's personal favourite. Basically you have to knock over some sticks (which you can stick upright in the sand) with other sticks, standing from a distance away.
Pros: Perfect drinking game, can be played with any number, and you don't even need to buy anything (provided you have some good stick foragers with you.)
Cons: You could get too drunk because it really doesn't involve any physical activity and you can play it with a drink in your hand the entire time.
One too many brewskis for this beach babe.
Beach bowling is just as it sounds. Bowling on a beach. You can use sticks for pins and use any old ball to knock them down. Easy peasy.
Pros: A great one for kids -- get them to make the pins out of sand using a bucket.
Cons: You need to remember to bring a ball.