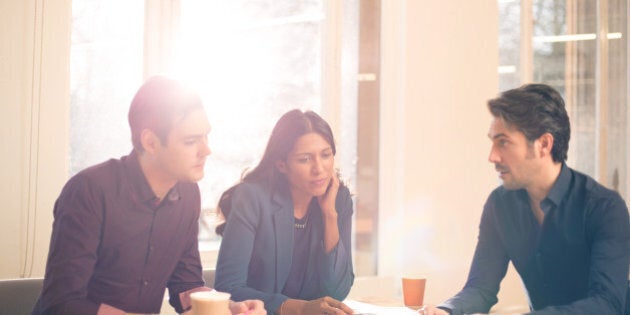 The gender pay gap is inching lower and employers are making measurable progress on workplace equality strategies, but pay disparity remains "stubborn" as women continue to be under-represented in management, a new report shows.
The Workplace Gender Equality Agency (WGEA) report shows an overall pay gap of 24 percent between men and women, or $27,254, on average full-time total remuneration -- a figure that includes bonuses, allowances and superannuation.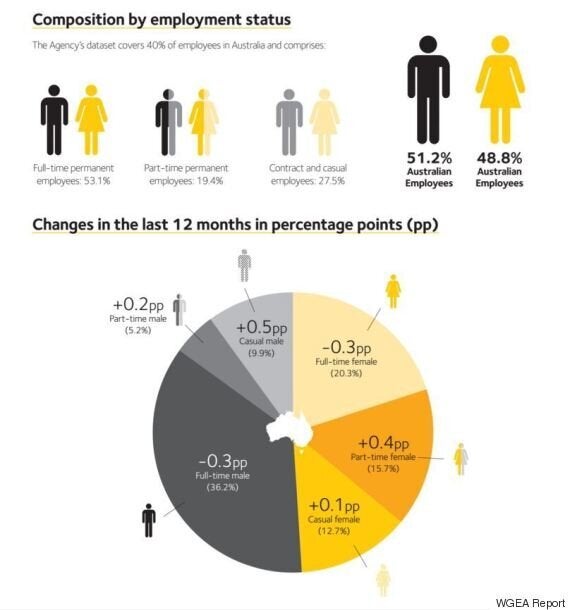 The report also showed the top levels of management remain heavily male-dominated, with just 15.4 percent of CEO positions and 27.4 percent of key management personnel positions held by women.
Across all management levels, the proportion of women managers has grown from 35.9 to 36.5 percent since last year.
WGEA Director Libby Lyons said while the data confirms stubborn gender pay gaps and under-representation of women in management and leadership roles, it also revealed measurable progress on employer action in support of workplace gender equality.
The percentage of employers with a gender equality strategy grew from 18.3 percent in 2013-14 to 20.6 percent in 2014-15.
"It is eye-opening to see the scale of the gender equality challenge," Lyons said.
"I'm encouraged to see pay gaps inching lower, women's representation in leadership roles inching higher and leading employers start to dismantle the structural and cultural barriers to women and men's equal participation at all levels of the workplace."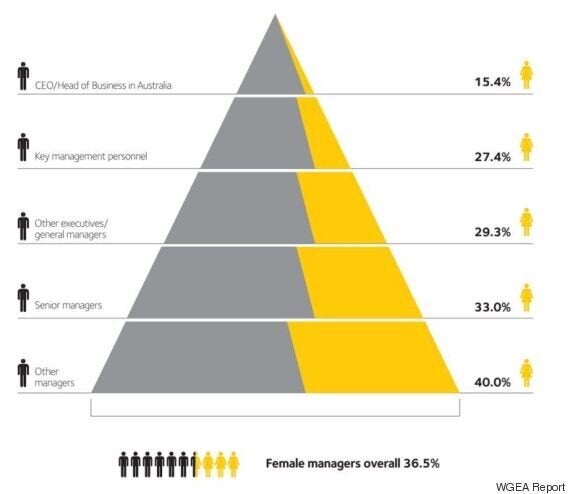 Lyons said the report -- which canvassed 4 million employees and more than 12,000 employers -- provided the first comprehensive time-series data on the status of gender equality in Australian workplaces.
Women work part-time at three times the rate of men and make up nearly half (48.8 percent) of the workforce covered by our data set, full-time women only comprise one in five employees (20.3 percent).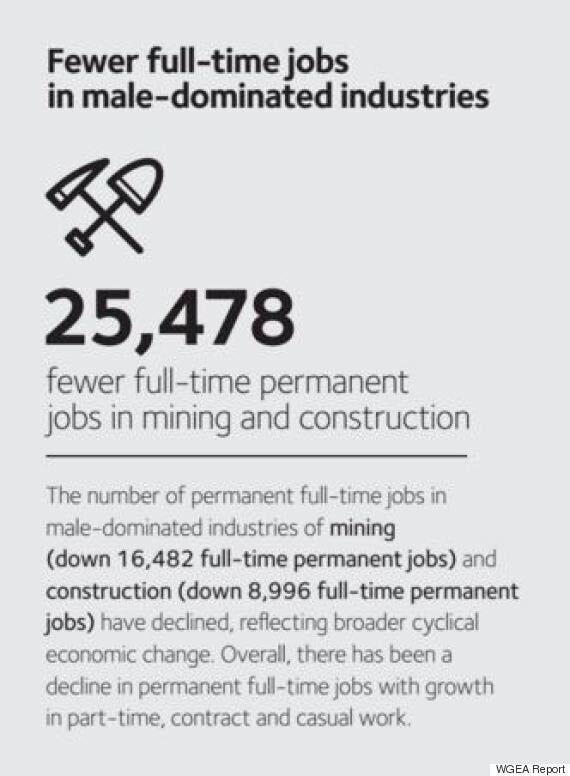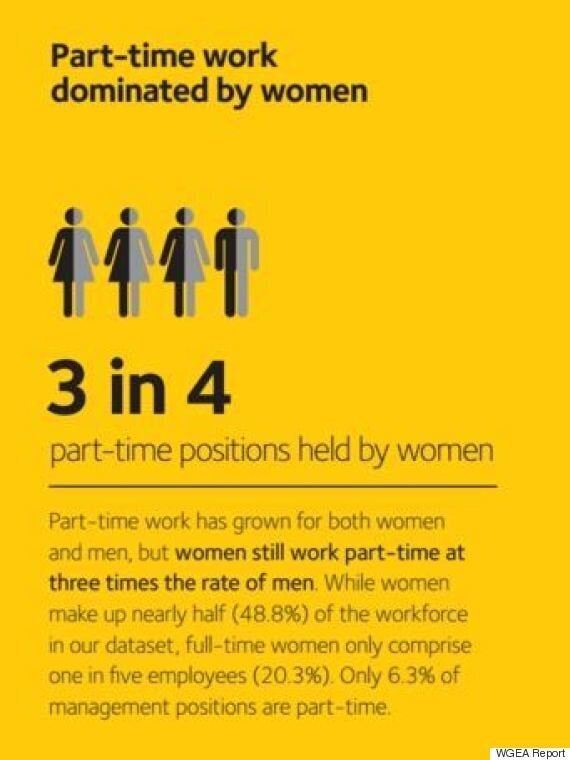 Just 6.3 percent of management roles overall are part-time, contributing to the lack of women in senior roles.
Increases were also recorded in the proportion of employers conducting pay gap analyses, introducing guidelines for flexible working and supporting employees experiencing domestic violence.
The report comes after Prime Minister Malcolm Turnbull and Australian of the Year 2015 Rosie Batty marked International Day for the Elimination of Violence Against Women.
Batty, who lost her son Luke to family violence, has previously said much more needed to be done to combat domestic and family violence in Australia.
"We need improved responses and funding because we haven't even touched the tip of the iceberg yet," she told the launch of White Ribbon Week 2015.
The report also follows a separate NSW government study which showed the gender gap in the state continues to grow despite more women finishing school and completing university degrees than men.
The Women in NSW 2015 report showed while women's participation in the paid workforce was at its highest point since 1978, unemployment rates for women have overtaken those for men and continue to rise.
The report also found women are also working harder than men at home, spending an average of 12.5 hours per week more on unpaid household work.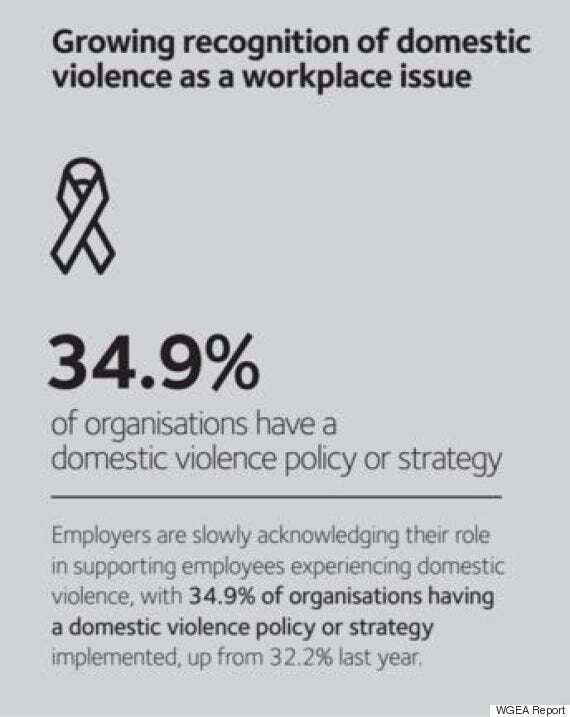 Almost 35 percent of organisations have a domestic violence policy or strategy, up from 32.2 percent in 2013-14.
10 key findings from WGEA workplace data 2014-15:

24.0 percent gender pay gap* in favour of men (average full-time total remuneration), equivalent to $27,254pa
The gender pay gap (total remuneration) fell by 0.7 percentage points between 2013-14 and 2014-15
Financial and Insurance Services maintained its position as the industry with the highest gender pay gap, though it fell by 1.1 percentage point to 35.0 percent
Permanent full-time jobs in male-dominated industries declined, with 25,478 fewer jobs in mining and construction in 2014-15 than 2013-14
15.4 percent of CEOs and 27.4 percent of key management personnel were women
Women held three out of four part-time jobs (75.1 percent)
6.3 percent of management jobs were part-time, compared with 22.7 percent of non-management jobs
Employers with a domestic violence policy or strategy grew from 32.2 percent to 34.9 percent
20.6 percent of employers had a gender equality strategy, compared with 18.3 percent in 2013-14
16.1 percent of organisations set targets for board composition