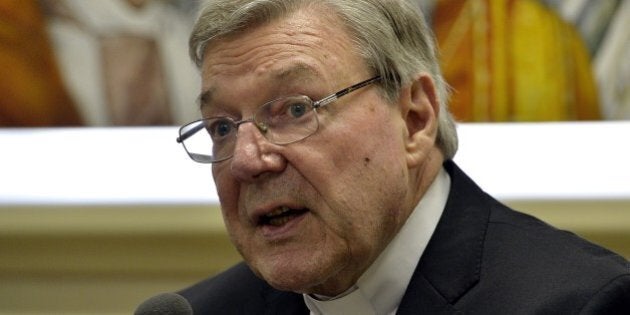 Survivors of abuse by Catholic clergy will gather in Ballarat and Rome to hear Cardinal George Pell give evidence to the sex abuse Royal Commission on Monday.
Pell is expected to give evidence as part of the Commission's inquiries into how the Catholic Archdiocese of Melbourne and Catholic Church authorities in Ballarat responded to wide-spread abuse.
Now the Vatican's third highest ranking official, in charge of the city-state's finances, Pell will appear via video link from Rome after the commission earlier this month accepted medical evidence a long-haul flight posed risks to the Cardinal's health.
David Ridsdale, who was abused by his uncle, paedophile priest Gerald Ridsdale, travelled to Rome on Saturday to hear, in person, Pell give evidence from a conference room at the Hotel Quirinal.
Ridsdale has told the inquiry that when he told Pell about the abuse, the then auxiliary bishop responded "I want to know what it will take to keep you quiet".
Pell has strongly denied the allegation.
David Ridsdale and a group of about 15 survivors and supporters were given the opportunity to fly to Rome after a GoFundMe campaign raised more than $200,000, spurred on in part by a song about Pell by comedian Tim Minchin.
"The support there is actually overwhelming," Ridsdale told The Huffington Post on Friday, as he made final preparations for the trip.
"I think people realise we're not after destruction, we're after change.
"It's never been our goal to destroy things, even though that's what happened to us."
Survivors of abuse in the Melbourne Archdiocese and in the city of Ballarat have accused Pell of knowing about sexual abuse by other priests when he was a junior priest in the 1970s.
Pell has denied knowing about child abuse.
Ballarat deputy mayor Belinda Coates, who is also in Rome, said Ballarat had been hugely affected by the abuse.
She said a large group will also gather at the Ballarat town hall to hear Pell's video-linked evidence.
"The fact that so many people have come forward and spoken publicly has provided an opportunity for people to really show their support," she said.
In mid February Pell's office released a statement as demands for him to return home to face the commission in person escalated.
"Cardinal Pell has always helped victims, listened to them and considered himself their ally," Pell's statement said.
"As an archbishop for almost 20 years he has led from the front to put an end to coverups, top protect vulnerable people and to try and bring justice to victims.
"As Cardinal Pell has done after earlier hearings, he is prepared to meet with and listen to victims and express his ongoing support."
The statement said he was willing to meet with survivors after the Rome hearings and that he was anxious to present all the facts without delay.
Pell first gave evidence before the Commission when he was resident in Sydney in March 2014, and again via video-link from Rome in August that year, when the church's "Melbourne Response" was examined.
"The evidence which he will be asked to give in the present hearings is more extensive than he has previously given in relation to the Melbourne Response," Commission Chair Justice Peter McClellan said in his decision to allow Pell to give evidence for the upcoming hearing.