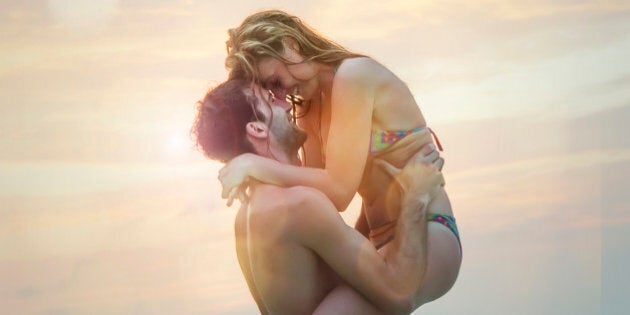 You know exactly what they're thinking with the glimpse of an eye, have weird personal jokes together and literally, have zero clue what you did before they came into your life -- yep, you're in love -- and the future has never looked so bright.
However, without getting all Grinchy on you, there are certain conversations you should have before locking that love down.
According to leading relationship expert Dr Karen Phillip, and author of new book, OMG We're Getting Married - 7 Essential things to know before we say I Do, increasingly, couples are finding themselves at breaking point -- post-marriage -- as a result of not discussing important issues before tying the knot and having children.
"There is this assumption, because a couple is so in love and know each other so well, that they are on the same page, but it is incredibly important to talk about your finances, career goals and whether you want kids plus a whole range of other things before getting married," said Phillip.
Surprising, right? That a couple wouldn't talk about the prospect of kids before getting married. But according to Phillip it is more common than we think.
The same goes for finances. "I see couples who have been married for over 10 years, that still don't know what the other earns," Phillip said.
"We're marrying later, we've been very independent all our lives -- it's been your own money, your own career and your own goals -- but when you become a couple, that all changes and what you spend affects the other person -- and that's something people struggle to accept and understand," she said.
Phillip advises discussions around finance should begin when you start living together.
"Not only should you disclose what you're earning but also what you've spent -- so any debts -- because once you're married, whatever financial problems your partner gets into, well, you own half of them," she said.
Phillip said a joint account is a good idea for things like bills, groceries and social outings while still depositing a small amount of money into your own private account for yourself.
And when it comes to kids, whether marriage is on the cards or not, having the conversation -- and revisiting it regularly is imperative.
"It's not simply about how many you want, and how many years apart they will be, but you should also be discussing parenting style, whether the child will be baptised and who will be the main parent," Phillip said.
If your career is going to escalate, who is going to be the first point of call at daycare or school and also, can you afford to put the kids into daycare if you are both going back to work?
Observing how your partner's family interacts with each other will also give you an idea of what kind of parent they'll be.
"Whether they're complacent, firm, loving or dismissive -- that teaches you a lot about the parent you're going to have by your side," she said.
And rather than assuming your partner is a mind reader, communication needs to continually evolve which in turn, will hopefully improve your relationship.
"Couples need to have date nights pre and post children. It's usually only during these times, when you're sitting alone with your partner over dinner, without any distractions like social media or the television, that you're able to talk," she said.
It's here when there's an opportunity to really pay attention to how the other person is feeling and what they're thinking about.
"Couples who are a bit more logical might even list down what they plan to talk about to see where the other person is at. Sometimes you find that you are thinking differently about something," Phillip said.
And if you're able to do that regularly, without the infringement of friends around you all the time or social media always in your hand, the risk of future disagreements about the bigger issues will decrease.