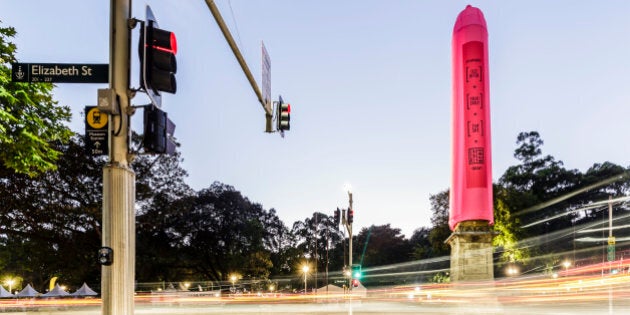 An 18-metre condom has been erected in Sydney's Hyde Park ahead of next weekend's Gay and Lesbian Mardi Gras.
Organisers said the visually arresting giant rubber installation was intended to promote condom use to prevent HIV transmission.
The big pink prophylactic was slipped on the Hyde Park obelisk overnight.
Aids Council of NSW (ACON) chief executive Nicolas Parkhill said Mardi Gras was an ideal time to remind locals about condom use.
"Every year around 80 percent of HIV transmissions in NSW are among men who have sex with men, so it's vital that we use opportunities like Mardi Gras to remind gay men about the health benefits of using condoms," Parkhill said.
"While new drugs are starting to provide other means of protection against HIV, condoms remain central to the fight against the virus because they remain one of the most cheap and effective ways of preventing the transmission of HIV and other sexually transmissible infections."
Parkhill said the big condom was a "highly visible safe sex reminder," noting that ACON's message would also be taken to Bondi Beach.
He said 1,000 pink condom-like blow up rings would be given away to members of the public at the iconic stretch of sand in the lead up to next Saturday's parade down Oxford Street.
"We're aiming to highlight the need for protection when you're having fun," he said.
"When you go to the beach you need protection, protection from the sun and protection in the water. Sex is no different.
"The message is you can reduce the risk, stay safe and protect yourself and your partners from HIV by using condoms."
Popular in the Community