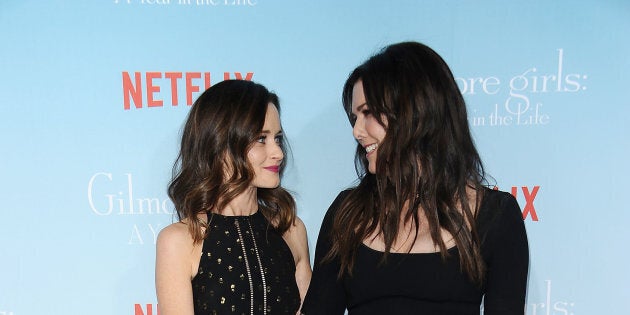 Asked what they made of fans who thought Rory and Lorelai Gilmore were a bit "awful" and "selfish" in the Netflix revival, "Gilmore Girls" actors Lauren Graham and Scott Patterson fiercely defended at a SAG-AFTRA panel discussion in New York City on Tuesday night.
At the specific mention of Paul, the boyfriend Rory keeps forgetting to break up with over the course of a year, Graham rolled her eyes and shook her head.
"We don't pay attention to anything. We don't know," said Graham, who plays Lorelai. "None of us are on the internet, almost at all. So I know what you mean, but the show has a sense of humor, and that's its sense of humor. And I think maybe [the revival] feels a little different. Rory's not in high school anymore, so yes, as grown women, constantly forgetting [about Paul], I just thought it was a funny runner."
Graham pointed to the show's "heightened, theatrical" qualities. "I mean, just like Donald Trump, don't take it literally," she said. "But unlike that, to me it was more of a metaphor for, 'This isn't the right guy,' and this is how they communicate about it."
She continued jokingly, "And does it go 10 steps too far? I don't know, but it was 90 minutes. We had a lot of time to fill!"
Patterson, who plays Luke, jumped in, too. "Paul was a sacrificial lamb, and he knew it! The audience knew it," he said.
But while fans might have been a little disappointed with the youngest Gilmores' decisions, the eldest became something of a fan favorite this time around. Which surprises Kelly Bishop, who plays Emily Gilmore.
"I've always been baffled by that," Bishop said about the idea that fans consider Emily likable. "I kind of enjoy playing these, what I consider these nasty rich women, because I don't like them. Personally I can't stand women like that, and we see a lot of them in New York. And Florida. And Hollywood. So really I just try to make them as awful as possible, because that's just my comment on them."
Maybe it's the writing. In "Gilmore Girls: A Year in the Life," Emily is grappling with the sudden loss of her husband, Richard, played by the late Edward Herrmann ― as beloved on set as his character on screen. She may still be "nasty," but she figures things out for herself. And yet not everyone seemed pleased with her character this season.
Alexis Bledel, who plays Rory, admitted that she really wanted to see hers score some wins. Throughout the season, however, Rory struggles with romance, family, and her floundering career in journalism.
"I really wanted her to have some great rewards, or enjoyed quite an interesting life from all her hard work. I wanted her to be on top of the world," Bledel said. "So to learn that we were picking up with her sort of scrambling a bit and trying to find her footing, I don't know. I think I wanted to imagine that she got there after having some success and a lot of personal triumphs. I just had to imagine that for her."
Later, Bledel revealed that she's "always trying to understand where Rory's coming from, and the choices she makes in her romantic life." (You and us both, girl.) She continued, "I think Amy [Sherman-Palladino, series creator] just didn't want her life to be wrapped up with a bow by the end of these stories, at least, because she's so young."
Watch the whole discussion above.