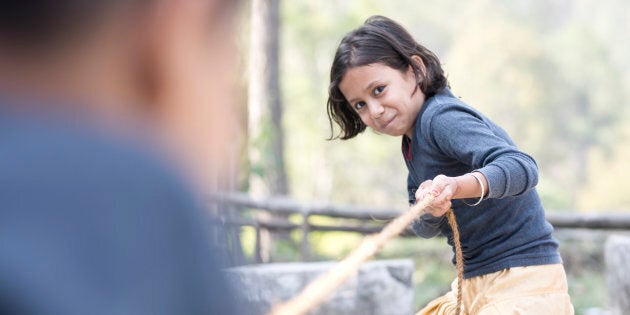 When I was a young child it never once occurred to me that being a girl was a limiting factor to what I could become. But everything changed when I became a young adult. A rift began to appear between what I dreamed of becoming and the opportunities available to me.
I was sexually harassed by my driving instructor. And I was sexually harassed by a manager at my first job. My parents didn't let me go out to social events, because I was a girl. I didn't get a job because I snubbed the advances of one of the men on the interview panel. I was stalked when I was 20.
Most women my age have a story to tell about struggling with everyday sexism and harassment. Ultimately, it's something many of us just accept, tolerate, and expect that it's the price we have to pay to get ahead.
But we hoped that this would be over by 2017: that the work of feminism would be done and we wouldn't be worried about the same things for our daughters.
Unfortunately, we have a very long way to go. These experiences are still very much a reality for girls today. The rate of change towards gender parity -- in both the developing world and in our own backyard -- is agonisingly slow and bad news for the next generation of girls.
In research released today, we asked 1,750 Australian girls aged 10 to 17 their thoughts on gender equality. A staggering 98 percent of girls told us they did not receive equal treatment to boys. They felt this unequal treatment at all ages, in the way they're represented in pop culture, in sports, at home and in school.
And we found that as girls get older, their confidence sharply declines from 56 percent of girls viewing themselves as confident at 10, to 44 percent by the time they reach 17. And it's a sharper decline as they enter adulthood to 21 percent at age 18.
It's time we really listened because girls are telling us very clearly that the number one thing they want is equal treatment.
When the Australian Government signed up to the Sustainable Development Goals in 2016, it made a pledge that things would be different for girls. And indeed Goal 5 is to achieve gender equality worldwide by 2030. We have a terribly hard slog ahead of us to get there, even here at home.
When we asked girls aged 10 to 14, unprompted and in their own words, what change they'd like to see in the world, 50 percent said simply: gender equality.
There's no bigger demonstration of just how far we have to go towards equality than the fact that women get paid far less than men, for the same work. Just last week, it was revealed women in Australia earn 87 cents for every dollar a man earns.
To fix it, we need to turn the focus back on our own organisations. Our organisation is conducting a gender pay gap audit and we wholeheartedly recommend all CEOs consider doing the same.
It's absolutely astounding that at current estimates, the girls who took our survey will be retirement age by the time the gender pay gap is closed in this country alone -- let alone developing countries where the gap is so wide it's a chasm. Yes, progress is happening but it's absolutely too slow.
We know from our research worldwide on girls' rights, that if you cannot see a problem, you cannot begin to fix it. We want people who are in a position of power to prove they care about equality by their actions, not their words.
We must critically examine the messages we're sending to our sons and daughters at home about domestic responsibility. Why do we position boys and men as the helpers, when it comes to housework or child rearing? That is doing them a disservice and it is no good for women either.
Girls we surveyed say they worry about the unwanted attention they get, in a picture-perfect Instagram world, they are truly concerned about the everyday pressure to look 'just right'.
Just last week, the largest photo agency in the world, Getty, announced it would no longer accept overly Photoshopped images of women.
In France, images digitally alerted to make models look thinner will soon carry a warning that they have been 'touched up'.
Let's prove we're listening to girls and prohibit the use of digitally altered images of models and ban sexist advertising for good, just as the UK did earlier this year.
And finally let's also get rid of antiquated dress codes that dictate what a girl can and can't wear as she receives an education. School should be about learning and comfort, not the length of a girl's dress.
It's time we really listened because girls are telling us very clearly that the number one thing they want is equal treatment. There's no use telling a girl she is empowered and can change the world if the structures and systems are not there to support her.
There is no easy solution, but ignoring the problem is not an option. We have to make things right for girls.