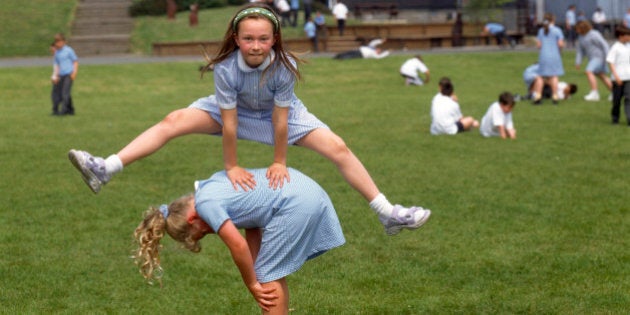 Last week, Health Minister Sussan Ley launched a landmark new health campaign -- Girls Make Your Move -- aimed at encouraging young Australian women to get more active and involved in sports and other physical activities.
Yet the campaign fails to acknowledge another, admittedly less obvious, reason why girls may be moving less than their male counterparts: their school uniforms.
What we wear affects how others perceive us, according to a 2012 Northwestern University study. So, could something as seemingly innocuous and widely accepted as a school uniform be silently contributing to a health crisis in girls?
As the Guardian's Laura McInerney observes, unconscious discrimination against female students occurs every day in schools that require girls to wear dresses, often while their male counterparts wear polo shirts and shorts -- ensembles that encourage physical activity while subconsciously reinforcing the stereotype that boys are more active than girls.
Since each school is allowed to set its own uniform in consultation with the community, and since most people do not automatically associate school dresses with discrimination, the majority of public schools still insist on dresses for girls. While growing numbers of schools across the country are now voluntarily choosing to introduce gender-neutral, unisex uniforms, such schools are still in the minority.
The "Healthy Lifestyles" module of the NSW DET promotes a curriculum that addresses "the growing trend of obesity in the Australian population, caused by factors such as diets high in fat and sugar and a trend towards decreased physical activity." Moreover, it encourages school canteens to be guided by the 'green, amber and red' system for providing healthy meals and snacks. So why is this message not also reinforced in its uniform policy?
Technically, public schools cannot require students to wear a uniform at all, but who wants to be a conscientious objector at a time when -- as Health Minister Ley herself attests -- fitting in matters more than anything?
In a statement released to launch the Girls Make Your Move campaign Health Minister Ley said low confidence in their ability and a fear of being judged were key factors in declining physical activity among girls: "I've been a teenage girl, and there's everything from pimples, periods and other puberty blues through to trying to 'look cool' and 'fit in'. When you're a boy, it's cool to be a sports hero and get all sweaty and dirty. I want girls to get that message too."
Revisiting school uniforms seems a logical first step in ensuring that girls get that message.
Ultimately, as this campaign reveals, the lessons learned in the playground leave a deep and lasting impression on girls, influencing their choices for a lifetime. Most parents will have witnessed first hand the inhibitions school dresses place on their daughters -- young girls who may be unwilling to turn cartwheels or hang upside down from the monkey bars for fear of flashing their knickers. But why should girls have to resort to finding other ways of staying active, when cartwheels and monkey bars and other active choices are eliminated by having to wear a dress?
Simply put, the DET's non-committal 'you decide' policy on uniforms ignores an issue of utmost social importance with very real and far-reaching health consequences.
Is it not our responsibility to ensure a level playing field for girls? Surely this is more important than little Susie looking sweet in her dress, but unable to break a sweat.