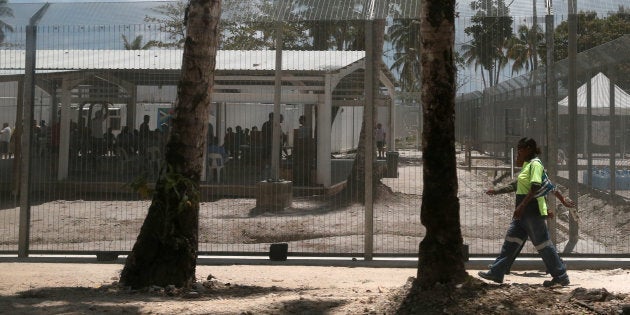 Independent Queensland Senator Glenn Lazarus has waded into the refugee debate, claiming those asylum seekers on Manus Island were being "treated like kings".
Lazarus was responding to a News Corp report claiming refugees detained on Manus Island were trading cigarettes for " ­alcohol, electronics and ­marijuana" at local markets. He wrote on his Facebook page that "The RUBBISH needs to STOP".
Australia's detention of more than 800 male asylum seekers on Manus was last month ruled illegal by the Papua New Guinea Supreme Court. Australia is appealing the ruling, but in the meantime, the centre has been classified as an "open centre" where asylum seekers are meant to be allowed to come and go freely.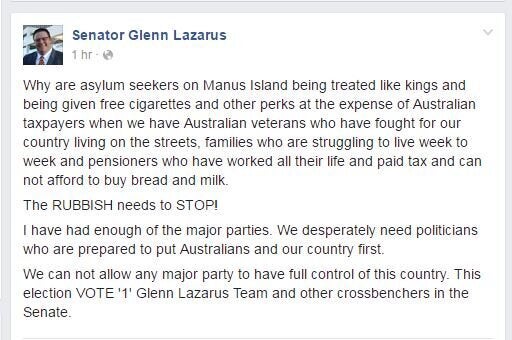 Lazarus claimed asylum seekers were being "treated like kings".
Lazarus' office provided a statement to The Huffington Post Australia saying that the senator opposed detention centres, and while he stood by his Manus comments, he did not mean his comments to extend to the Nauru centre.
"I am strongly opposed to detention centres, and in particular offshore detention centres. Detention centres are a waste of Australian taxpayers money. No good can come of any asylum seeker being placed in detention, it is de-humanising and extremely expensive. I have already called on the Australian Government to have the AFP investigate abuse issues on Nauru and they have ignored me," Lazarus said in a statement.
"The question has to be asked why asylum seekers on Manus Island are being given cigarettes and other entitlements for free, when the Australian Government has just increased cigarette tax in Australia and banned smoking in many states. Australians are very generous and supportive people however we as a nation cannot afford to continue to wear the cost, risk and social issues associated with detention centres."
"The Australian Government has to solve the issue immediately and stop wasting taxpayers money and stop causing harm."