There aren't many people in this world who would put themselves between a Russian whaling boat, a harpoon, and a pod of whales. But this is exactly what Bobbi Hunter -- a co-founder of Greenpeace -- did in the early '70s, just as the now-international environmental organisation was finding its feet.
"It was mad dash, trying to catch up with the killer boat going after this pod of whales," Hunter told The Huffington Post Australia. "They were running out of breath and slowing down, and the boat was closing in and about to shoot them."
"We were racing to go in front of the harpoon, when [my husband] Bob said, 'show them your tits, Bobbi!' What he really meant was 'take your headband off -- do a wet t-shirt in front of them -- show them you're a woman.'"
"So that's exactly what I did, to show them it was not just some guys on board. We actually shut them down and they didn't fire and those whales were saved because of that."
And that is how Hunter became the first woman ever to block a harpoonist at sea to save the life of a whale.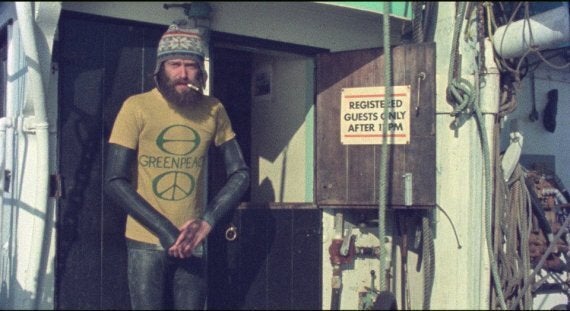 Greenpeace co-founder Bob Hunter.
Filmmaker Jerry Rothwell is bringing hours of unseen footage from Greenpeace's early days to the big screen in the form of his new feature documentary, "How To Save The World."
The film follows the early pioneers of the organisation -- in particular Bobbi's late husband, Bob Hunter, who has been hailed as perhaps the most instrumental figure behind Greenpeace's conception -- and how they endeavoured to bring ecological issues to the world stage.
Described by Variety as a "goldmine of 16mm color footage" -- it's lucky the film was ever made at all, given the fact most of it was almost thrown away.
"By pure luck, Jerry happened across the footage," said Hunter. "I mean it was taken nearly 40 years ago and placed in a Greenpeace archive. They were doing some housecleaning, and I believe Jerry was doing research on another project and he saw they were intending to get rid of some of this stock."
"He just thought, 'no -- I want to have access to this.' And from there, he took that footage and has made this film."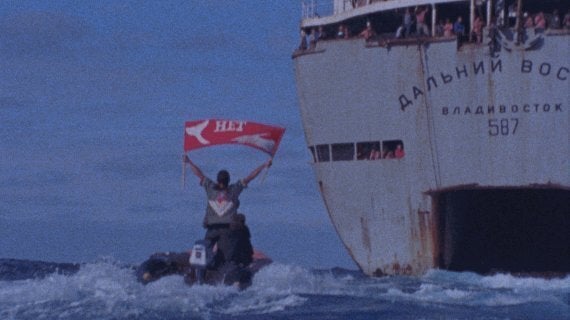 Greenpeace co-founder Rex Weyler said much of the footage hadn't been viewed, even by members of the organisation, since they shot it 40 years ago.
"To see it in the film was a dream come true on one hand because we had always wanted to see something likes this," Weyler told The Huffington Post Australia. "It was also a bit of a surprise, because when we first shot this footage, of course we took out all of the most urgent and best material which we used for media."
"Really the rest of it went back into the film can and has not seen the light of day in 40 years. Much of it had never seen the light of day at all, so other than the film crew themselves looking at the rushes and picking out what they thought was the best stuff, which we then used for various reasons, none of us had seen it."
"It was really a treat, a pleasure for us to see the finished product. To see it so well used and so well done -- the treatment of it all -- is such an excellent piece of work."
Both Hunter and Weyler hope that by seeing the film, audiences will realise it doesn't take anyone 'special' to make a difference, and that change comes from the bottom rather than the top.
"I hope anybody watching this film finds it in themselves to get active," Weyler said. "Anybody can contribute to change. It isn't going to come from the governments or the UN. It comes from people and local communities who decide to live a different way."
"How To Change The World" hits Australian cinemas on September 17.