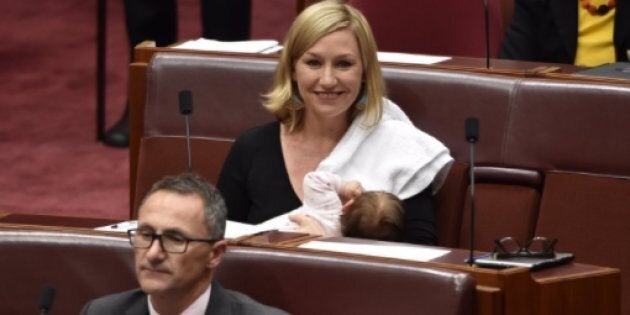 Greens co-deputy leader Larissa Waters made Australian political history on Tuesday after her daughter, Alia, became the first baby to be breastfed in the Federal Senate chamber.
In her first appearance in Parliament since Alia's birth, the Queensland senator brought her daughter into the chamber during a vote on a Greens policy motion.
Waters later took to social media to express her pride over the move, saying she is "so proud" of Alia and called for "more women [and] parents" in Parliament.
While breastfeeding was already allowed in the chamber, the milestone moment comes after Waters introduced rule changes to the Parliament in 2016 which now permit mothers and fathers to care for their infants while sitting in the Senate, according to the Sydney Morning Herald.
ACT Labor senator Katy Gallagher also threw her support behind Waters on Tuesday, telling Sky News the moment represented a reality for female politicians that Parliament "are going to have to accommodate".
"Women have been doing it in parliaments around the world ... It is great to see it is able to occur now in the Senate," she said.
"Women are going to continue to have babies and if they want to do their job and be at work and look after their baby ... the reality is we are going to have to accommodate that."
ALSO ON HUFFPOST AUSTRALIA