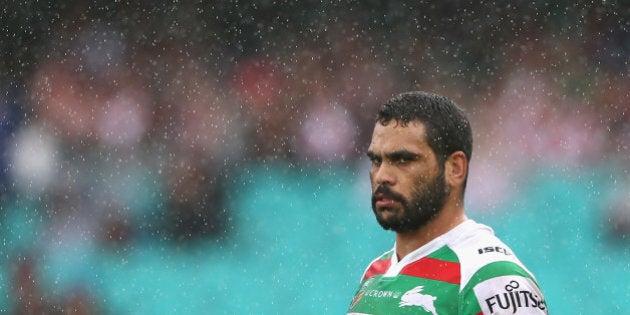 You're physically exhausted and mentally drained. For 80 minutes in the pouring rain you've been hurling your very large body against other people's very large bodies while directing your team around the park. And for a few seconds there, you just mentally clock off.
That's pretty much what happened yesterday on the last play of the match between the South Sydney Rabbitohs and the St George Illawarra Dragons in their annual fixture at the SCG. With the Bunnies down 8-6, their best player Greg Inglis went for a field goal on the last play of the game.
A field goal, for the uninitiated, is worth one point in rugby league. It's worth three in rugby union, but no one's suggesting Inglis thought he was playing the 15 man version of rugby. Clearly he just forgot the score and thought it was 6-all. The kick missed, but even if it had sailed through the sticks, Souths still would have lost 8-7. Oops.
But this has happened before, and will probably happen again. It's a tough game. People's minds get as tired as their bodies. Terry Lamb is second on the all-time list of NRL matchs played, with 350. Yet even he once made the same mistake, as he explains in this video.
In other news from the Rabbitohs/Dragons game, Souths captain Sam Burgess has been cleared of serious injury after scans at Sydney's St Vincent's Hospital overnight. He hurt his head in an awkward tackle.
Let's talk about somebody who did something awesome on the weekend. Meg Lanning, captain of Australia's Southern Stars women's cricket team, had a shocking bout of gastro over in India at the World T20. She couldn't even make the coin toss for the match against South Africa. Yet somehow, when she was needed, she went out there and blasted 30 off 19 balls to seal victory. There's a report and video here.
It was an effort reminiscent of Dean Jones, who once made a double century in a Mumbai furnace despite repeatedly unloading the contents of his stomach. And speaking of blokes who play cricket, South Africa beat a surprisingly competent Afghanistan overnight, mostly thanks to AB de Villiers who casually slugged 29 runs off one over.
The less said about Australia's men's team the better. They play Bangladesh on Monday night. A loss would almost certainly end their tournament.
Speaking of car crashes, this happened at the Australian Formula 1 Grand Prix in Melbourne.
Both drivers in the two-car crash walked away unhurt. The race was won for the second time by by Nico Rosberg, whose dad Keke won it back in 1985 when it was held in Adelaide. Australia's Daniel Ricciardo came fourth.
In football, it's that time of year where the importance of every goal is magnified. Leicester City scored to maintain their five point gap at the top of the EPL ladder. But the goal celebration of the week goes to Serbian international striker Aleksandar Mitrović and a fan. Newcastle is second last on the ladder and fighting to avoid relegation. Mitrovic's goal earned them a 1-1 draw against fellow strugglers Sunderland. Shirt-swirling, fan-hurdling and random hugging ensued.
The Golden Slipper happened in Sydney on the weekend. It's the world's richest horse race for two-year-olds. Many thoroughbred racing purists don't believe in two-year-old racing, believing it's about as dignified as those awful beauty pageants for toddlers. Anyway here's how the race looked if you're a seagull.
And in our second straight paragraph beginning with a golden thing, the Golden State Warriors are beatable. That's the lesson from U.S. sports on the weekend, when the San Antonio Spurs beat the Bay Area juggernaut. Led by Steph Curry's incredible shooting which we've spoken about often here, Golden State is having a record season Their win-loss ratio is still 62-7 for the year, so they're still well placed to beat the record 72-10 season.
"As masterpieces go, it ranked between the Sistine Chapel ceiling and something you might find stuck to the door of a refrigerator with a magnet."
And you thought the track at Albert Park in Melbourne was messy.
And in late breaking news this Monday morning, Jason Day just won his first golf tournament for 2016. Woohoo! The Aussie, who last year won his first Major and briefly became world number one, is now four-out-of-four for wins when leading after the third round. Bring on the Masters. It starts on April 7.