A 17-year-old girl has given an emotional account of her struggle to cope with the impact of the Grenfell disaster as she battles with authorities to get the mental health support she desperately needs.
Speaking at a public meeting on Tuesday evening, the teenager, who only gave her name as Rhianna, said she lost a friend in the blaze, which has claimed the lives of at least 80 people.
She said she is currently staying in a hotel because she is too traumatised to move back to her Testerton Walk home.
She criticised the lack of support from Kensington and Chelsea Council, particularly in regards to mental health support.
Rhianna spoke at the third meeting of the Grenfell Response Team, held at Notting Hill Methodist Church, just a short distance away from the 24-storey charred tower.
Representatives from the council, police and public health bodies were also at the meeting.
In a powerful account she told them:
"I saw everything from the fire, from the beginning to the end. I've suffered a long time with depression, prior to the fire, so I was just recovering... my mum told me I had to go back to counselling, to contact someone.

"We waited for a contact for somewhere we could go to feel comfortable to talk about what we'd seen and see what help we could get. I went to the Westway (sports centre) and spoke to an NHS volunteer. She asked me to explain everything I saw from the fire from the beginning to the end and the only thing that she did for me (was) she gave me a number and told me to call it.

"I called the number, never got through. I then had to take it upon myself to go to St Charles Hospital, to enroll in counselling because I could no longer cope, couldn't eat, couldn't sleep.

"I was living in south London. I was watching the news just to find out what was going on day by day because I couldn't take it.. to come back here.

"And for a 17-year-old, growing up in a community that I love, it's the only thing I know, it's making me cry, sorry, and.. my eight-year-old nephew, he went to Avondale Primary School, and had to go back to find out that his teacher was the one that passed away. He came home and said 'aunty, my teacher wasn't there, what happened?'

"I had to explain it to him. It's been six weeks on since the fire, and my nephew only this week has been offered counselling, that's going to take another three weeks to get someone to see him and he's eight years old.

"Sometimes we can't let him go to school because it's too much, he comes home and he cries or he has a tantrum, of course we know it's because of the trauma and everything he's seen.

"And what I'm trying to say is from a 17-year-old's side of it, growing up in this community, I loved it... this whole tragedy has made we see that we have no support from you."
Kensington and Chelsea Council has been heavily criticised for its response to the fire, with council leader Nicholas Paget-Brown resigning in the aftermath of the disaster.
Barry Quirk, the newly-appointed interim head of paid services at Kensington and Chelsea, told the teenager: "It's absolutely clear to me that you have been let down."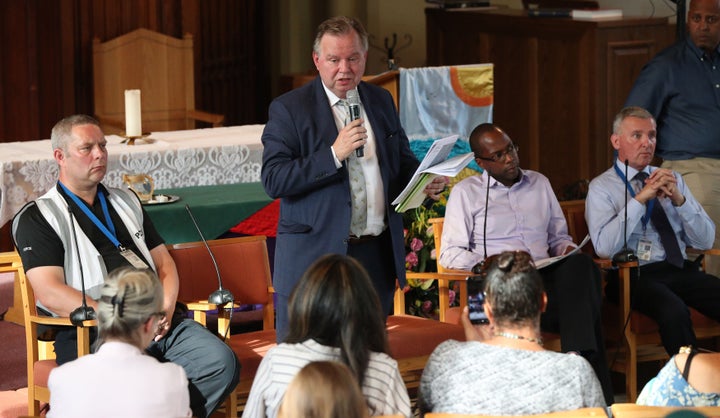 The absence of the authorities in providing vital support to residents and survivors was a topic frequently re-visited during the meeting, which lasted nearly two hours.
One volunteer said that people admitted coming to her for help as a "last resort" after being unable to get access to key workers from Kensington and Chelsea Council.
"They were unable to get support for housing so they came to us," she said.
The volunteer said that she works in mental health, but that for the past five weeks she has been volunteering her time to work with those affected by the disaster.
"People like us are collecting an ever increasing caseload of people who have lost all hope.
"It has got to the point now where we are simply trying to give them reason to keep going," she said.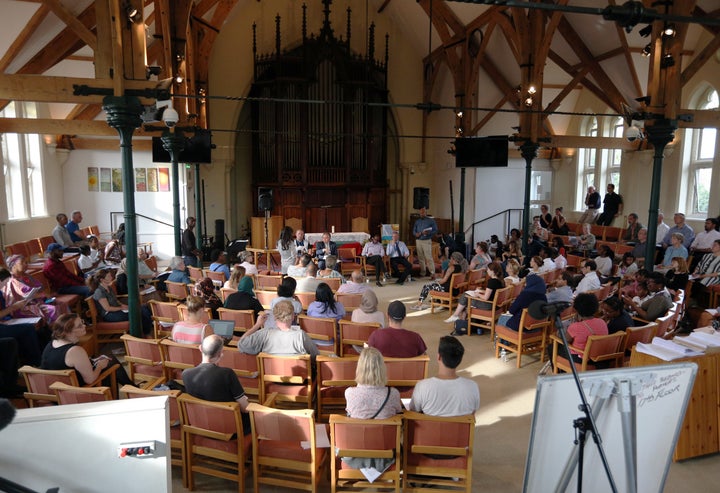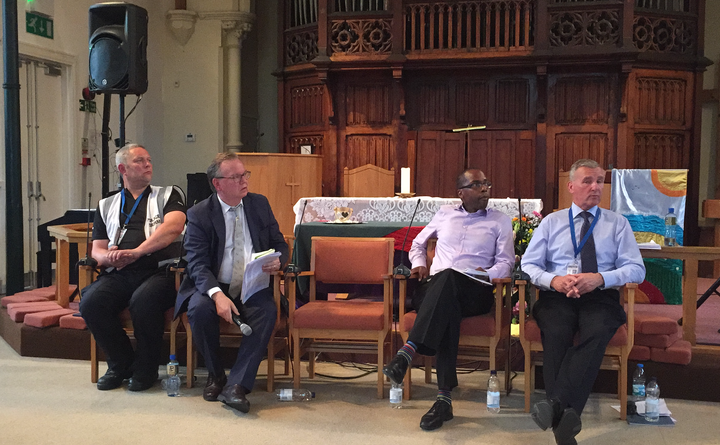 The volunteer recounted the stories of three people she has worked with who are not getting access to the support they require.
"I have one lady who can barely speak.. she explained to me that she was the very last person on the phone to Rania Ibrahim, who was on the 23rd floor. She's the only lady that was able to film from inside the flat as far as we know. So this lady I'm looking after was the last person to speak to Rania Ibrahim. They were on the phone for three and a half hours.. think, what state must she be in now, having been the last person to talk to her best friend who was up there with her toddlers, two daughters?

"There is a lady from Trinidad. She's in a wheelchair, she has a toddler. Last week she attempted to take her life. When we asked her why, she explained it's because she doesn't feel there is anybody there to support her. She was assigned a key worker from Kensington and Chelsea Council... when she was asked why she tried to take her life, she said it was because her key worker went on leave and nobody was there to do the handover so she was left in a wheelchair, with a toddler wondering what to do with herself.

"The third family, they were discharged from hospital a couple of weeks ago. They were in a hotel. The father had a heart attack... they took him to hospital. In that time, the actual person I am working with, the son of the father, his car was broken into and everything he owns.. was stolen. This gentleman went to Westway on Sunday at 1.30pm, he was advised to go there to find out about getting funds to support himself because the only money he had was taken from the car. He was kept there for two hours at Westway at which point 2 members of the Red Cross told him that he will get additional funds only when he receives permanent housing."
Last week, the Labour MP for the area told Parliament that she knows one constituent who still calls and texts her friend every day, even though she knows she died in the fire.
Emma Dent Coad said there is "no plan" in place for how the authorities are going to help people needing mental health support, particularly when it comes to conditions such as PTSD.
Tuesday's meeting was held just a short distance from the doomed tower, the burned-out shell of which could be seen through the stained-glass windows of the methodist church.
Many at the meeting vented their anger over an alleged lack of outreach from the authorities.
"What have you done in terms of going out to people?", one man asked.
At one point a volunteer asked all the other volunteers in the room to stand up and show the panel who is "doing their job".
While the lack of visibility from key services dominated the meeting, questions resurfaced about the number of deceased.
Chris Imafidon asked the Metropolitan Police representatives on the panel if they had done everything the could to establish the true number of deceased.
A resident of Grenfell Tower said through a translator that the authorities did not want to tell people the truth about the number of people who had died in the blaze.
"I was from the tower. We have been in these meetings several times, it just feels like school meetings because you don't want to tell the truth to the people.

"We definitely know how many people have died and how many people are alive now.

"You have got so many ways, so many possibilities in your hand to find out how many people have died.

"Therefore it is obvious that you don't want to tell the truth, but everybody here knows the truth.

"Why are you sitting here, why have you come here? Because you are here to respond to people's questions. If you are not able to do so, why are you sitting here?"
Others in the church hall yelled that official numbers of deceased were "rubbish" and accused authorities of "covering up" the true figure.
Police officers tried to explain the reason why the number was still recorded at 80, but many were unsatisfied with the Met's attempts at assurances.
Questions were also raised about the location of donations, with residents seeking answers as to where goods were being kept and why they had not been returned to the community.