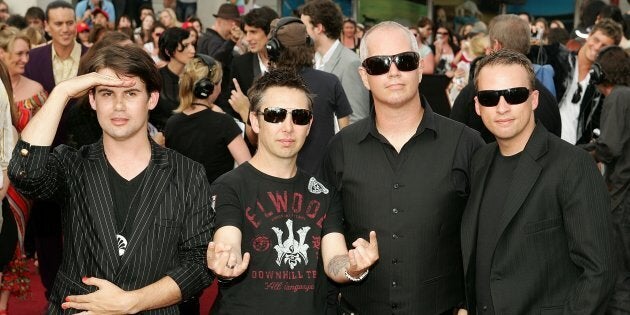 It's been 20 years since Grinspoon launched their debut album 'Guide to Better Living' and to celebrate, they'll be touring around the country. Don't you feel old now?
The Aussie band have reunited after a four year hiatus where they took the time to focus on other stuff, like doing the school drop off and building a house.
"Being a dad, a few solo shows, just did the musical in Brisbane, built a house, picking tiles, turning 40, being an adult. It happens to everyone," frontman Phil Jamieson told News Corp.
The four musicians met at a pub jam in Lismore and were catapulted into the Aussie music scene when they won Triple J's Unearthed competition in 1995. Recently, Jamieson was part of the Greenday musical American Idiot in Queensland.
The huge anniversary edition of 1997's 'Guide to Better Living' will be out on June 27, which is also the date the national tour kicks off. Tickets on sale from 9am, Monday 10th April. Tour dates are below.
Friday, 23rd June: Kay St Entertainment Complex, Traralgon (18+)

Friday, 30th June: Margaret Court Arena, Melbourne (Lic. AA)

Saturday, 1st July: Village Green Hotel, Mulgrave (18+)

Friday, 7th July: Enmore Theatre, Sydney (Lic. AA)

Saturday, 8th July: The Tivoli Theatre, Brisbane (18+)

Saturday, 29th July: One Tropical Day @ Darwin Ski Club, Darwin (Lic. AA)

Thursday, 3rd August: The Wool Exchange, Geelong (18+)

Friday, 4th August: Pier Bandroom, Frankston (18+)

Saturday, 5th August: Granada Tavern, Hobart (18+)

Thursday, 10th August: The Jack, Cairns (18+)

Friday, 11th AugustDalrymple Hotel, Townsville (18+)

Saturday, 12th August: Magnums, Airlie Beach (18+)

Thursday, 17th August: Villa Noosa, Noosaville (18+)

Friday, 18th August: Redland Bay Hotel, Redland Bay (18+)

Saturday, 19th August: Shaka Fest, Miami Tavern, Gold Coast (18+)

Thursday, 24th August: Dunborough Tavern, Dunsborough (18+ )

Friday, 25th August: Metro City, Perth (18+)

Saturday, 26th August: Adelaide Entertainment Centre, Adelaide (AA)

Thursday, 31st August: The Cambridge Hotel, Newcastle (18+)

Friday, 1st September: Lismore City Hall, Lismore (18+)

Saturday, 2nd September: Racehorse Hotel, Ipswich (18+)

Thursday, 14th September: The Entrance Leagues Club, Bateau Bay (18+)

Friday, 15th September: Waves, Wollongong (18+)

Saturday, 16th September: UC Refectory, Canberra (18+)

Wednesday, 20th September: CSU, Wagga Wagga (18+)

Friday, 22nd September: Beer Deluxe, Albury (18+)

Sunday, 24th September: Batemans Bay Soldiers Club, Batemans Bay (18+)