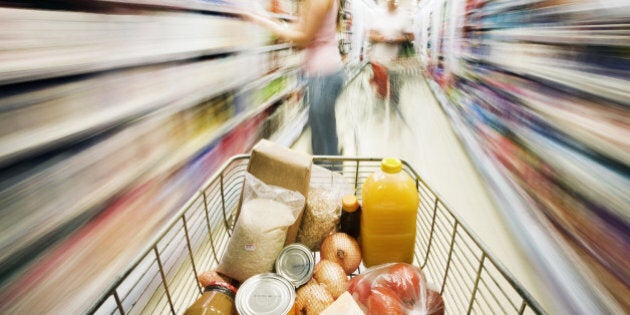 It seems the busier we get, the more we're outsourcing everyday household jobs -- such as the grocery shopping.
And small businesses are cashing in.
Having someone else do your shopping or deliver your meals has never been more acceptable, and it's led to a flourishing market for savvy entrepreneurs.
Manu Dupont, Co-founder and Managing Director of ShopWings Australia, says his shopping service, which offers to have a personal shopper visit major stores including Coles, Aldi and even IKEA as well as independent retails and then deliver your order in as little as an hour, fulfils a growing need.
And he doesn't think it's because we all just couldn't be bothered.
"I don't think we are getting lazy, I think we are getting busy," he told The Huffington Post Australia.
"If you think about the level of spare time between all the things you want to juggle it's very good to have that ability to have someone else do this for you.
ShopWings customers in selected postcodes in Sydney and Melbourne can order groceries online or via smartphone app, and the company's army of casual shoppers will literally go to the stores and buy the groceries for you.
But Dupont says his biggest point of difference is not only the convenience but the speed of delivery and the ability to customise your order.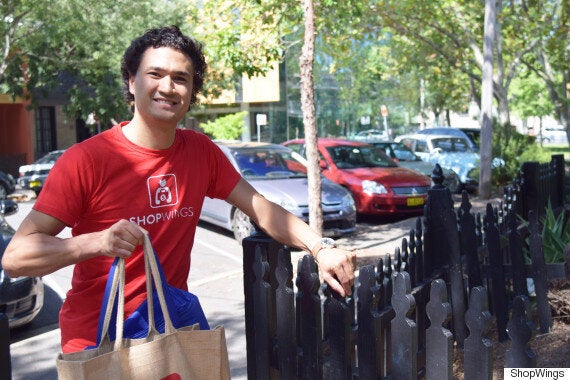 ShopWings Co-founder Manu Dupont says Australians are willing to pay for convenience.
"If you order online right now with other solutions, you will probably get two or three days waiting period which is not very convenient -- so we have more accuracy with one-hour deliveries," he said.
"Grocery typically is a very instantaneous trigger for shopping decisions -- it's very difficult to forecast that you will be running out of milk in three days. What differentiates us from other schemes right now is our speed, so we are able to deliver in one hour and the level of choice."
He says the comments field on the order allows customers to be specific -- they might need bananas that won't ripen for a few days, or avocadoes that need to be ready for use that night. Personal shoppers will also call the customer from the store if an ordered item is unavailable -- and they can suggest an alternative or remove it from the list.
Dupont says this function appeals to city commuters who order during their lunch break for delivery that afternoon, but Dupont says families are the startup's biggest customers by a "big margin".
"People spend an average of one week per year shopping for groceries, but not everyone loves that," he said. "It is difficult to go between work and managing the children and going shopping with them, so this scheme is very important and that's why a lot of families like to use our service."
A startup supporting small business
Dupont says his startup is supporting these businesses by giving them a low-cost way to grab a slice of the online shopping market.
"The thing that is great about ShopWings is that we have this ability to help retailers go online in a few weeks," he said.
"These businesses that have been offline for 30 years and have been focused on being great offline retailers but have been thinking about going online, they find it very difficult. They have to build a website which can be very expensive or the outcome isn't great and so you have to manage it and promote the website, you have to find a solution to deliver and those things we offer an alternate solution."
Dupont says ShopWings makes money in several ways. The first is a delivery fee charged to customers. It starts at $10 for small baskets but, interestingly, decreases as the size of the shopping order increases -- it's free if you order more than $250.
The second is discounts provided by its smaller partners on all goods to make a marginal profit. Although Dupont says it is talking to major retailers -- many of whom have their own online delivery service -- there is no formal arrangement yet.
But he expects the market to grow. This is in stark contrast to Germany, where ShopWings was originally established. It floundered -- because German consumers have very different shopping habits, says Dupont.
"It didn't pick up there as it did in Sydney and Melbourne," he said. "It's a very price-conscious country -- it's the home of Aldi and people didn't really like to pay for the convenience.
"In Australia it's very different. People do order a lot more larger baskets and they value the service really well. It's a very similar story to Uber -- it's been most successful in Australia and it's what Australians really like, it's the convenience and Australians like to get on those trends very quickly."
Riding the coattails of big delivery enterprises
Full meal service delivery businesses have been in vogue for some time, and now others such as HelloFresh are raking it in by delivering boxes of ingredients with which customers then cook their own meals.
HelloFresh is a huge enterprise, with 500 employees in seven countries and delivering 5.5 million pre-portioned meals per month. But for its suppliers -- smaller operators such as Queensland-based Roza's, a family business that has been making condiments for 25 years -- home delivery is another avenue for brand exposure and sales.
Jasmin Robertson, whose mother Roza began the business when Jasmin was just 4, has partnered with HelloFresh, and supplies bulk quantities of the company's mayonnaises, sauces and pestos. Although Roza's does the bulk of its business through its 600-plus independent retailers around the country, Robertson says the collaboration is good for business.
"HelloFresh is sort of a blend of food service and retail because they are buying in bulk but our branded products are repacked direct into people's homes," she told HuffPost Australia. "It has been another great string to our bow and exposure for the brand as well. We are getting more and more awareness as time goes on."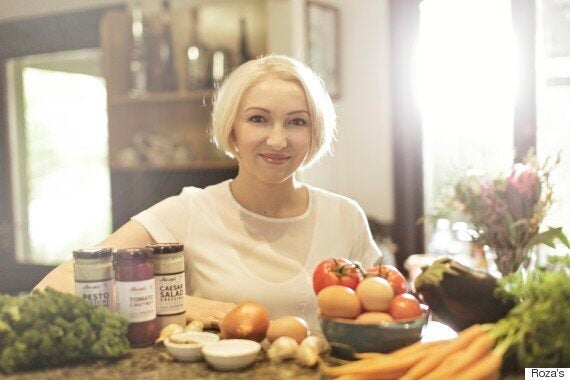 Jasmin Robertson says food home delivery services such as HelloFresh are giving small businesses which supply them a leg-up.
Although she said it's difficult to quantify the success of the collaboration only six months in, Robertson said it's a financial windfall for bulk sales without the time-consuming bottling process. But it's also about spreading the word.
"It's still relatively new and in terms of the co-branding that is definitely quite new," she said. "I think that's definitely going to create a lot of brand awareness and translate to sales for our products separately in stores.
"It is early days but even when I have stalked the HelloFresh Facebook page and seen people's lovely comments about the sauce that was in their box and the number of new Facebook likes we are getting without doing a push or a change to our social media, I think maybe people are getting to try the sauce and thinking gee wow, that was really good and engaging a little bit more with us."
Robertson reckons that businesses need to be flexible with consumer patterns, but diversification is the key.
"Customer trends and shopping patterns are changing so rapidly you just need to be responsive," she said.
"I think it's (online food shopping) definitely interesting and I think it's a good change. I don't think it's ever going to replace bricks and mortar shops and that sort of pattern of shopping. It's about a business evolving with it -- it just means you have to be more flexible and versatile in the way you offer your product across different mediums."