On May 11, 1996, eight climbers were caught in a blizzard and died on Mount Everest. At the time, it was the deadliest day in the mountain's history.
Among them was American writer and mountaineer Jon Krakauer, who was on assignment for Outside magazine. He later penned the best-selling account of his firsthand experience titled "Into Thin Air: A Personal Account of the Mt. Everest Disaster".
Now the tragic event is once again being brought to the public spotlight -- this time, in the form of a feature film aptly titled "Everest."
Directed by Baltasar Kormákur of "2 Guns" and "Contraband" fame, the film stars Aussie actors Jason Clarke and Sam Worthington along with Josh Brolin, Jake Gyllenhaal, Keira Knightley and Emily Watson (to name a few).
It follows the flight of two expedition groups -- one led by New Zealander Rob Hall (Clarke) and the other by American Scott Fischer (Gyllenhaal) as they try to lead their respective groups to Everest's summit and back to base camp safely. A number of problems besieged both groups from the outset, but it was the blizzard which struck on their descent which proved fatal.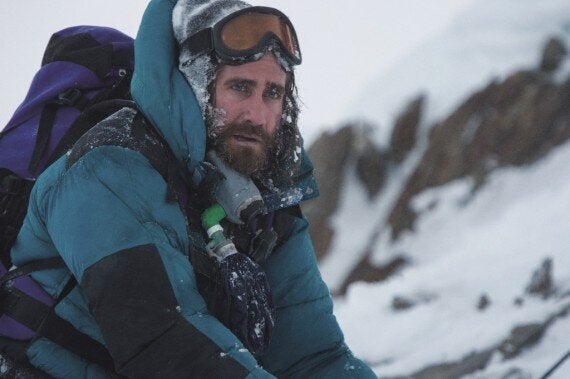 Jake Gyllenhaal as Scott Fischer.
Co-founder of Hall's Adventure Consultants and fellow Kiwi -- not to mention close mate -- Guy Cotter (Worthington) was leading his own expedition on a neighbouring mountain when the storm started to roll in. As conditions started to deteriorate, Cotter remained in contact with Hall and became involved in the rescue efforts.
Now, Cotter is the CEO of Adventure Consultants, and has been heavily involved in the production of "Everest" as a key advisor. Check out our exclusive Q&A with him below.
Given there is such a personal connection, how did you feel when you heard that a Hollywood feature film was being produced based on the 1996 events on Everest?
"I had known for a long time that a film may be on the cards as they'd actually tried to make it in the late 90's, but it fell through. It wasn't a movie I was really looking forward to as it would force me to relive that period of my life again, so it's natural that it wouldn't be my first choice of movies to be made."
You are a highly skilled and accomplished mountaineer, how did you get involved with the production of the film and what expertise did you bring?
"I went to London in late 2013 for two weeks to help advise in the pre-production period and I finally got home five months later. It was clear that the various departments in the production were crying out for an adviser, so I worked across the production spending time with wardrobe, art department, with the writers, the director and the actors."
"[The production company] Working Title had a huge body of experience filming in controlled environments, such as studios, but an outdoor movie in the mountains requires a very different approach. Since I've done quite a few of these mountain filming projects, I suggested to them they employ me to run their mountain safety for the filming in the mountains of Northern Italy and in Nepal and luckily they agreed."
"I spent a lot of time with the actors, specifically Jason Clarke (playing Rob Hall) and I was really impressed at the professionalism of the cast in their desire to really get to know the environment they would be operating in and the characteristics and motivations of people they were representing. I even observed the actors defending their character and wanting scenes to be shot differently to protect the integrity of the person they were cast to portray."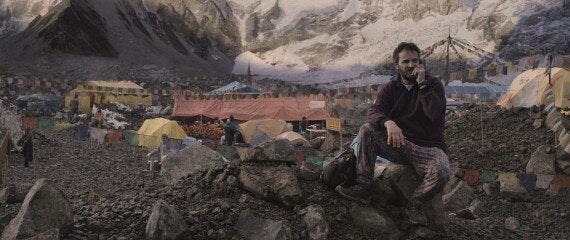 Jason Clarke as Rob Hall.
What are the most challenging aspects of filming in locations with extreme conditions such as Nepal at the base of Everest and the Italian Dolomites?
"The weather! We endured very heavy snowfalls in the Alps in Italy so instead of windswept icy slopes like you'd see on Everest we had waste deep snow. I wished we were making a ski movie because the amount of snow was epic. Taking a crew of city slickers who are used to working inside studios out into the extreme environments is very challenging, as keeping them healthy and able to operate in severe weather is not easy."
Director Baltasar Kormákur has worked hard to visually capture the real magnitude and intensity of being on Everest. Do you think it gives the audience a true sense of what it is like to be on the summit?
"I have to admit, I was very impressed with the visuals and the way they have employed the visual effects, to not only show the beauty and drama of the environment but to help the viewer get perspective on where people were on the mountain. Overall I think they did an amazing job of the visuals and I really emphasised to them the need for the viewer to understand why people would be there in the first place and what it is about the mountains that attracts people."
Do you think the writers William Nicholson and Simon Beaufoy have captured the true essence and character of those who took the expedition with you? How did you feel revisiting memories of that time?
"I think the writers did a very good job of making a plausible script, especially when compared to most other mountain movies the writers stereotype climbers into their own impression of what a climber is like and what motivates them."
"I did feel more emphasis could have been placed on the motivations of climbers and what they get from being in the mountains so the viewer can get more insight into the world of climbing the world's biggest mountains."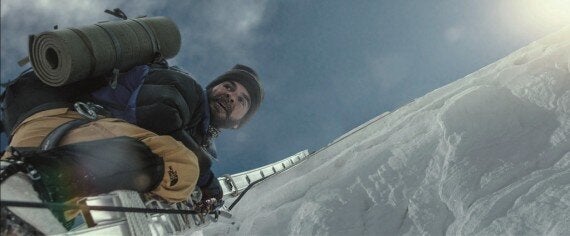 Michael Kelly as Jon Krakauer.
How did you feel having Sam Worthington -- an Aussie -- playing you in the film? Do you think he nailed it?
"He obviously doesn't have my charisma or sense of humour but he did ok! Seriously though, it's pretty hard to connect with someone portraying you, and I think there wasn't a lot of scope from the director for him to portray more emotion in the scenes, so I thought the performance was reasonable."
What advice did you give the cast to prepare them for filming such emotionally and physically challenging roles in complex conditions?
"We spent a lot of time in discussion prior to even starting rehearsals or filming and we took the actors through basic climbing training."
"Jason Clarke and Martin Henderson came out to New Zealand for a mountaineering training course before we started filming, so they could connect to the environment and become more familiar with the equipment and mountain movement. I think this was reflected in the film, as guides they were supposed to look the most comfortable in that environment."
"I was always there on location to discuss the action on each scene and we'd discuss how it was going to go prior to the camera rolling. Baltasar had asked me to let him know if I saw anything that looked bogus or just plain wrong -- most of the time he responded to my suggestions and other times he had different reasons for portraying something, or someone a certain way. It was a good working relationship, he's a proud man but he likes open and direct communication so it worked well."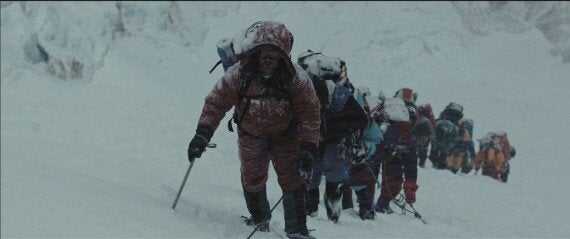 What has the highlight been for you working on this film?
"I really enjoyed my interactions with the lead actors on this film, especially considering it is depicting events that actually occurred and I was personally involved in. So it was rewarding to work on a project that gave the events and the people in them the respect and integrity they deserved."
What do you hope people take away from seeing Everest?
"It's hard for people to get a balanced perspective of mountaineering from films like this, as the public are only ever subjected to mountain movies that involve disasters."
"I hope people can appreciate that the motivations for people to get into the mountains -- or any serious environment -- is not to conquer a mountain, but to enjoy and experience the beauty and magic of the real world out there."
"A lot has changed in high altitude mountaineering since 1996 -- professional weather forecasts being one of them."
"We live in a world that is increasingly risk averse and movies like this can confirm to some why you should lock yourself indoors and stare at a screen. Yet the human race needs to understand and pursue risk, incrementally pushing themselves over time to be able to perform what at the outset might seem like a very risky enterprise, until they can comfortably achieve great things. This is how the human race has progressed and our regulators seem intent on sending us backwards down the evolutionary pathway."
"Everest" will be released in cinemas on 17 September, 2015.