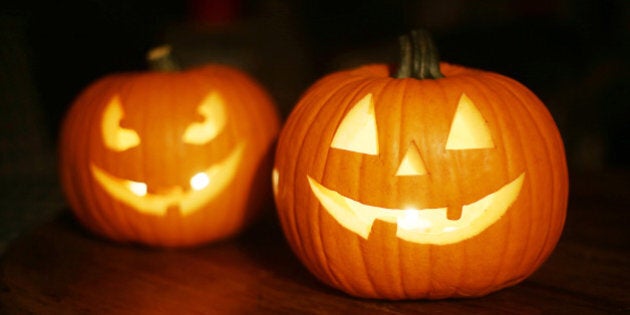 Halloween. It's a night celebrated with pumpkins, costumes and a toothache-worthy amount of lollies -- and it's just around the corner. But does Australia care?
According to Dr. Mark Ryan, a senior lecturer in the creative industries faculty at the Queensland University of Technology, the answer is is "yes," -- or, at least, increasingly so.
"Australian culture is a combination of British and American culture in some regards, and for a long time there was a strong resistance to Halloween. It's traditionally not a mainstream cultural practice we celebrated," Ryan told The Huffington Post Australia.
"But over the last five years or so -- possibly longer -- it's becoming more accepted and more of a mainstream cultural practice.
"It seems more and more families are now taking it up in terms of trick-or-treating being a fun thing to do for the kids and family around this time of year.
"As far as I can tell, it's influenced by marketing and American cultural practices."
Ryan states that Halloween originated as a "pagan festival celebrating the end of harvest" whereby "the idea of carving turnips was a practice to celebrate the end of season, but also to ward off the spirits that came with that."
Given Australia is entering its summer at the time North America celebrates Halloween, seasonally, it stands to reason why we haven't celebrated it in the past.
However Ryan's observation regarding the festival's popularity seems to be backed up commercially, with Woolworths reporting Halloween-themed produce is increasing in sales from year to year.
"We are seeing more and more of our customers embrace Halloween. Given the growing interest we've reviewed and extended our range of Halloween themed products to cater for the increasing demand," Amanda Lunn, Woolworths merchandise manger, told HuffPost Australia.
"In 2014 we saw an overall sales growth of 15 percent compared to 2013. The most popular items are costumes, decoration and trick or treat baskets and bags.
"Pumpkins are particularly popular and we've seen their sale increase each Halloween. This year, we have already seen sales of pumpkins increase by five per cent and they've only been on the shelf for two weeks."
Similarly, a new study conducted by Oral-B and the Australian Dental Association -- the Oral-B ADA Halloween Study -- has found that 83 percent of adults say children celebrate Halloween much more now compared to when they were a child.
So what's the reason behind Halloween's growing popularity in Aus?
"I think it's definitely influenced by pop culture," Ryan said. "That is certainly one of the reasons Halloween has been able to become more accepted and mainstream.
"I'd say 15 years ago there seemed to be some type of stigma to it. It wasn't accepted as a mainstream cultural practice. It's hard to say why that is -- whether it's religious beliefs or that it didn't have cultural resonance -- but definitely now it's being driven by marketing, popular culture, and so on."
"It would be interesting to do a study in the way it's been propagated and how groups are engaging in it -- whether it's more popular in certain suburbs, or if it's been promoted heavily on social media. There must be some type of link there."
Ryan goes onto state he doesn't believe Australia has "jumped on the Halloween bandwagon" -- but rather it's been a slow process whereby the practice has gradually become more culturally acceptable.
"It's been a long process," Ryan said. "I don't think it suddenly popped up overnight. It's been 20 years of attitudes changing towards celebrating it. It's not as frowned upon as it was.
"I think it's become disconnected from beliefs around celebration of things folk and pagan beliefs, and has literally just become more of a 'let's celebrate this festive event' in a very light, pop culture kind of way."
Ryan also expresses it would be nice if we could find a way to "Australianise" the event to make it more culturally resonant.
"There is nothing Australian about the way Halloween is celebrated at the moment," Ryan said. " Ways in which we could perhaps look at it would be something like the fact it's the coming of summer, and what does that mean for us ?
"Does it have to be about ghouls and pumpkins which don't mean anything culturally?
"It would be nice if Halloween developed its own special meanings for Australians, and that we could celebrate this time of year -- the significance of the season -- and think what this time of year might mean for indigenous people and so on.
"Those type of questions would be interesting if that became part of the debate surrounding Halloween here in Australia."
In the meantime, Aussie Halloween fans might want to start thinking about their costume choices ahead of this Saturday.