Over the last 13 years, comedy duo Hamish & Andy have graced our airwaves and traipsed the world as wannabe gappies, all the while coming back to what they love the most: a damn good story.
You know those ones that end with, 'It's a true story, I swear'? Yep, we all have one. And the boys have been out to find the best of them.
We put out lost dog fliers. When people replied, we said 'not really, but do you have a good story? Hamish Blake
After what has felt like an eternal hiatus, Hamish Blake and Andy Lee are coming back to us, in a way we've never seen them (or anyone, really) before on television.
Their new show, True Story, will be hitting Nine next month -- and Huffpost Australia has now seen more than just a snippet.
On Tuesday, we met the guys for what they coined their "world premiere" -- AKA a screening for "anyone who isn't our family, friends or crew". We were honoured to attend.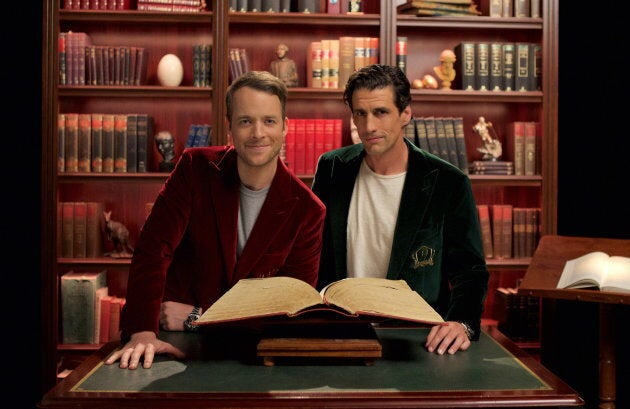 In an original format that somewhat resembles the US comedy hit Drunk History, the show sees Hamish & Andy, emblazoned in velvet, sit down with a bunch of everyday Aussies who willingly share their most epic chin-wag -- from primary school scams, to disastrous needle phobias and ghastly thousand-year eggs...
In each 30-minute episode (there are currently ten of them), a story is recreated by a host of well-known and less-known actors and comedians, from Glenn Robbins to Kitty Flanagan.
"My favourite thing about the show is that it is truly storyteller led. They are stories that expand and contract as we are hearing them, then they (the stories) come to life through our reenactments, which Hamish and I have imagined," Lee told HuffPost Australia.
Where did it all start?
Good question. The boys told us they, along with sidekicks Ryan Shelton and Tim Bartley, have been crafting this one for about two and a half years -- long before they announced they were stepping back from their popular FM radio show back in December.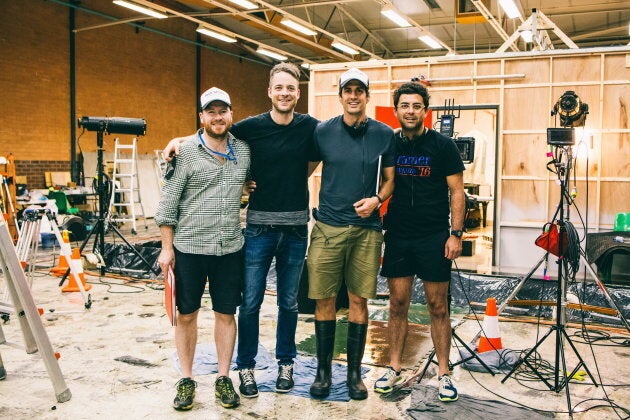 "It came from a lot of general thoughts and gut feelings... It hasn't been a major project for us for that whole time, but it was always an idea that was ticking," Blake told HuffPost Australia.
Six months down the track, True Story became a full-time project.
"What this show is for us is a melding of scripted drama that grows from a completely unpredictable story."
So, what am I watching?
At first, it is hard to wrap your head around. Let's start with the hunt.
"We had a team of nine searching Australia for funny, true stories. We tried social media posts, we door knocked and we went into pubs in every small town," Lee said.
"We put out lost dog fliers. When people replied, we said 'not really, bud do you have a good story?'" Blake added.
We had no control over who came forward. The thrill of it was that you just don't know what you're about to delve into.Hamish Blake
"We had a lot of trust in our mates, Tim and Ryan. It was a gamble, because there is no prize for coming on this show. You're not going to fall in love or become a chef, which we realised was a carrot you can dangle when you're doing reality casting.
"We had no control over who came forward. The thrill of it was that you just don't know what you're about to delve into."
Unsurprisingly, thousands of applications came through, with ten storytellers being chosen (unbeknownst to Lee and Blake).
"There was a lot of trust in our storytellers as well. They didn't know what this was going to look like -- we didn't even tell them it was for a TV show at that point," Blake said.
The two presenters sit down with each person and hear their real life story for the first time. As they start talking, the show cuts to actors recreating the story as it unfolds.
Each episode was filmed over a period of two to four days, with a huge crew of up to 700 actors and extras involved.
"You're moving between the studio interview and the reenactment that hopefully should mesh into one. We want you to get lost in these stories," Lee said.
Take episode four.
Blake and Lee meet Emidio, a 34-year-old primary school teacher.
Back in his first year of teaching, a fresh-faced, 21-year-old Emidio came face-to-face with Damien, an 11-year old budding entrepreneur, who built an underground system to get out of writing lines.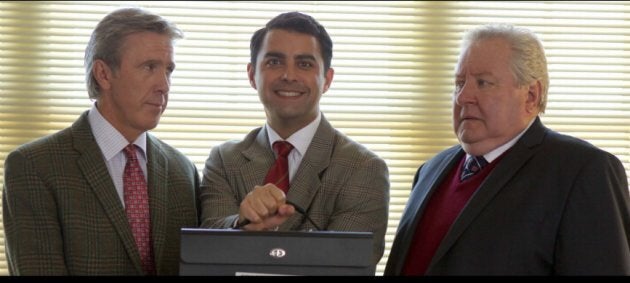 It was a scam of epic proportions -- and one hilariously lived out by funny guy and team player Ryan Shelton in the show. Glenn Robbins, among others, makes a sneaky appearance as principal, and John Wood is his boss.
The verdict?
In many ways, this format is alot to wrap your head around. But somehow, it works.
"Once you see it and get the tone, our dream is that people will be sitting on the couch, will turn to their mum and say, 'you've got to go on there'" Blake said.
True Story is certainly a different offering entering the comedy market -- and one that has mirrored exactly what the boys set out to achieve. They call it a "labour of love".
"As is the general rule for any new show, 'we tried our best and we hope it works!'" Hamish laughed.
And as for any cameos, the boys are quite clear that they won't be be getting out of those comfy, leather chairs anytime soon.
"The recreations are our own imagination," Blake said. And from Lee: "Anything else would break the fourth wall!"
True Story is premiering on Monday June 5 on the Nine Network at 7:30pm. 5 episodes will air, with a second installment scheduled for later in the year.
Click below to subscribe to the Refresh podcast by HuffPost Australia on iTunes.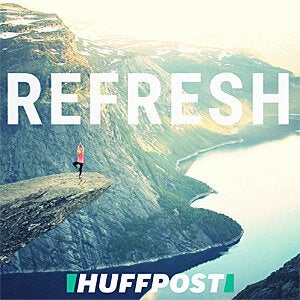 ALSO ON HUFFPOST AUSTRALIA